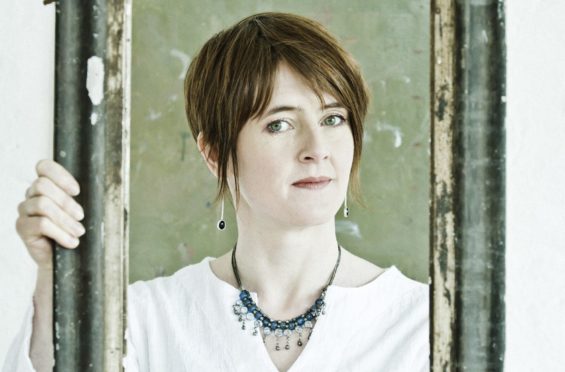 It is already an enduring anthem of bittersweet farewell but has found new popularity in a world looking for hope amid the sadness.
The Parting Glass, a folk song, Scottish or Irish depending on who or where you ask, dates back centuries but continues to stir emotion. Last week, a specially commissioned version was chosen by acclaimed author Margaret Atwood to close her stint as guest editor on BBC Radio 4's Today programme.
It was a tribute to her partner of four decades, fellow author Graeme Gibson, who died in 2019. Introducing the song, the Handmaid's Tale novelist said: "Graeme and I had a lot to do with Scotland over the years and we actually had this at his memorial service. It's a song that can be read several ways, either 'I'm going on a journey and you aren't' or 'I'm leaving this plane of earthly existence and you're not.'"
As with many songs of its age, a complex history lies behind how The Parting Glass has come to be the song we know it as today.
With versions of the tune and lyrics dating back to the early 1600s, it seems to have been batted backwards and forwards across the Irish Sea and beyond, with the melody and words changing over time.
Well known in both Scotland and Ireland, it was reputedly the most popular song of farewell until Robert Burns' Auld Lang Syne arrived in the late 18th Century. Scotland's Bard seemed to be a fan though, referring to the tune as "Goodnight and joy be wi' you a'" as he set the lyrics of his song The Farewell To The Brethren Of St James' Lodge, Tarbolton to it.
Centuries on, the new version to end 2020 was recorded for Atwood by award-winning singer-songwriter and composer Karine Polwart. Put together with her friend Dave Milligan on piano at Castlesound Studios in East Lothian, Karine said she was honoured to be asked to create her own version.
"I've never performed it before but have sung along with other people," said Karine. "It's been a part of so many sessions and is a real staple of Scottish and Irish folk festivals. It's quite daunting to sing because it's one that's quite special to a lot of people. It's very special to Margaret and her family. It's a gorgeous song.
"I've had lots of beautiful messages about it. Margaret is one of my literary heroes, she's an incredible thinker and amazing activist."
The song draws on the custom of a parting glass that dates back to Saxon times – essentially one for the road, a final gesture of hospitality to a departing guest.
It developed into a custom for the end of a night, but the emotion packed into the lyrics has also meant it has become a song of tribute to comrades or loved ones lost.
"Inevitably because of the words and the feel of it, it's a song that has been played at thousands of funerals," said Karine. "There's something really beautiful about the sentiment of 'joy be with you all'. It really packs a punch, given that there's no parting or gathering right now.
"I think because we're in the thick of things at the moment, a lot of us are quite fragile and it doesn't take much to tip you over.
"It's not a long song but it can hold a lot of stuff."
The song remains an all-time favourite of writer, musician and broadcaster Mary Ann Kennedy, who acclaimed the beautiful new version recorded by her friend.
"My ears always prick up when I hear the song, and then I realised it was a Scottish voice singing it," she said. "I didn't immediately recognise it was Karine, which I normally would have done.
"I was left with no preconceptions listening to it, just revelling in the voice and the words. It was a wee oasis on the radio when I heard it."
As the new year begins, Mary Ann understands why so many people have gravitated towards The Parting Glass during the pandemic.
"People are desperate to be in the company of their nearest and dearest, and their dearest this year are not necessarily the nearest," she said.
"I always say that The Parting Glass is extending a hand to others, whether you're actually physically able to give them a hug or whether you're sending it via the song. I understand why so many people have been drawn to the words.
"It's poignant, but I always regard it as such a positive song. It's about somebody who has spent time with the people they love, living the life that they loved, and is really comfortable in their own skin.
"Whatever they've been given it's there and whatever they've done to cause hurt or harm without meaning to, there is this coming to terms. They're also grateful of whatever's around them whether immediately with them or further away."
---
From the song
Of all the money that e'er I had
I spent it in good company
And all the harm I've ever done
Alas, it was to none but me
And all I've done for want of wit
To memory now I can't recall
So fill to me the parting glass
Good night and joy be with you all
Of all the comrades that e'er I had
They're sorry for my going away
And all the sweethearts that e'er I had
They'd wish me one more day to stay
But since it fell into my lot
That I should rise and you should not
I'll gently rise and softly call
Good night and joy be with you all
---
An enduring anthem
Karine associates the song with lots of voices singing simultaneously, but given the moment we're living through at the moment, wanted to create a starker rendering of it.
Coupled with the season, where many would ordinarily have gathered to bid farewell to the year – one that most will be glad to see the back of – it makes the song all the more poignant.
Karine said: "Nine months without being able to sing in a room with people is a very strange thing. It's not just singers that feel like that, when you think about the number of people who are in choirs, go to church, go to the football, all these social gatherings where people sing.
"It's one of those human activities where you get a visceral sense of something bigger than yourself. It's quite odd to think that none of that happened this Hogmanay and for who knows how long."
Modern versions
The Parting Glass was brought into the spotlight in the mid 20th century after performances by The Clancy Brothers and Tommy Makem, an Irish folk group who would become friends with and influence Bob Dylan in the early 1960s.
A performance of the song was included on their famous live album In Person at Carnegie Hall.
Versions of the The Parting Glass have also been performed by The Pogues and Sinead O'Connor, as well as Ed Sheeran as a hidden track on his 2011 debut album +.
"I'm sure hundreds of thousands of people have discovered the song through his version, whatever you think of it," Karine said. "It's clearly a song that matters to him, and fair play to him, a man that writes multi-selling pop hits standing up at Wembley stadium on his own and singing the Parting Glass is pretty bold and beautiful."
One of Karine's favourite versions is by Irish singer-songwriter Hozier, who performed a version on RTE's Late Late Show earlier this year to honour victims of the pandemic, with proceeds from the single release going to a children's charity.
"It really knocked my socks off. He clearly comes from a place where he understands his roots, singing in that really old ornamented Irish style.
"This would be one mark against the Scots claiming it, the tune of it is very like a lot of Irish traditional tunes and the way they sing it is with much more flourish and ornamentation, becoming a fluttering kind of melody. I find that really moving – my favourite versions are almost all by Irish singers.
"Hozier sings it like he means it and doesn't milk it, it's two minutes and you're done. it's a big song that can wipe the floor with you in just two verses and two minutes."
Mary Ann considers the song to be one of her desert island disc picks, with a particular fondness for the version by Irish trio The Voice Squad.
"It's a combination of the words and where I originally heard it first. I have a soft spot for male voices singing in harmony and The Voice Squad are just the most perfect singing unit.
"I had the joy of recording them live in a session for BBC radio a few years ago when I was over in Derry. I asked them to sing it as one of their set and I was in tears in the studio!
"All professionalism was completely out the window as I listened. Ever since then it's a song that pushes my buttons, and to know that it was a pal that created this beautiful new version is just another plaudit to attach to the song that makes it even dearer."
The Parting Glass has also been performed by actors in a wide range of film and TV shows, from Pierce Brosnan in 2002's Evelyn to Joe McFadden in a 2007 episode of Cranford.
It has also been featured in an episode of The Walking Dead, as well as the videogame Assassin's Creed 4: Black Flag.
---
The history
Like many traditional songs, it's difficult to fully trace the origins of The Parting Glass, explained Dr Lori Watson, a lecturer in Scottish Ethnology at the University of Edinburgh.
Coming from a strong oral-aural tradition, the song is a product of many minds over a long period of time.
"While we can find versions and variants in published texts it is important to remember that they are but one collected example, often edited for a specific readership," she said.
"For the family of songs known as the Parting Glass and Good Night An' Joy Be Wi Ye A', we have published examples from the early 1600s onwards – so they were likely in circulation in some form before this time.
"Published sources suggest that the Scottish Good Night An' God (later Joy) Be Wi Ye A' are the earliest variants.
"We have many examples of songs and melodies travelling back and forth and evolving over time.
"Although it currently seems that Scotland has evidence of the earliest published melody and several beautiful song variants, the popular Parting Glass currently in circulation has strong Irish and North American influences to thank."
Lori, who is also a musician herself, attributes the song's popularity for funerals and memorials to its central actions of parting, drinking and well-wishes.
"Music that is used to mark important moments in our lives, and is repeated in these settings, is gifted additional social and personal meaning," she said.
"This song has expressed intense emotion – grief and pain at leaving, separating, different paths, inequality, unknown futures, searching for a conclusion, confession, resolution, making things right, getting our affairs in order – and has been refined for this purpose over time.
"Like many, I sang a version at a family funeral a few years ago – it conveyed what I needed to at the time."
Josh Dickson, Head of Traditional Music at the Royal Conservatoire of Scotland, added: "The Parting Glass is a Scottish traditional song of long standing, often sung as an expression of farewell when seeing off friends, family or guests.
"It refers to an older tradition of the 'parting glass' or 'stirrup cup', a final drink given to a guest before they depart. It has at times been known by alternative titles such as 'Good night, and joy be wi ye a', which is a reference to a line in its first stanza.
"Being a folk song, its origins and authorship are obscure, but it was in popular currency as far back as the early 17th century and was first printed in broadside in the 1770s."
---
Karine Polwart is giving Edinburgh University's Celtic & Scottish Studies performance-lecture in May 2021 (rescheduled from 2020) at Edinburgh's Trad Fest 
More information here.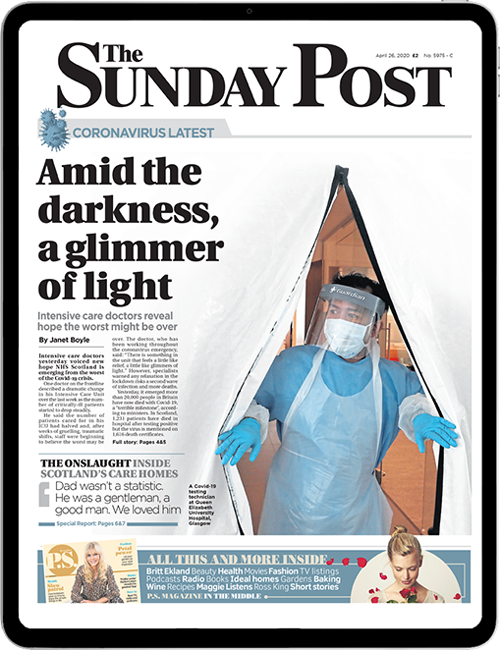 Enjoy the convenience of having The Sunday Post delivered as a digital ePaper straight to your smartphone, tablet or computer.
Subscribe for only £5.49 a month and enjoy all the benefits of the printed paper as a digital replica.
Subscribe