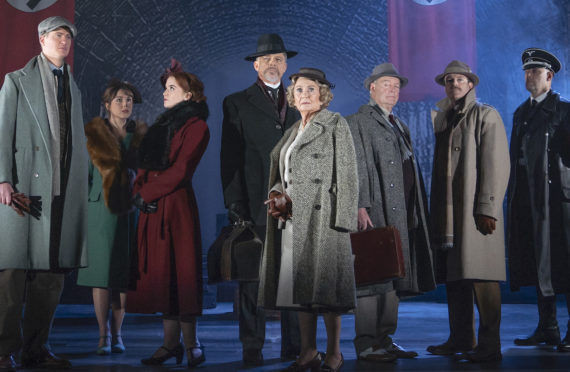 In Hollywood, a movie's running time can often outlast a celebrity marriage.
So, when a union does prove to have staying power, like that of Maxwell Caulfield and Juliet Mills, it's worth talking about.
Grease 2 and Dynasty star Maxwell and Emmy award-winning Juliet, the daughter of John Mills, have been married since 1980.
Maxwell was 20, Juliet 38, but, against the odds, their marriage has stood the test of time.
"When marriages go the distance, you have a responsibility to sustain it, so people can continue to believe in the institution," Maxwell said.
"Young people grow tired and frustrated with each other and instead of working out their differences, just call it off."That's one of the advantages of us having that age difference – she had the maturity and experience to ride out the early volatile years."
The couple met during a stage version of The Elephant Man and are now working together again, on the UK tour of The Lady Vanishes.
Based closely on the Hitchcock classic from 1939, it is the latest production from Bill Kenwright's Classic Thriller Theatre Company.
"Familiarity breeds contempt but that's not the case with us as we've only acted together sporadically," Maxwell, now 59, continued.
"We don't have any scenes together but hopefully the next time we will – Bill Kenwright wants to work with us again, especially Juliet.
"When we met on The Elephant Man we had lots of wonderful scenes together. We've always had aspirations to be a working couple and I like spending time with her. I admire her talent.
"She's so honest and that makes me honest. One of the reasons we both committed to this is that it's a nice opportunity for the public to watch a very popular actress they don't get to see enough of."
Juliet, now 77, plays the title character in The Lady Vanishes, while Maxwell is an Austrian brain surgeon.
"My friends get a good laugh at that," he quipped.
It tells the story of Iris, whose travelling companion suddenly disappears on a train. She's perplexed to find that all the other passengers deny ever having seen her.
But, with the help of musician Max, she turns detective and together they try to solve the mystery.
"Neither of us is carrying the play," Maxwell continued.
"We have some strong, seasoned actors. Matt Barber (Atticus Aldridge in Downton Abbey) is a real Captain Courageous and has great energy, while Lorna Fitzgerald is reinventing herself after her role as Abi in EastEnders.
"And we have Roy Marsden (Adam Dalgleish in ITV's PD James series) who adapted the script and directs. It's a really good cross-section of talent."
Maxwell is looking forward to being transported to Scotland, where the production will visit several times, playing Edinburgh, Inverness, Aberdeen and Glasgow over the next five months.
"We have a bit of a bizarre commute, going from Stoke to Inverness to Devon, for example," Maxwell added.
"But I'm really pleased to be spending so much time in Scotland.
"You feel like you're in a different country – you are, of course – but there's a temptation to think Britain is all the same, yet as soon as you go into Borders country you notice the difference.
"It will give me the chance to finally explore some of my family's ancient history. My grandfather on my mum's side was Scottish and Rose Innes is my tartan."
"And I'll be hitting all the swimming pools – Tollcross is a great one, as is the Royal Commonwealth Pool and the Aquatics Centre in Aberdeen.
"Edinburgh is our first Scottish stop and I've performed there on a number of occasions.
"We'll be staying with a dear friend, which is lovely, as when you're touring you are often moving into strange places on faith alone.
"By the time you've been on the road for a few months you become so disorientated you can't even read a simple map."
---
The Lady Vanishes, King's Edinburgh, Mon-Sat, Eden Court, Inverness, April 15-20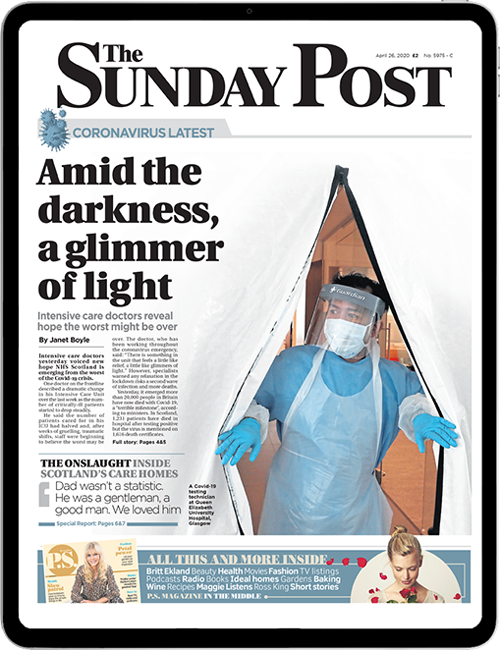 Enjoy the convenience of having The Sunday Post delivered as a digital ePaper straight to your smartphone, tablet or computer.
Subscribe for only £5.49 a month and enjoy all the benefits of the printed paper as a digital replica.
Subscribe