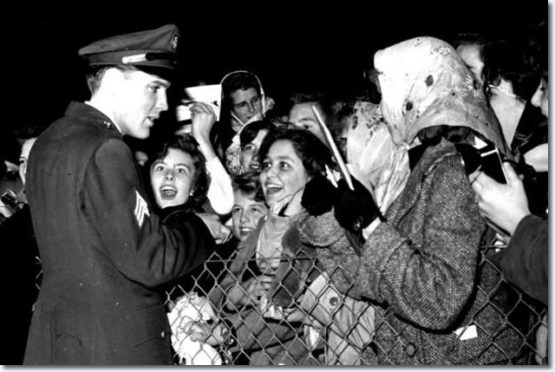 It was, by Elvis Presley's standards, a small crowd – wrapped up warm and gathered more in hope than expectation.
The rumour that the King was to stop over at Prestwick as he flew home from national service in Germany had spread like wildfire in Ayrshire. But, still, the fans who had raced to the airport found it hard to believe the world's biggest star would fly into Scotland.
Even, when he stepped off the plane, many struggled to believe their eyes. In his military uniform, he stood at the top of the aircraft's stairs and shouted to the crowd below: "Where am I?"
"Prestwick!" was the screamed response from the throng, made up mostly of teenage girls.
It was the evening of March 2, 1960, and the scheduled refuelling stop at Prestwick Airport, used as an American military base, was supposed to be a secret, but it was a story too good not to be shared.
After meeting fans on the runway, the Jailhouse Rock singer was rushed off to the nearby officers' mess, which today is Adamton Country House Hotel, where he called his wife-to-be, Priscilla.
He promised he would be back, but Elvis' 90-minute stopover in Prestwick was the only time he touched down on British soil.
Sixty years on, it remains a momentous occasion for his fans. Todd Slaughter, president of the Official Elvis Presley Fan Club of Great Britain, said: "It was fantastic he touched down here for a couple of hours, but what all of his fans in the UK wanted was for him to tour here, which sadly never took place.
"It's nice the Prestwick visit happened, though. Whenever the fan club organised trips to Las Vegas to see Elvis in concert, there were always Scottish fans who would come with us, turning up to the concerts in kilts.
"Over the years I've never spoken to anyone who was there that night, but a handful of fans were lucky enough to make it on to the military base."
Here, before the 60th anniversary, we speak to a few of the Scots who had a special connection to the King's brief visit.
---
He was so handsome in his uniform. I call him my first boyfriend
When Ann Murphy received a call at work from her mum, the teenager knew it must have been important.
They didn't have a telephone in the family home, so Ann's mum had rushed to the nearest payphone to deliver the news.
Ann could barely believe what she was hearing. Elvis was coming to Prestwick that night, and 16-year-old Ann should get herself down to the airport after she'd eaten dinner.
"Sergeant Phelps had called my mum personally and she told me he wouldn't make anything up," said Ann. "My mum was a cleaner on the American base and I used to babysit for Sgt Phelps, and he told her to let me know Elvis was arriving that night.
"I went straight up the road on the bus, had my tea, and then got on my bike to cycle to the airport."
On the way, Ann told passers-by she was heading to the airport to meet Elvis, but they all laughed and told her she was making up a story. Except for her pal, Muriel, who jumped on the back of the bike and joined her.
But disaster struck when they fell off and a pedal broke. "We had to run the rest of the way," Ann said. "We thought we were going to be too late.
"In those days, you had to cross the runway and there were big gates that closed when a plane was coming in. We got lucky, because they were open, and we dashed over to where a small crowd had gathered and managed to get to the front.
"The plane was already there and when he came out we all screamed.
"He was so handsome, especially in that uniform. He was my dream date and I call him my first boyfriend.
"I could have touched him but the military police had warned us not to.
"I'm small, so I had to peek round in order to see him and just at that moment the photographer took a picture of me staring up at Elvis."
The star made his way into one of two waiting cars and Muriel could contain her excitement no longer. "She went over the barrier and jumped on a car, spread-eagled, and peered in the window," Ann smiled. "But Elvis wasn't in that car, it was the military commander, and she was scraped off the bonnet and put back behind the barricade.
"The cars drove away and we were told to go home.
"We went back to our favourite café in Prestwick. Everyone we told said we were telling lies, but they changed their minds when they saw the papers the next day."
Ann's love of Elvis never diminished. In fact, she even married an Elvis impersonator. "I met Andy at the dancing – he was a great jiver.
"He would go around the clubs in Ayrshire and do a great Elvis. Our two kids were brought up with Elvis – his music was always on in the house.
"Before Andy died, I won £9,500 on the pools. We'd never been on a plane, even though Andy worked at Prestwick Airport for 28 years. I told him I'd booked us a holiday to Benidorm.
"It was only when we got to Glasgow Airport I told him we were going to America. We went to the Grand Ole Opry in Nashville and to Graceland in Memphis, and then out to Las Vegas, where Andy got up and did an Elvis song in the casino the night before we came home."
Ann added: "I still can't quite believe I got to see Elvis in Prestwick that night."
---
My grandad loved to tell us about the night he met Elvis
One of the black and white photographs immortalising the King's visit to Prestwick shows a journalist sitting next to him taking notes.
The reporter in the photo is Ed Hodge's grandfather, Ian Nelson, believed to be one of only two journalists to have had an audience with the singer that night and the only one to be photographed with him.
"He did the west coast beat and knew a lot of the staff at the airport," Ed explained.
"He would get tip-offs about people coming in and met the likes of President Eisenhower, and golfers Jack Nicklaus and Gary Player when the Open was in Ayrshire.
"He got a call that night, rushed to the airport and got the interview. He found Elvis to be really approachable and charming, like the kid next door."
Elvis avoided questions about his teenage girlfriend, Priscilla, but when Ian asked him if he would perform in Scotland, Elvis said: "I kind of like the idea of Scotland. I'm going to do a European tour and it would be nice to come back here."
He never did, of course, but the picture of Ian asking the question came back into the family's life more than once over the years.
"We had it framed in our family home in Perthshire, as did my grandparents, who lived in Yorkshire when I was growing up.
"We would go down on holiday to visit and he would tell me the story. I would see him rattling away on his typewriter, phoning in copy. He inspired me to get into journalism.
"He was 89 when he passed away in 2009, in a Dunblane nursing home, and he still loved telling the nurses the story of the night he met Elvis."