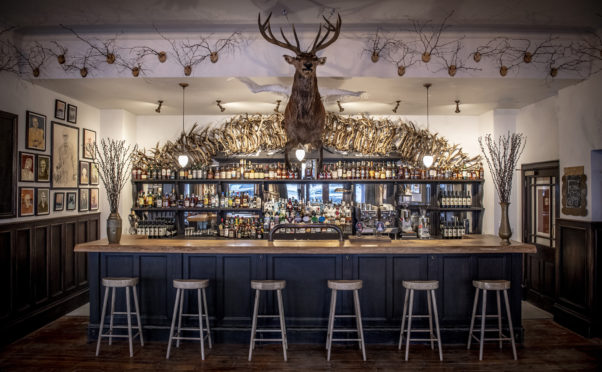 As I stood admiring an original Picasso artwork, I was struck by how amazing it was seeing the ­craftsmanship of this legendary artist up close.
But I wasn't standing in an art gallery. Rather, this was one of Scotland's most talked about hotels.
Owned by Iwan and Manuela Wirth, co-founders of the acclaimed Hauser & Wirth gallery, the Fife Arms reopened late last year after an extensive two-year refurbishment and is now home to more than 12,000 works of art, antiques and objects.
Highlights include the original Picasso, Mousquetaire assis, a Louise Bourgeois "spider", Lucian Freud's Child Portrait (Annie), and a slightly scary and lifelike waxwork of Queen Victoria perched in a high-back chair in the library.
The transformation of the once-rundown Victorian coaching inn is as dramatic as its interior design, inspired by the surrounding landscape and the history of Braemar, the village in which it sits.
Tweed and tartan provide traditional Scottish references in this mid-19th Century inn, with a wraparound mural and mahogany Robert Burns fireplace adding to the atmosphere.
Every one of the 46 bedrooms has its own design and theme, from smaller croft rooms to royal suites. Each references a place, person, event or activity integral to the life and legacy of Braemar, and all come with unique furnishings and décor.
Our zoology-themed room was a study in wildlife, with animal wallpaper, prints and taxidermy. Consisting of a king-sized bed, dressing area and spacious traditional en suite, all in a colour palette of rich blues, yellows and greens.
A highlight was the view across the village to the hills beyond.
As tempting as the hotel's many treasures were, we were keen to explore Braemar.
After a hearty breakfast in the Clunie dining room, we set off to visit the newly-opened Duke of Rothesay Highland Games Pavilion.
This heritage centre showcases the history of Highland Games, with displays gathering Highland dress, historical pictures and correspondence.
Featuring a charming café, function room and small museum, the centre was given the royal seal of approval when the Queen visited last September. The £2.5 million project was partly funded and driven by Prince Charles's Foundation – taking just one year to build. The pistachio-green buildings are on the site of the famous Braemar Gathering, which takes place on the first Saturday in September.
The village's royal connection dates back to the 11th Century, explaining the abundance of castles, stately homes and ruins within easy reach.
To find out more, we went on part of Aberdeenshire Castle Trail, a dedicated route that can take six days to negotiate. It covers, among others, castles in Royal Deeside and includes the regal legacy, from Braemar to Balmoral and airytale Craigievar.
If you don't want to venture far, Braemar village centre is home to the medieval ruins of Kindrochit Castle.
The gardens, grounds and exhibitions at Balmoral were closed when we visited. However, a warming dram and guided tour awaited at the nearby Royal Lochnagar distillery.
On arriving back at the hotel, we stopped in at Elsa's bar. This tiny space with the huge vintage disco ball seats only eight.
With twinkling candlelight and a speakeasy feel, the bar is named after designer Elsa Schiaparelli (who often visited Braemar).
The signature cocktail, Shocking Pink, is a delicious aperitif before a wonderful dinner of seasonal delights. The evening was finished off nicely with a night cap in the lounge, below the softly lit Picasso.
We could have ventured back to the library – but we didn't want to disturb Victoria.
Queen Victoria loved her time in this area, but did you know that another famous face visited Braemar? Robert Louis Stevenson penned Treasure Island while staying in the village in the summer of 1881.