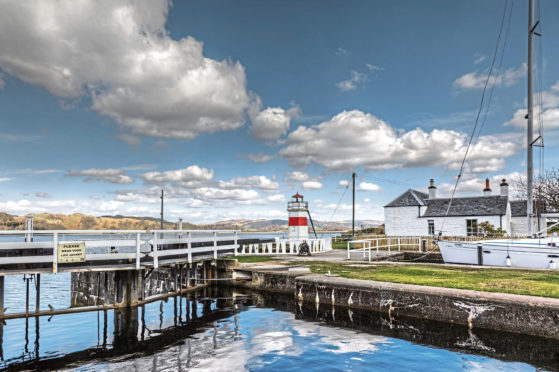 From sea to shining sea, Scotland has some of the best coastlines in the world. And as we prepare to celebrate the Year of Coasts and Waters 2020, VisitScotland's Chelsea Charles explains why water is the lifeblood of our country and how it helped shape our culture.
How many miles of coastline, rivers and canals are there in Scotland?
Scotland has a varied coastline made up of over 11,0000 miles, ranging from low-lying, soft sandy beaches and dunes, through to towering hard-rock cliffs, bays and inlets – so we've got lots to be talking about in Scotland's Year of Coasts and Waters 2020.
There are five Scottish canals, together making 137 linear miles of waterway network. Scotland has more than 30,000 freshwater lochs, ranging from small lochans to the likes of Loch Ness and Loch Lomond.
What were Scotland's canal systems used for originally?
All of our canals were built for different purposes.
The Crinan Canal was initially built as a shortcut for commercial and fishing vessels and later it was to make a connection to Glasgow.
Following Queen Victoria's visit in 1847, the Crinan was known as the Royal Route and became a tourist attraction.
The Lowland canals (Forth & Clyde and Union Canal) were built in response to the Industrial Revolution.
Today, our canals offer a great way to experience the landscape, history and culture of our country whether it's navigating down them in a barge or taking in the fascinating wildlife on a canal-side stroll.
What's our longest canal?
The Caledonian Canal, which opened in 1822 and was engineered by Scottish civil engineer Thomas Telford, is Scotland's longest, stretching 60 miles along the Great Glen from Fort William to Inverness.
How has Scotland's fishing industry changed over the centuries?
Fishing is one of Scotland's great industries and a key part of our heritage.
It's been really interesting to see the fishing industry diversify over the years to help attract visitors. From seafood safaris where you can sample delicious shellfish to immersing yourself in a taste of a fisherman's life on a boat ride, there's lots of sea treasures to be discovered.
How important was Scotland's coastline during the Second World War?
Hugely. Scapa Flow in Orkney, now a world-renowned location for all those interested in maritime history, and indeed for divers, was also a chief naval base.
Sections of coastline, where the enemy could easily land, also had a series of defences built along them, known as "forming a crust".
Some of these defences are still evident today at Tentsmuir, Lossiemouth, Roseisle and Culbin.
How have the environmental issues impacted Scotland's coastline and waterways?
The coast is uniquely exposed to climate change, due to the effects of rising sea levels and also temperature and rainfall changes on land. Coastal erosion is a naturally occurring process that affects, from time to time, much of Scotland's coastline.
David Attenborough's inspirational Blue Planet II, brought the ocean plastic issue to the forefront. We are all connected to the oceans and our coastlines, from the food we eat to the air we breathe, and the time we spend at the coasts so we all have a part to play in the health of our seas, whether it's taking part in a beach clean or reducing our plastic consumption. Protecting our environment will be a key theme next year.
Has Scotland ever had a flooding disaster?
Some 8,000 years ago, Scotland was struck by a 70ft tsunami. Experts believe that the giant wave may have been travelling at a speed of around 80mph as it struck land. It is said to have been triggered by the underwater Storegga slide off Norway.
Marine archaeology can take us back to the very moment when the tidal wave hit. It can also tell us what happened to our ancestors during a time of rising sea levels, disappearing coastlines and extreme weather patterns – themes we are not unfamiliar with today.