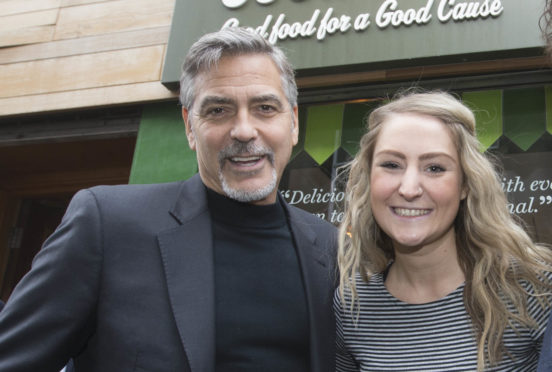 It was a typical cold November day when the glitz, glamour and excitement of Hollywood descended on Edinburgh's grey, cobbled streets.
But George Clooney wasn't visiting to film a big blockbuster – he was here to have lunch at Social Bite, one of the five social enterprise cafes I helped to build, and which tackles homelessness.
It really was such an incredible day. I'm sure sometimes when a celebrity is attending an event that memos are circulated stating "no selfies" and "professional photos only, please". But George was more than happy to take pictures with the crowds of fans who had lined up to see him arrive.
He was so generous with his time, spent ages talking to our staff, and even left a big donation in our "Pay it Forward" system, which allows customers to buy food in advance for people experiencing homelessness.
Although grabbing a sandwich with a Hollywood A-lister is up there with some of the most memorable events in my life, it wasn't the first time I had brushed shoulders with famous faces since we first had the idea for Social Bite in 2012.
My business partner, Josh Littlejohn, and I actually first thought about setting up a social enterprise when we were on our way to meet a Nobel Peace Prize winner.
At the time, we were setting up the Scottish Business Awards, and we wanted Muhammad Yunus to speak at the event. We kept calling and calling his office but we couldn't really make any meaningful contact. Then someone finally said: "If you come to Bangladesh we'll put a five-minute meeting in his diary."
So we got on a plane.
While we were there, we visited lots of social businesses and micro-finance projects, and seeing that work really made us think we had to bring the same model back home.
We didn't manage to get philanthropist Muhammad Yunus to come to Scotland in the end – Bob Geldof ended up taking his place – but the trip sparked an idea, which turned into a truly amazing project that has gone from strength to strength.
Our initial idea was simple: we wanted to make it really easy for people to do good, putting cafes on the high street which would donate all profits to good causes.
Instead of going to, say, Pret a Manger, Subway or Greggs, people could buy an equally tasty lunch or coffee at Social Bite, with their money then fuelling a movement rather than helping to make a lot of money for company boards.
If Social Bite proves anything, it's that people really want to do good when they're given the option.
Since George Clooney's visit we have been lucky enough to attract a few more celebrities who have helped take our message to the world stage.
Leonardo DiCaprio popped along in 2016, and Prince Harry and then-fiancée Meghan Markle visited early last year. They were both so passionate about tackling homelessness and poverty.
When we started, we wanted to have several cafes and become an example of how you can do business differently. But we didn't imagine we would go on to do some of the amazing things we have.
As well as running our cafes in Edinburgh, Glasgow and Aberdeen, we distribute more than 140,000 items of healthy free food each year, our weekly Social Supper events connect 400 vulnerable people with food, support and opportunities, and one in three of our staff have had their own issues with homelessness.
If that wasn't enough, we now also run annual Sleep in the Park events, which have so far raised more than £7.5 million. And in May last year we opened the Social Bite Village in Granton, Edinburgh, where up to 20 people affected by homelessness can find accommodation and support.
My own personal project is the Wee Sleep Out programme, which aims to encourage 10,000 young people across the country to host their own sleep-outs and come along to social workshops.
It's been great to almost go back to where we started, picking up the phone again to persuade the education section to join us.
We've come a long way in the last seven years, but I don't think of myself as a "successful person" and I don't feel responsible for Social Bite's achievements. Everything we've done has been down to the support and hard work of the people who have helped us along the way.
I have really grown alongside Social Bite. But I've still got a lot left to do and a lot left to prove.
As told to Alice Hinds
Sandwich chain spreading social message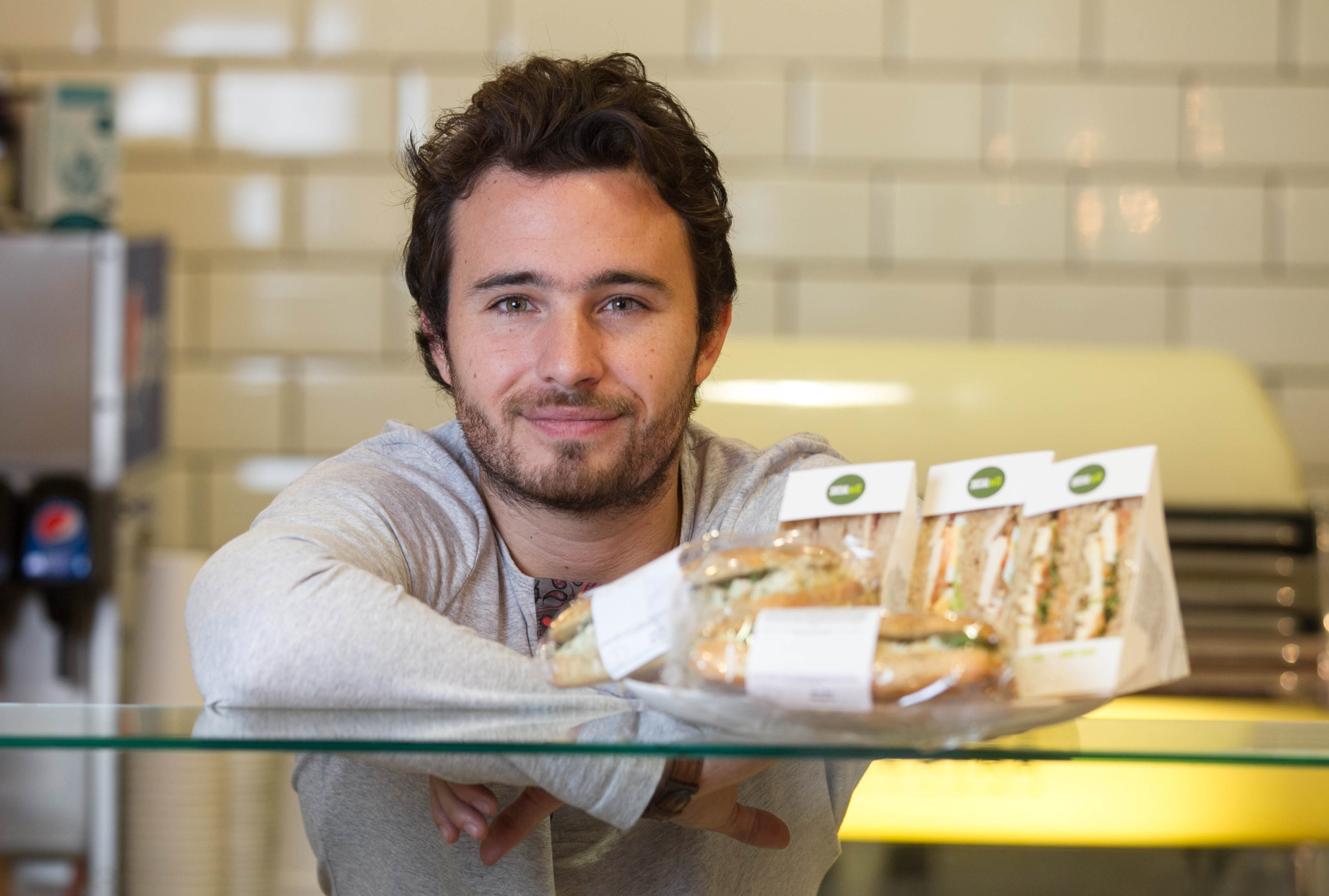 The Social Bite began in 2012 as a cafe in Rose Street, Edinburgh – but it wasn't a normal lunchtime sandwich bar.
Josh Littlejohn and Alice had the idea to operate as a social business, which gave its profits to charity.
In the past seven years Social Bite has gone on to employ 70 people and operate a chain of five sandwich shops across Edinburgh, Glasgow, and Aberdeen.
Alice and Josh distribute more than 140,000 items of healthy free food via their cafes each year.
Recently they launched their second Wee Sleep Out – a programme for under-18s to join the charity's movement to end homelessness.
Wee Sleep Out events will take place over Scotland on the weekend of December 7, the same weekend as The World's Big Sleep Out, which is run by Social Bite's sister charity.
Alice said: "I was shocked and delighted when more than 5,000 young people organised their own sleep out events last November and raised over £110,000. It's been inspirational to discover such passion in Scotland's youth for positive social change.
"They can do what Social Bite has done, and more, for their own cause, using the power of business to tackle the world's problems."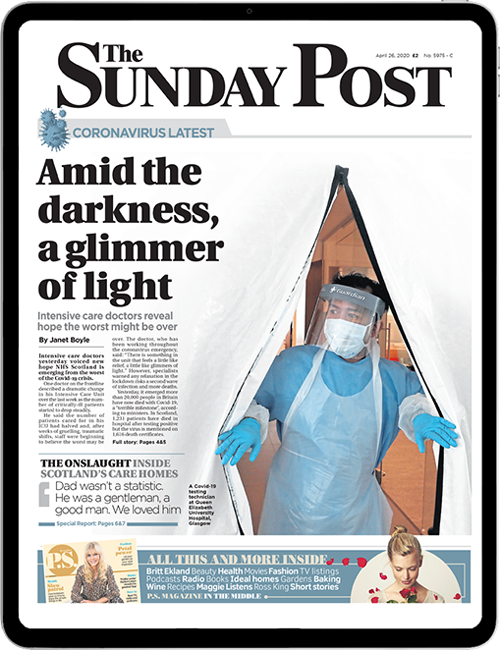 Enjoy the convenience of having The Sunday Post delivered as a digital ePaper straight to your smartphone, tablet or computer.
Subscribe for only £5.49 a month and enjoy all the benefits of the printed paper as a digital replica.
Subscribe