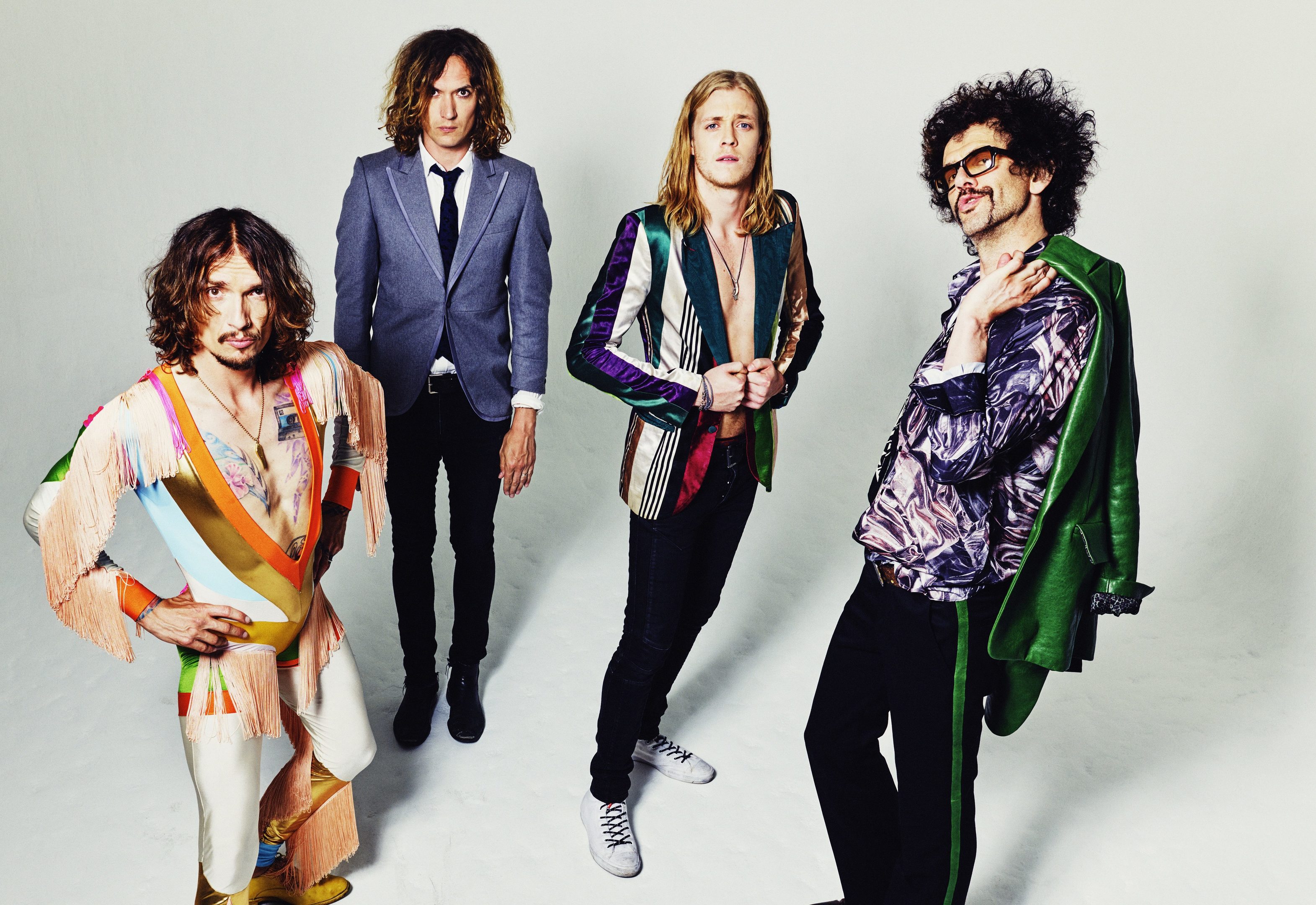 AS part of The Darkness, Scots bass player Frankie Poullain has more than a few special memories to look back on from the band's mainstream peak.
The flamboyant rockers enjoyed an incredible rise to the top in 2003 and enjoyed a string of massive opportunities that came their way.
The four-piece crashed and burned almost as quickly as they rocketed to the top, but they reformed six years ago and have been enjoying their comeback ever since.
They play Glasgow this month as part of their latest tour, but it's a special performance across the M8 in Frankie's home city of Edinburgh that stands out from those heady days after their first album, Permission To Land, went to number one.
"The MTV Awards in Edinburgh were incredible, especially with it being my hometown," Frankie recalled. "Christina Aguilera was dressed as a rocker to introduce us while we were underneath the stage, waiting to be projected up.
"I remember clutching my guitar tight as we all looked sideways at each other and wondered how it had come to this. Then we went and played to hundreds of millions of people watching on TV."
Led by brothers Justin and Dan Hawkins, the band's debut album sold an incredible 1.5million copies in the UK.
They quickly went from playing clubs to selling out arenas, headlined T In The Park and released a hit Christmas single.
From failing to attract record label interest to being the biggest band in the country, the experience was an unforgettable rollercoaster ride of emotions.
"It was overwhelming a lot of the time, but we did have a feeling of vindication because we had been knocked back so many times," Frankie admitted. "We had a real hunger for it.
"In hindsight, it was the tail end of the time where people were still buying CDs, so the record company was cracking the whip and everyone was trying to milk us.
"In those days we were transported everywhere, we never got an outside view, and people were fussing around us all the time.
"I watched a documentary on BBC4 about Liam Gallagher and it showed him in his dressing room making a cup of tea and he said that back in the day someone would have made it for him.
"That's how it was, people fussing around, supposedly making us feel comfortable but actually making us uncomfortable. We were quite insular, so it could be very trying being in that world where you don't get any space."
Frankie left the band in 2005. The rest of The Darkness limped on but the end was nigh and they split the following year.
They reunited in 2011 and have recorded three albums since, their latest being the recently-released Pinewood Smile.
The group, which now includes Queen drummer Roger Taylor's son, Rufus Tiger, enjoy a more moderate level of success this time around, but Frankie has no appetite to return to the crazy days of their first album.
"You need to be careful what you wish for, I think," he said thoughtfully. "We're really happy where we are now, happy with each other, and if you run the business well, you can make a great living.
"It might be greedy if we wanted more from it and the most important thing is to make music we want to make and to be happy."
Great opportunities still come their way. They've supported Guns 'n Roses and Lady Gaga and a warts and all documentary on the band is currently being made.
Frankie is delighted with their latest album, part of which was written in Scotland. "We really enjoyed making it," Frankie added.
"We tend to go away for a week or so at a time when writing. We do it old school, cutting ourselves off from family and friends.
"One of the writing sessions was at an Air B'n'B in Inverness. We had been playing a festival there and it was during that session we wrote a song called Southern Trains.
"During the recording, Dan and Justin were taking the train to the studio and were always late," he said.
"They were really frustrated and the song encapsulates that, how it's all about the shareholders getting richer and never being accountable for how the passengers are treated."
The Darkness, O2 Academy, Glasgow, Nov 29