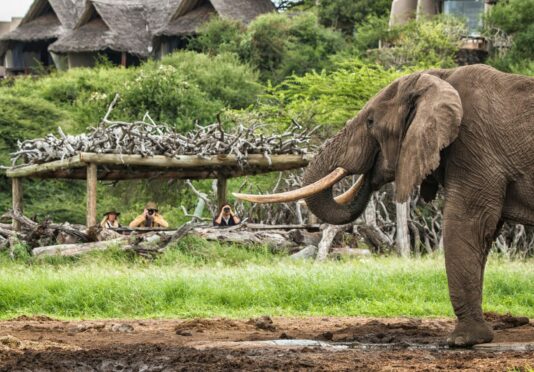 Stood atop a stack of ancient balancing rocks, the sight below me is extraordinary. Large herds of oryx shift across open grasslands as clouds lift to reveal the curves of grassy mounds. In the distance, the snow-capped tip of Kilimanjaro soars upwards in a perfect cone.
Today, the only rumblings are from lions and elephants, but this landscape was once a hothouse of volcanic activity. The Chyulu Hills are part of a range formed 1.4 million years ago, with the last recorded eruptions occurring in 1855. And energy from fiery lava flows still runs through hilltops and stimulates life from the fertile soils below my feet.
"There's something very special about this place," whispers my safari guide, Jackson, as we watch a dawn sun emerge from the mist.
This national park in south-east Kenya is an important ecosystem. Sandwiched between the red earth soils of Tsavo and the swamps and marshlands of Amboseli on the border with Tanzania, it's a key migration corridor for elephants.
Most big tuskers have been almost genetically wiped out by decades of ivory poaching. I meet some male bull residents, when I visit a hide next to a watering hole. Some have tusks so long they spar like fencers as they battle greedily for the water source.
A striking example is an elephant known as One Ton. "He's one of our regulars," says Graham Mckittrick, host manager at Ol Donyo Lodge, one of the few places to stay in the area. Set in the foothills of the Chyulu Hills National Park, 11 thatched cottages are spread across a gentle slope on the 111,000-hectare Mbirikani Group Ranch – community land owned by 4,000 Maasai.
Between game drives, I sit in my private plunge pool, watching giraffes glide across the horizon. During the day, klipspringers bolt through bushes, hornbills flash between treetops and langur monkeys bathe boldly on terraces.
Even after dark, nature continues her display. One night, I crawl into a star bed on the rooftop of my suite, listening to lions roar until I drift off to sleep.
Filmmakers Dereck and Beverly Joubert were so captivated by the Chyulu Hills, they brought Ol Donyo Lodge under their Great Plains Conservation umbrella 15 years ago. "We have one of the only continuous unfenced populations of black rhino in Kenya," says Graham, when we head out on a walking safari. In so many places, populations have been poached to extinction. But, here, lava flows have created a fortress, providing a natural refuge.
Along with geological fortifications, non-profit organisation Big Life has played a key role in securing the survival of these animals, employing community scouts and establishing a security monitoring programme at the peak of the poaching crisis.
The son of a well-known Kenyan game warden, conservationist Richard Bonham was one of the first people to negotiate a tourism land lease from communities when he started building Ol Donyo in the 1980s. He later sold the property to Great Plains but still lives nearby in a bohemian open-air house with his wife Tara.
Co-founded with photographer Nick Brandt and entrepreneur Tom Hill, Big Life has successfully co-ordinated cross-border anti-poaching operations between Kenya and Tanzania, protecting more than 1.6 million acres by employing hundreds of local rangers.
But the biggest threat, Bonham tells me, is ongoing conflict between communities and wildlife, made worse by the sub-division of farmlands that block elephant corridors. His ongoing commitment is testimony to how special this place is.
Late in the afternoon, I hike to one of the Chyulu's many viewpoints. Perhaps it's the fronds of red oat grass tickling at my skin, but the sensation of standing here is electrifying.
Chyulu's hills have a magnetism that draw you back.
---
P.S. 
The Chyulus are known as the Green Hills of Africa, a paradise that inspired American author Ernest Hemingway's book of the same name. Published in 1935, it's an evocative account of Hemingway's safari through East Africa with his wife, Pauline Pfeiffer.
Factfile: 
Rooms at Ol Donyo Lodge start from £872pp. Visit greatplainsconservation.com. See also exceptional-travel.com and biglife.org.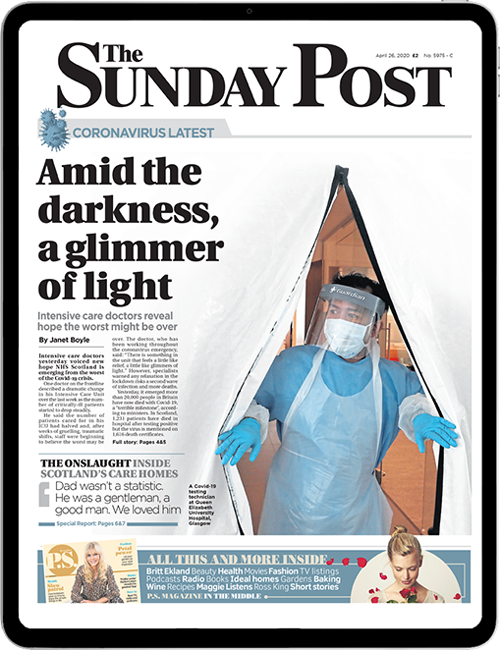 Enjoy the convenience of having The Sunday Post delivered as a digital ePaper straight to your smartphone, tablet or computer.
Subscribe for only £5.49 a month and enjoy all the benefits of the printed paper as a digital replica.
Subscribe