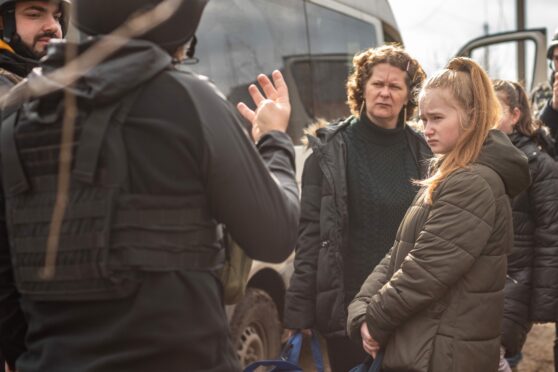 Siversk, at first glance, is a ghost town. A few miles from the front line, and 20 miles north of Bakhmut, it remains in Ukrainian hands, but fierce battles and shelling have utterly devastated this eastern town.
Once it had a brick factory and more than 10,000 residents. The only life visible as we approach – Jeeps thudding into mud-filled craters on what used to be the road – are stray dogs.
But there are people here. A few hundred, maybe, and that is a problem. There is the shelling but the Russian offensive, grinding and costly as it is, creeps closer. Siversk, or what's left of it, could be next in line.
There are always people who hope they can sit it out, putting off the decision to leave until it's nearly too late. Mostly it's the very old and the infirm who stay, subsisting in basements under relentless bombardment. Even besieged and broken Bakhmut, now nearly encircled by Russian forces, has a few thousand people left.
Kyiv MP tells Scots: We believe we will win. Keep your faith in Team Ukraine
Volunteers risk their lives on a daily basis to get people out of these places. In this case it's Base UA, a non-governmental organisation (NGO) running shelters and even finding new homes for those it evacuates. The team is kitted out in bulletproof vests and helmets; most carry medical kits with tourniquets. It's necessary. A terrifying video from January shows the moment a mortar narrowly misses them as they help a couple escape. Two British volunteers, with another NGO, were killed in January. Everyone knows the risks.
On a street churned to deep mud, Olya and her family are ready to go. Base UA have found them a place to live in central Ukraine. Her two boys are adults, 18 and 20, but the youngest girl, just seven, stares miserably at the ground as the volunteers explain where they'll go – first to Kramatorsk, then to Dnipro, then a new home.
There's a delay as the minibus is towed out of the mire. I ask Olya what finally persuaded her to leave.
"The bombing just got so intense, the kids are scared," she says. "We've been through so much. I thought we could wait it out. But we need to be somewhere quieter."
The deteriorating situation in Bakhmut prompted her decision too. It had started to feel a lot more risky to stay on in Siversk. So many neighbours have already left. Olya sounds proud that they lasted this long. "We're the most steadfast ones," she laughs.
The bus, freed, parks at the end of the street and it's time to say goodbye. Olya hugs her neighbours and the kids shoulder small rucksacks and leave their home. The two neighbours watch the family depart.
Sveta is 50, and Serhiy 48. "Things are really difficult," they both admit. But they won't be going with the volunteers – it would be "unbearable" to abandon everything they've built; house and garden with pigs and chickens, cats and dogs. Olya's parents, elderly, are here too. "So we're going nowhere."
Serhiy's right arm shakes visibly as he talks – Parkinson's disease. He does have medication, but says it's not helping. "Nothing helps. It's the stress, it's this insane situation, every day you don't know when something's going to land, or where."
Artillery shells crump and bang in the background, a constant soundtrack to life in Siversk. Serhiy shrugs and says it's "psychologically hard". But the couple are resolute. "We'll hold out," he says. "And hope for the best," his wife adds. "Every day we pray to God for the preservation of all our people, and our soldiers." I want to see the pigs and hens but the Jeeps are revving again; it's time to go. I say goodbye, and Serhiy replies quietly: "God bless you."
It's when we're at Siversk's small hospital, talking to the old women sitting outside, that the artillery arrives: that menacing whistle, high-pitched and descending, and the first bang, too close. "Prilyot, prilyot!" shouts the man in charge, trying to get everyone inside. The word means, roughly, "arrival by air", shorthand for a strike. We're ushered down dark stairs into the stifling smoky air of the hospital's labyrinthine basements – it's woodsmoke from the old boiler, a strangely comforting smell.
A tiny old woman wearing a green headscarf sits huddled on a pile of coats, waiting out the strike. Equipment and supplies, bottles of water, line the ­tunnel-like corridor. She doesn't want to talk; they've had enough of journalists. This is the building's main use now; it does still have some hospital staff but mostly it's used as a shelter in which to hide from the frequent "arrivals".
The refusal of some people to leave conflict zones has led the government to take a harder line, recently announcing that mandatory evacuation of children can take place – at least in Bakhmut. Here in Siversk, for now, volunteers rely on their powers of persuasion. But with one woman we meet, it's not working. She's screaming at them, from the entrance of a concrete bunker she's living in. Two children are apparently down there with her. It's just inconceivable that kids could live here.
The bunker – a concrete foxhole, really – is in scrubland next to the abandoned railway station; electric wires hang loose from overhead structures and the bricks of a half-destroyed building are scattered over the ground. The air is full of the sound of explosions. It's a lethal place. Unable to persuade her, the volunteers decide to come back later.
Mykhailo Dobrishman, Base UA's co-founder, was among those pleading with the woman to let the kids go. As he walks away, I ask if it's hard to keep his cool. He just shrugs, but in a call that evening admits it can be extremely frustrating. He and his team did manage to go back a few hours later and get the kids to safety with their mother. "They were very happy," Alexander Zehnter, another team member, tells me in the evening. These guys radiate a kind of seen-it-all resolve, and the deep satisfaction of doing an important job. "If we didn't do it, not many others would – plain and simple, the Ukrainian army doesn't have the time and resources to do proper humanitarian aid," Zehnter explains.
Dobrishman, too, was pleased with the day's work: they rescued 14 people in total. Why does he do it? "The personal reasons are simple and banal. I really want to be useful to our people."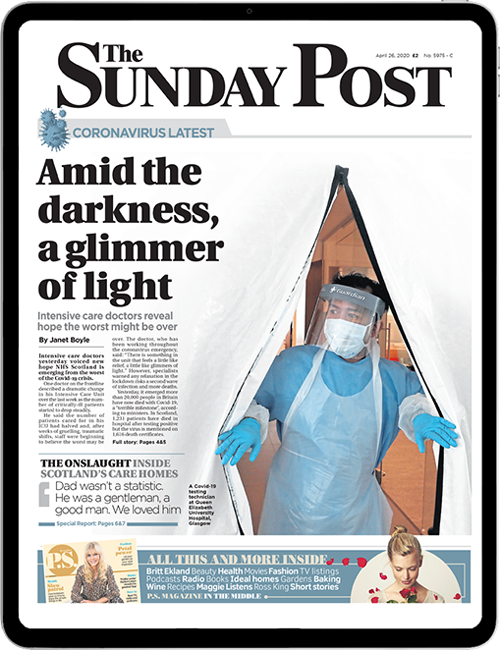 Enjoy the convenience of having The Sunday Post delivered as a digital ePaper straight to your smartphone, tablet or computer.
Subscribe for only £5.49 a month and enjoy all the benefits of the printed paper as a digital replica.
Subscribe