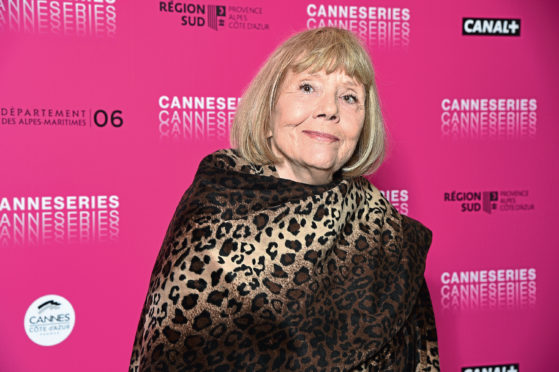 Diana Rigg has never really escaped The Avengers despite her countless award-winning performances on stage and in other TV series and films.
As Emma Peel she grabbed the attention of TV viewers but she was also grabbed herself and still has people wanting to talk to her as if she is still that karate-kicking all-action heroine.
"I suppose I should be grateful really because she was very good for me," said Diana, who appeared in The Avengers between 1965 and 1968.
"I think the problem is you have moved on and done so many other things but people who loved the series still love it and want to talk about it – which is fair enough.
"I was still quite young when The Avengers happened for me and it came as a complete surprise when I was seen as some kind of sex symbol.
"I wasn't ready for that at all and when the fan mail started arriving in sacks I didn't know what to do with it. I appreciated the fan mail but I had no idea how to deal with it.
"Fortunately my mother came to the rescue and looked after answering all the appropriate ones. You always get some that are not very appropriate but even to a couple of those she wrote back and suggested they get a cold shower."
Diana Rigg's life began in Doncaster in July 1938. Her father worked on the railways – no wonder she was good at learning her lines…
"My dad was an engineer and had a good job which became even better when he was asked to go to India.
"The whole family went and I spent my first eight years growing up in India which, for me, was wonderful. I still grew up in a Yorkshire household though and that is probably where I get my straight talking from.
"I had a happy childhood but then I was sent to boarding school back in England and I was very unhappy there. I think that is where my spirit of independence came from because I felt that it was better to be an individual.
"We had the inevitable question about what kind of a career we wanted. When I said that I wanted to be an actress our teacher looked at me in complete shock. You would have thought that I had said something totally immoral."
Diana got herself on the best of acting launch pads though when she was accepted to join the Royal Shakespeare Company.
"I could not have wished for a better opportunity," she said. "All I had was walk-on parts but you had to get it right every time so the discipline of stage acting was there from the very beginning.
"I walked on in productions that starred people like Sir Laurence Olivier and Dame Edith Evans so I had a ringside position to watch and learn from them. It was fantastic.
"When television beckoned you just had to take it because you could appear in front of a much bigger audience and you were better paid, although I did have some controversy when I discovered that I was getting less than the cameramen on The Avengers.
"I didn't want more than them but I wanted at least to be on equal pay. When the press got hold of the news that I had asked for more money they branded me as some kind of mercenary.
"I only ever wanted what I thought was fair and I certainly wasn't getting carried away with being Emma Peel – quite the opposite, it was actually quite scary.
"The other thing that happened was that some die-hard theatre people thought I was being disloyal to switch to television. They thought I was selling my soul to a poor quality alternative.
"I could see their point but in reality the stage actually benefits from television because people will buy tickets to see someone live whom they have seen on television, hence the success of pantomimes which include familiar TV faces."
From Emma Peel, Diana went on to an incredible range of successes including Bond film On Her Majesty's Secret Service in 1969 and other TV series but her first love was always the stage and she returned to it to star in many productions both in London's West End and on Broadway.
"I like having different roles whether they are classics or modern and to be in front of a live audience is such a totally different experience.
"I have been given many awards including becoming a Dame and it is very nice but not really what it is all about. It is what gives you a sense of satisfaction.
"If you can go home from a day's filming or a theatre performance and know you have done your best, that is what matters. You don't start thinking that your performance may have won you some kind of award so if or when they do come along, it is always a nice surprise.
"The bonus to performing is that you get to work alongside some great talents of all ages.
"You become lifelong friends with some and with others you may not see them for some time until you find that you have been cast alongside them again in a different production, perhaps some years later and it is such fun to meet up again."
Although Emma Peel refuses to go away, Diana is quite trendy in her choice of work and likes a variety.
"Game Of Thrones was lovely to work in but I also enjoyed playing Henry Higgins' mother in My Fair lady on Broadway. That was fun and, thank goodness, I didn't have to sing a note.
"I have done musicals before but I don't think that singing is my strongest point. I am more likely to clear the first few rows than enthral them with my singing."
Dame Diana never sees herself as a star and does not go out of her way to be recognised when she is shopping.
"I am hardly ever recognised – perhaps if I still looked like Emma Peel I might be but that was about 50 years ago which is why I now play Henry Higgins' mother.
"If I am recognised and someone asks for an autograph I don't often refuse. If I am running late or they are rather rude in demanding an autograph I might politely decline but I am grateful that they know me although I wonder sometimes if they think I am someone else."
Two things Dame Diana Rigg is fond of these days are a spot of fly fishing and a moderate glass of prosecco.
"Fly fishing is very good for escaping – you cannot think of a thousand other things while you are fishing and there is a sense of achievement if you actually catch something.
"I can remember catching a huge salmon once and I just couldn't believe it. It was stunning.
"I do like a glass of prosecco, it is true, but never before or during a performance.
"It is always at a time when you are able to relax. I buy a bottle of it to give to everyone involved in the production whether on stage or behind the scenes."
Still acting on stage and screen, Dame Diana Rigg has a busy schedule for the next few years. She does not fell opponents with karate kicks any more but she still has quite a presence.
"It used to be karate, leather suits and whips but now it is just straight Yorkshire speak and a smile," she said. "I still believe in fair play and justice – does that still make me an Avenger?"