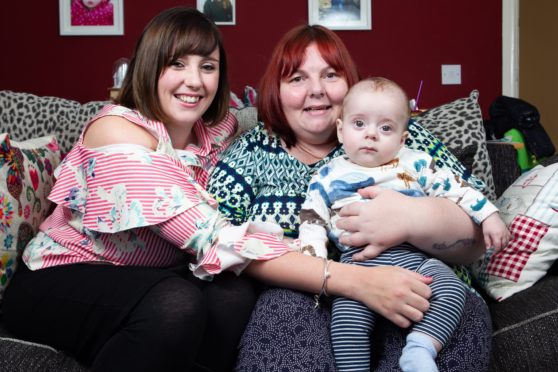 A devastating stroke just days before Christmas left Andrea Green fighting for her life as doctors told her family to prepare for the worst.
Today, five years later, while her mobility and speech are severely limited, the karaoke queen from Paisley can sing verses from her favourite Abba songs.
"Mum started singing Mamma Mia in the hospital. We were shocked she could do it and remember the words," said her daughter Stacey.
"She can sing a verse at a time. It's incredible because, when she sings, we actually get to hear her voice again.
"I still have a voicemail from before she had her stroke that I'll never delete because it's the last time I actually heard her speak."
Andrea was just 45 and in good health when she had a stroke. She was left paralysed down her right side and, five years on, still struggles with her speech.
But Stacey and sister Lauren have found their own way to communicate with their mum through gestures, single words and even some singing.
"Sometimes if she is trying to tell us something that she likes or needs, she'll sing the jingle of a TV advert so we know what she's talking about," added Stacey.
Before her stroke, Andrea, now 50, was sociable, independent and loved karaoke nights down the pub with friends.
"Mum was always busy. She liked going shopping and went on holiday to Blackpool herself. She hardly ever sat down.
"She's a big Abba fan. Mamma Mia was one of her favourite karaoke songs.
"We sang it together at my hen party four years ago in Glasgow, which was really special."
Music is processed by the right side of the brain, meaning some survivors of a left-hemisphere stroke retain the ability to sing even if they are unable to speak.
Stroke choirs have been set up around the world – and some survivors credit them with helping to regain their speech.
Christine McAlpine, lead stroke clinician at NHS Greater Glasgow and Clyde, explained: "Sometimes people can sing when they are not able to speak because a different part of the brain controls singing and awareness of music compared to speech.
"Research suggests listening to music or singing is something people find helpful after a stroke but it depends on what part of the brain has been affected.
"After a stroke, we encourage other areas of the brain to take over from the area that's been damaged. Because singing is rhythmic, it's a bit like exercising the brain and can be very ­helpful in recovery."
Stacey added: "We've been encouraging mum to sing in the hope it might help her say a few more words."
Every year about 13,000 ­people in Scotland suffer a stroke. It is the country's fourth-biggest killer and a leading cause of disability.
Andrea had been eating dinner with her family when she suffered a massive haemorrhagic stroke and lost consciousness.
She was rushed to hospital where doctors told her family to prepare for the worst.
"Christmas day was horrible. We spent most of it at ­ hospital, crying. We couldn't believe what was happening," Stacey recalled.
"We were told mum had a 50% chance of survival and that, if she did, she was likely to end up in a care home for the rest of her life."
Andrea regained ­consciousness a week later and was moved to the Royal Alexandra Hospital in Paisley where she underwent six months of intensive therapy.
She recovered enough movement in her left side to take a few steps on crutches but now spends most of her time in a wheelchair and relies on carers, her two daughters and her sister for help.
While her loss of ­independence has taken a toll on Andrea's mental health, her three grandchildren – Kai, 4, Ellie, 2 and Noah, 5 months – keep her ­spirits up.
Andrea was still recovering in hospital when Kai was born but she has now been able to hold and form a strong bond with all three grandkids.
"She loves them. They don't know any different and communicate with her in their own way," added Stacey.
Now the family are trying to create positive Christmas memories.
"Mum doesn't like just sitting about at Christmas but we try to make it as enjoyable as possible, especially as it's Noah's first.
"We help with her tree and buying and wrapping presents. She picks what she wants to get everyone herself though.
"We can't imagine how hard must be for her but we keep going and try to laugh about it, otherwise we'd cry.
"It's been hard but she's still my mum and that relationship will never change.
"She's not letting it stop her rebuild her life.
"She's an inspiration."
---
The Stroke Association helps stroke survivors rebuild their lives and Stacey says its support has been invaluable.
She volunteers at a Stroke Café run by the Scottish charity in Paisley, where Andrea is now a regular.
Experts say peer-to-peer support can hugely benefit stroke survivors, especially in a relaxed and non-clinical setting.
Stacey said: "The Stroke Association has been amazing. If it wasn't for them I think a lot of carers, like myself, would struggle.
"We run the cafe once a month for stroke survivors and carers.
"The café has really brought mum out of her shell. At first, she didn't want to socialise because she couldn't speak but now I can leave her and there are people she can talk to.
"They help each other. It's real peer-to-peer support. It has a huge impact not just on stroke survivors but also their carers. We get 10 minutes at the end to discuss any problems we have or just chat. It really helps."
---
The Stroke Association's Christmas Appeal supports stroke survivors and their carers. Donate at stroke.org.uk/gift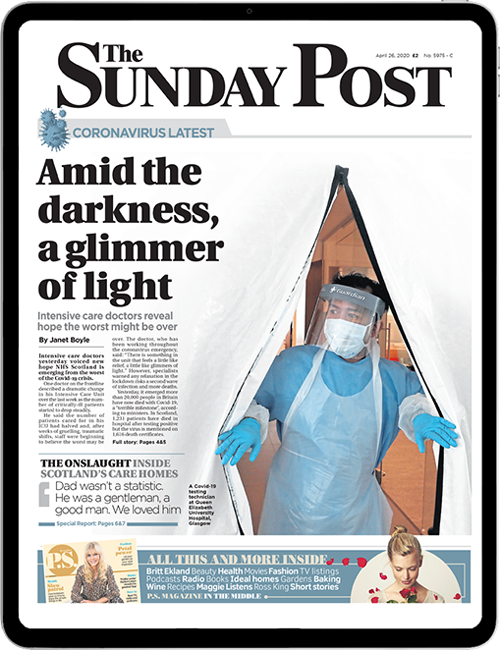 Enjoy the convenience of having The Sunday Post delivered as a digital ePaper straight to your smartphone, tablet or computer.
Subscribe for only £5.49 a month and enjoy all the benefits of the printed paper as a digital replica.
Subscribe