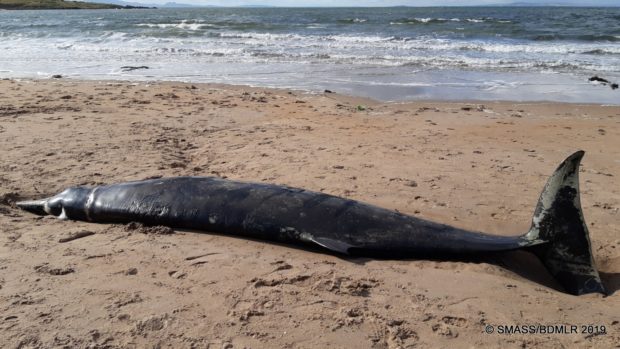 A whale found dead on an East Lothian beach had suffered some of the "most severe" wounds from entanglement ever recorded in Scotland.
The Scottish Marine Animal Stranding Scheme (SMASS) said the 14ft (4.2m), 102st (650kg) female Sowerby's beaked whale died at Gullane as a result of its injuries.
SMASS believe the animal had suffered for a long time as a result of its entanglement, leading to what they say must have been an "agonising" death over the course of weeks if not months.
The animal had been entangled for long enough so that the cord had worked its way right through the skin and blubber layer into the underlying muscle layer.
In some places the skin had actually grown over the top of the rope and in others it had led to abcesses.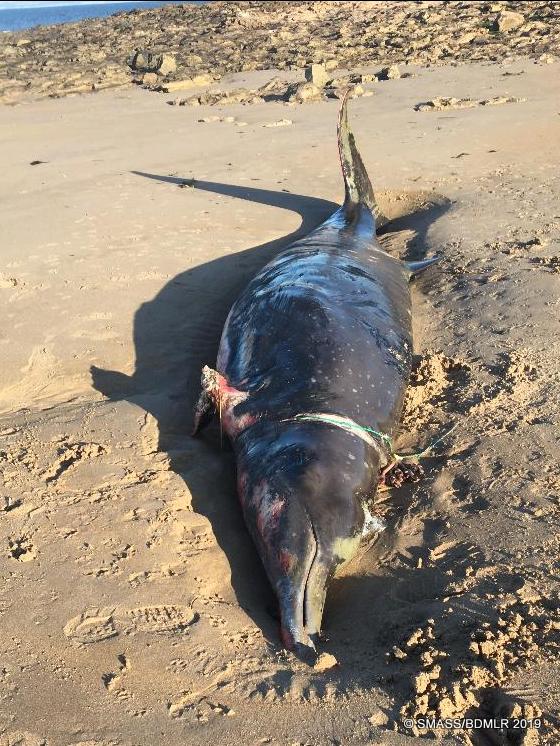 SMASS said: "Yet another horrific entanglement, this one an adult beaked whale, chronically entangled with some of the most severe wounds we have recorded.
"Based on the depth of the tissue trauma and the damage to the flank, it is highly likely this loop around the neck had at some point been attached to longer and heavier material.
"Miraculously, in this state the animal had still been able to feed, although not much and not recently.
"At some point over the last few days, it appears the rope somehow became wrapped around the pectoral fin, dislocating the shoulder joint and severing the pectoral fin.
"Unable to swim effectively, and most likely in a large amount of pain, the animal live stranded and died."
SMASS are now calling on the fishing industry to bring about change, minimising ghost nets and marine debris which can harm sea life.
They are also asking the public to take part in beach cleans, to try to help with the amount of ropes and net fragments going back into the sea.
An app called Beach Track highlights the beaches in Scotland in most need of attention.
SMASS added: "This is the ninth cetacean the entanglement we've seen this year, and one of the worst we've encountered.
"The evidence is the issue is getting worse, affecting an increasingly wide range of species and causing unquantifiable harm and suffering to our marine populations.
"Everyone is responsible for the current state of our seas. Everyone has the opportunity to improve them. Please take what action you can."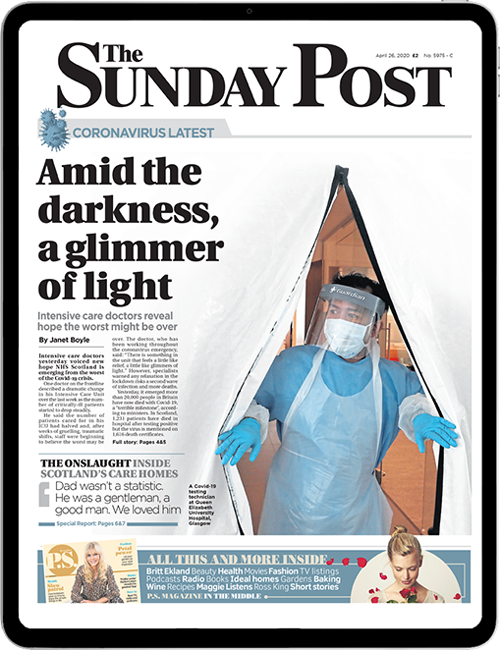 Enjoy the convenience of having The Sunday Post delivered as a digital ePaper straight to your smartphone, tablet or computer.
Subscribe for only £5.49 a month and enjoy all the benefits of the printed paper as a digital replica.
Subscribe