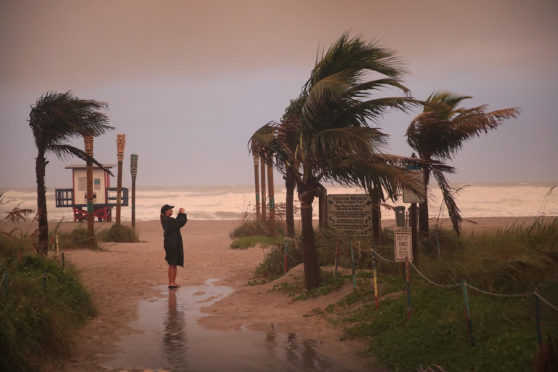 Hurricane Dorian has been inching up the US coast, causing death and destruction.  But how much do we know about these powerful natural events?
Julian Heming is a Met Office expert on cyclone forecasting. He told Tracey Bryce the Honest Truth about hurricanes.
---
How did you get into studying storms?
In the early 1990s my manager at the Met Office wanted us to assess how well the Met Office model predicted tropical cyclones, so assigned this task to me. I then wrote a tropical cyclone tracking and verification scheme which started me off in the field of tropical cyclones.
What is a hurricane?
This is a specific name for a tropical cyclone in the Atlantic or eastern Pacific which attains sustained winds of at least 74mph. A tropical cyclone is a generic name for a revolving storm in the tropics or subtropics which derives its energy primarily from the warm ocean surface as opposed to storms at higher latitude which are mostly driven by the clash of warm and cold air masses.
Do they go by other names?
In the western Pacific they are called typhoons (when winds reach 74mph) or just cyclones in the Indian Ocean. If winds are below 74mph they are usually called tropical storms.
What causes a hurricane?
Tropical cyclones form in the tropics when air near the surface of the ocean from different directions meets and rises causing the development of storm clouds. If the atmospheric conditions are right and the ocean surface warm enough the storm clouds combine and start to rotate. A tropical storm forms and if it continues to develop it becomes a hurricane when winds reach 74mph.
What size are they?
Well developed tropical cyclones are usually fairly circular and symmetric, but can vary hugely in size from just a few tens of kilometres across to 1,000 kilometres or so.
Why do we give hurricanes names and who decides what to call it?
This is to help communication. At peak times six or seven storms can be active simultaneously globally. Regional warning centres around the world are given responsibility for drawing up name lists and then applying the names as the storms form.
Tell us about famous hurricanes?
There are many to choose from. Most people remember Hurricane Katrina in 2005 because of its devastating impact on New Orleans. In 2013 Typhoon Haiyan was the most intense tropical cyclone on record to make landfall and caused devastation to parts of the Philippines.
How big is the hurricane eye?
The eye can vary in size from just a few kilometres across to 100 kilometres or so. Hurricanes with small eyes are usually the ones with the strongest winds, which are concentrated in a band around the eye called the eyewall.
Do some have two eyes?
Not in the sense of two separate features, but tropical cyclones can have concentric eyewalls which is effectively a small eye inside a larger eye. When this occurs the inner eye eventually collapses and the outer eye takes over. There can also sometimes be several smaller vortices rotating within a larger eye.
What's the average wind speed of a hurricane?
Hurricane wind speeds start at 74mph, but can go as high as 180 or 190mph with gusts over 200mph at the top end of the scale.
How do we track hurricanes?
Satellites help us to establish where hurricanes are and how they are developing.
Is it true hurricane hunters fly planes into them?
Yes, reconnaissance aircraft fly into and around most hurricanes close to the USA and Caribbean and provides useful data.
How many deaths have hurricanes caused?
History is full of examples of deadly hurricanes. The most deadly tropical cyclone in history struck Bangladesh in 1970 killing an estimated 500,000 people.