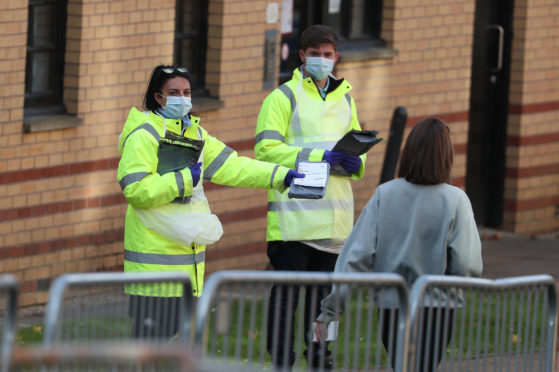 Scotland's higher education minister has said students aren't being stigmatised in being told to avoid going to pubs this weekend.
Richard Lochhead said the Scottish Government is working with universities and supports the move, which was introduced after representatives from the sector met on Thursday.
It follows a number of outbreaks in student accommodation across the country, with hundreds having to self-isolate.
Thursday's coronavirus figures identified 120 cases of Covid-19 in an outbreak at Edinburgh Napier University.
Glasgow University has seen 124 cases, while NHS Fife confirmed on Friday morning that 12 cases had links to St Andrews University, ten students and two members of staff.
This weekend, students across the country are being asked not to socialise in pubs, bars and restaurants in a bid to help quell the outbreak.
Universities will introduce a disciplinary system for any breaches of restrictions on a "yellow card, red card" basis. Behaviour that puts students and others at risk could result in expulsion.
Mr Lochhead told BBC Scotland's Good Morning Scotland radio programme: "More actions can be taken to curb the spread of the virus on campuses, we've got test and protect in place, asking people to self-isolate, making sure that we identify cases.
"This is an ask of the student population of Scotland from universities, the Scottish Government support that, but the universities are asking the students jointly across Scotland this weekend – given we've got a number of outbreaks of the virus and some campuses across Scotland – to have the weekend off from socialising outwith the households.
"The vast majority of students have been so responsible, it's a very tough time for them.
"Imagine being a 17 or 18 or 19-year-old going to university for the first time and of course we're in the middle of a global pandemic and they're not able to do what the previous generations were able to do.
"This is about all of us working together, it's not stigmatising students, it's not about saying they're particularly to blame for what's happening.
"I think it's a good thing (the universities) are doing."
3/ And to clarify one point: today's @uni_scot advice to students to stay away from pubs/hospitality completely is just for this weekend – it's an attempt to stop current outbreaks spreading further.

— Nicola Sturgeon (@NicolaSturgeon) September 24, 2020
Mr Lochhead highlighted that the University of St Andrews recently had a "largely successful" voluntary lockdown with students asked not to socialise in the area one weekend.
He added: "I can imagine that parents reading the news or speaking to their sons or daughters at universities just now who are self-isolating will be anxious and very concerned for their welfare.
"The universities have a real duty of care for students, and they're working extremely hard to make sure that welfare and mental health support and other practical support is there for students.
"Secondly we expect universities to be pragmatic where there's any young person who was not coping or was very anxious, we would very much understand if their parents wanted to meet them or take them home.
"These are exceptional circumstances."
The First Minister also apologised to students while appealing again that they download the Protect Scotland app as has been required under the new measures from the universities.
Nicola Sturgeon tweeted: "To all students – I'm so sorry Covid is making this special time of your lives so tough.
"But it won't be forever and the more we get the virus back under control now, the sooner you'll get a bit of normality back.
"So, please do what's being asked of you."
As well as being advised against heading out to socialise this weekend, students living in halls of residence or flats are unable to return to visit their family homes.
They could also face Christmas without their loved ones as health officials ponder restrictions over the winter break.
Scotland's national clinical director, Jason Leitch, said he had received questions about whether undergraduates living in shared flats or halls of residence form a separate household and therefore cannot return to their parents' homes.
Professor Leitch said the "law was clear" on the issue and applied to "even mum and dad" so students in this situation should now only return to their family home under exceptional circumstances, such as to carry out caring responsibilities.
He tweeted on Thursday: "I was asked last night whether students in halls and flats can go back to parents' homes.
"To clarify, they are a separate household. There are exceptions, for example, caring responsibilities, but the law is clear: they can't meet indoors with another household – even mum and dad. Sorry."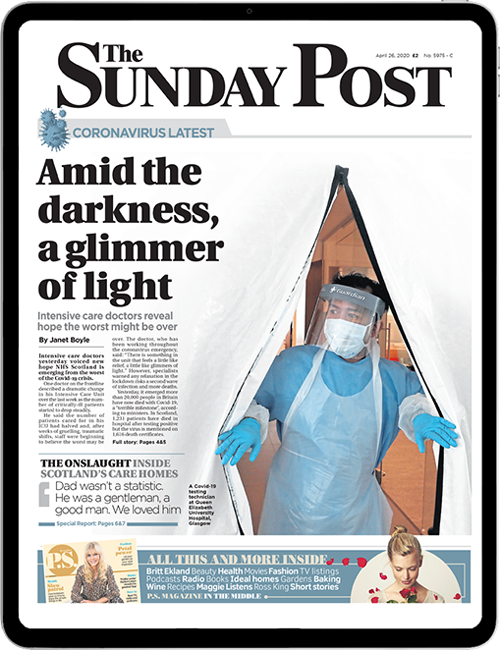 Enjoy the convenience of having The Sunday Post delivered as a digital ePaper straight to your smartphone, tablet or computer.
Subscribe for only £5.49 a month and enjoy all the benefits of the printed paper as a digital replica.
Subscribe