Welcoming a baby into the world is a magical and challenging time for any mum. But for those who choose to breastfeed their baby, something that feels like it should be second nature often turns out to be far from the case.
While they receive invaluable support in hospital, at home mums can feel overwhelmed, demoralised and isolated, even more so during the coronavirus pandemic when support from family and friends is limited.
That was initially the case for Megan Collins, who gave birth to her second son, Carson, at Wishaw General on January 28, after a swift 90-minute labour.
Now seven weeks old, little Carson is thriving. He's the apple of his mum's eye and is doted on by big brother Logan. However, getting the hang of feeding wasn't straightforward for the 20-year-old from Coatbridge in North Lanarkshire.
"I breastfed my first baby when I was 18 but didn't realise that breastfeeding is a real learning curve. Carson, like Logan, had a very shallow latch, which can be painful, so I had to train him quite a bit to open his mouth properly," said Megan.
Luckily, Megan and Carson received support. "The infant feeding team at Wishaw General talked me through it and calmed me down at times, reminding me it's normal to not get it right the first time. They gave me some tips on the best positions to hold Carson and encourage him to open his mouth.
"I felt more confident this time around but it was reassuring to know there was 24-hour support. You can contact the team via video call and their Facebook page. It took a lot of work over about 10 days but when Carson finally started feeding properly, it was so rewarding and created a lovely bond between us."
A Scottish Government campaign has been launched to reassure new mums struggling to breastfeed that help is out there.
Marianne White, an infant feeding adviser with NHS Tayside, said: "It's important mothers get off to a good start so they feel confident about breastfeeding.
"Feeling like they aren't producing enough milk, and a lack of confidence are key reasons many women stop breastfeeding early on.
"Although we are doing fewer home visits, we offer daily phone and video calls and online support. NearMe calls have been useful to help us offer better advice on a baby's latch and is something we'll continue with for mothers who live in remote areas. We've also continued our specialist clinics when needed."
As well as advice from health professionals and fellow mums, help from partners, family and friends is also invaluable.
"A slight silver lining of the lockdowns is that it's given some mums the time and peace, and confidence, to get on with feeding their baby," added Marianne. "Offering positive encouragement during the early days of breastfeeding can really help, plus looking after the baby between feeds and taking care of mum. Partners doing skin-to-skin contact with their baby after a feed is also hugely beneficial."
While mums shouldn't feel pressured into breastfeeding, there are many benefits, says Marianne. "Breastfeeding is good for fighting infections, reducing the incidence of allergies, the risk of cancer and diabetes. For mums, it reduces the risk of osteoporosis and certain kinds of cancers.
"It's the best thing you can do for your baby and yourself but mums need to do what's best for them and their family, and not feel guilty if it doesn't go to plan. Any amount of breastfeeding is beneficial and it actually prepares a baby's digestive system for formula."
Breastfeeding rates in Scotland have gradually increased in recent years. In 2019/20, 44% of all babies were being breastfed at six to eight weeks, which is the highest rate in nearly two decades. New mothers are also being encouraged to have the coronavirus vaccine when offered. Marianne said: "We recommend having the vaccine while breastfeeding. Research shows that proteins and protective factors are transferred through breastmilk."
Megan hopes to become a midwife and plans to start a college course in May. She has already started expressing so she can continue to breastfeed Carson.
Her advice for other new mums? "Persevere and if it doesn't work out, it's not the end of the world," said Megan. You're not a bad parent. Any amount of breastfeeding will benefit you and the baby.
"It's normal to struggle with breastfeeding so don't be shy to reach out for help."
---
Tips for new breastfeeding mums:
Talk with family and friends
Speak to friends, family, partners and other parents to reduce the chance of feeling overwhelmed.
Offer encouragement
If you're not the one breastfeeding, offering support can help a new mum's confidence, whether it's listening to her worries, keeping her company while breastfeeding out and about, or just letting her know she's doing a brilliant job.
Meeting like-minded mums
Breastfeeding groups and meeting health professionals, even via video call, can be a great support for mums, helping them overcome anxieties.
Celebrate the smallest of breastfeeding wins
It's important to celebrate every milestone when raising a baby, no matter how big or how small.
Seek support from a mum who has breastfed
Getting support and tips from someone who has breastfed before, can help new mums to see how they overcame challenges, inspiring those who are finding it tough to keep going.
---
For more advice from the Scottish Government's Parent Club, visit parentclub.scot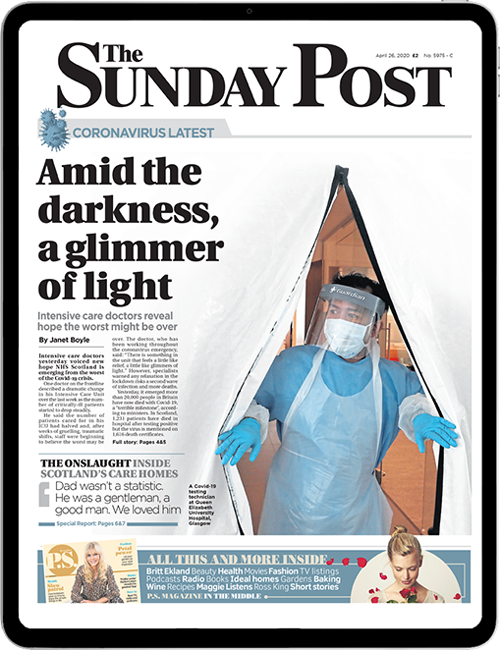 Enjoy the convenience of having The Sunday Post delivered as a digital ePaper straight to your smartphone, tablet or computer.
Subscribe for only £5.49 a month and enjoy all the benefits of the printed paper as a digital replica.
Subscribe