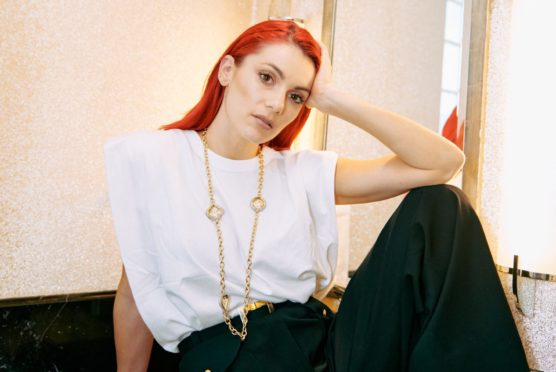 As one of the Strictly Come Dancing professionals, Dianne Buswell is used to being kept on her toes, expertly hopping between rehearsals and photo shoots, interviews and tours before, during and after filming television's most popular reality series.
But, just like everyone else, the past 12 months have meant her schedule was suddenly free of the usual travel and trips, allowing her to spend more time at home – which the 32-year-old admits was the silver lining of such a difficult year.
"It's been so lovely to be home with Joe every single day," explained Dianne over the phone from her home in London, which she shares with her boyfriend, YouTuber Joe Sugg, 29, whom she met on the set of Strictly in 2018.
"Normally a lot of people ask me, 'How do you go on tours and not see each other for such a long amount of time?' and I always said we were just kind of used to it. Since we got together, that's how it's been – I've gone away on tour and then come back for a few weeks, and then gone on another tour and come back again. I was always away for quite a long time.
"Now, we've been together for this whole year, basically every single day, so if Joe goes away to work for even one day, I'm like, 'When are you coming home?'" It'll be really strange to see how that resonates when I go away for my next tour, which is really soon, actually."
She added with a laugh: "I think I'll be like, 'Joe, do you want to come with me and I'll pack you in my suitcase?"
However, swapping hotel rooms for staying home doesn't mean Dianne has used lockdown as an excuse to slow down.
She continued: "I dealt with the first lockdown by scheduling my days to be very busy. I really had a very strict schedule that I stuck to, so the time really flew by. I would wake up in the morning, have my breakfast, do all my little 'me' bits, and then I would join online dance lessons and fitness classes. Joe and I would do gaming videos together, too, so we would film one of those and then he would edit that and pop it up online. It just felt like I had so much to do.
"But then, as it went on, it was a bit like, 'OK I'm ready to be out in the real world now – I don't want to do anything more online!' It got a little harder towards the second and third lockdown, and now I probably feel my best because I'm not putting as much pressure on myself.
"In the first lockdown, I probably put myself under a bit too much pressure to do everything and anything. Now, if I feel like it, I will. If not, I won't. And that's fine. I'm more content right now."
Born in Bunbury, Western Australia, Dianne has been dancing since she was just five years old. Her older brother, Andrew, also a dancer, would take her to lessons after school, which soon sparked a passion for Latin and ballroom. And, after competing from an early age, she turned professional at the age of 21. She first joined Australia's Dancing With The Stars television series in 2015, before landing a place in the Strictly Come Dancing cast two years later.
Her first turn in the Strictly ballroom saw her paired with Reverend Richard Coles, and the following year she danced with Joe, making it all the way to the final before eventually coming second behind television presenter Stacey Dooley and Kevin Clifton.
Strictly, Dianne says, is the pinnacle of her career so far, and being able to perform for such a large audience – more than 13 million people watched the 2020 final, which saw comedian Bill Bailey lift the coveted Glitterball trophy – is a dream come true. Although filming for last year's series meant living in a bubble away from Joe, as well as social distancing and enhanced safety measures, Dianne admits the extra precautions were worth being able to bring a little joy into the nation's living rooms every Saturday and Sunday evening.
"There were lots of things that were very, very different last year," explained Dianne, who was partnered with The Wanted singer Max George for the 2020 series. "Normally when we are training, other couples would come in just to see how you're going on, we spend more time together, or go for a drink after the show to celebrate. Those sort of things weren't there, but it really was so special.
"When we all walked out at the top of the first show, with claps from every single competitor and professional, we were all just so excited to be there. It gives me goosebumps thinking of it now.
"It really did feel so special and we could really sense that, for people at home, the show was their saviour to the lockdown. And it really was for us as well – to be able to put the show on was an absolute dream."
Working in an industry known for its glitz and glamour, it's hardly surprising Dianne describes herself as a "real girly girl" – but it wasn't the diamante-filled, fake-tan-tinted world of ballroom dancing that first influenced her love of all things bright and beautiful.
Prior to pursuing a professional dancing career, Dianne worked as a hairdresser for seven years, and she recently went back to her salon roots by creating a podcast for Radio 1.
Launched in January this year, with 12 weekly episodes, Di's Salon sees Dianne invite celebrity guests to sit in a virtual hairdresser's chair, where they discuss everything from confidence and careers to social media and regrettable past hairdos. Guests have so far included the likes of comedian Russell Kane, Bake Off finalist Laura Adlington and, of course, her boyfriend Joe.
She explained: "One thing I really miss about hairdressing is that social interaction. You look at your book and you've got at least 20 clients and they're all different.
"There are clients who come back to you every single time, or there's new people and new faces. I just loved chatting with them and, really, they became my friends.
"Plus, I must admit, as a hairdresser there's never a dull conversation. Your hairdresser is almost like a bit of a therapist, so you talk about things that sometimes you would never talk about to anyone else. I really enjoyed every episode, and I couldn't pick a favourite guest because they have all been so different. Even when I spoke to Joe, I found out things I had never known before."
However, Joe was the only guest to get the full salon experience.
"I did a couple of Joe's haircuts in lockdown, and they turned out all right," Dianne explained with a laugh. "He's come back and he's asked me for another one, so it couldn't have been too bad!"
With Strictly set to return to our screens later this year, and The Professionals stage tour about to head out on the road, Dianne says she's looking forward to getting back on the dance floor.
She said: "We've got the Strictly professionals tour coming up soon, which will then lead into the Strictly pro rehearsals. That's a good thing because I'll be nice and limber by the time we get to rehearsals for the show. I'm very, very much looking forward to getting back into the studio."
---
Stepping up to the challenge
After four years gracing the Strictly dance floor, Dianne has performed everything from lively cha-cha-cha routines to the romantic waltz, consistently wowing the judging and fans alike with her impressive moves.
And, although each series and show is special, Dianne admits one of her favourite routines was, naturally, danced alongside her now-boyfriend, Joe, in 2018.
The Charleston number, which paid tribute to Joe's previous career as a roof thatcher with fun and lively choreography, was performed in week two, and scored the couple 31 points for their efforts.
She explained: "I have to pick the routine where Joe and I danced to Cotton Eyed Joe – I just love that song and the theme, and it was just a really fun dance for us," she explained.
"Also in that same year, with Joe again, our showdance to I Bet You Look Good On The Dancefloor was another favourite of mine. I had never gotten to choreograph a showdance before, so it was super special.
"I just remember doing that dance and thinking to myself, 'Oh my God. I just made the Strictly final!'
"I really loved that, and hopefully I'll get to do another showdance this year. I am doing the final again this year, that's what I keep thinking in my head. I have to lift that trophy."
---
Listen to Radio 1's Di's Salon on BBC Sounds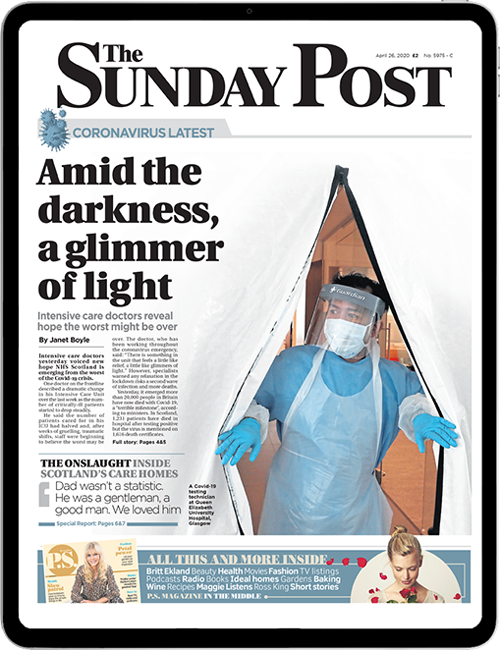 Enjoy the convenience of having The Sunday Post delivered as a digital ePaper straight to your smartphone, tablet or computer.
Subscribe for only £5.49 a month and enjoy all the benefits of the printed paper as a digital replica.
Subscribe