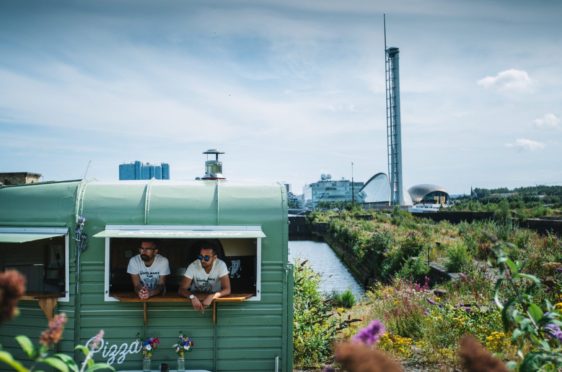 Fried deep, piled high and served on a bed of ketchup, Scotland's takeaways have not traditionally been on the menu for the country's foodies. No longer.
Chips, burgers, battered Mars Bars, Creme Eggs or, most recently, Colin the Caterpillars are now facing competition from the likes of vegan tacos, wood-fired pizzas, and even fresh-caught lobster tails as a new generation of street food takes the country by storm.
An appetite for fresh, seasonal produce on the move has brought an increase in high-quality vendors, who serve up dishes that wouldn't look out of place in some of the finest restaurants – and they are doing it from the back of converted trailers, horse boxes and '70s campervans.
In fact, the UK street food market is worth £1.2 billion and rising. Food writer Ailidh Forlan, a passionate advocate for Scottish produce and independent eateries who penned a guide to Scotland's best street food in 2019, says the pandemic has boosted the trend for al fresco dining.
"Street food was growing anyway but the pandemic has thrust it into the limelight," said Forlan, who runs the Instagram account Plate Expectations, where 23,000 people follow her foodie posts. "So many people are still really cautious and almost anxious about eating inside, and street food provides this awesome opportunity to be able to eat great food outdoors.
"Street food is big in Asian and Italy too but it's also become big in America and London. Here in Scotland, we're about six or seven years behind London, and we're now seeing that popularity travelling up north.
"It's very rare that you come across a poor-quality greasy street food van now. Everyone cares a lot more about sustainability, including where meat comes from, and there's a greater focus on provenance. That means that the quality of street food just keeps getting better and better."
A growing number of street food ­markets – including Glasgow's The Dockyard Social, The Pitt Market in Edinburgh and the new Backyard Beach Collective in Aberdeen – have seen vendors coming together in one location so hungry diners can find a variety of world cuisines in one place.
Forlan added: "Why is street food so popular? I think it's about affordability and being able to eat lots of delicious food for five or six pounds a pop versus at least double that in a restaurant. Plus, working from home has really magnified our need to get out and go for a walk, and people are tracking down street food for their dinner – anything, really, to be out of the home and not sitting down!
"Fortunately, Scottish people are quite hardy, so the rain doesn't deter us."
Here, we speak to three new generation vendors to discover why they've taken cooking on the road.
---
Seeing smiles of our customers never gets old
Ryan and Jay Bharaj, Dough Man's Land
Working in close quarters with your sibling may not be for everyone but Ryan and Jay Bharaj wouldn't have it any other way.
Each weekend, the brothers park their converted vintage horse box near Kelvingrove Park in Glasgow's trendy Finnieston neighbourhood, and serve up wood-fired pizzas, topped with fresh, locally sourced ingredients.
Once their oven reaches its optimum temperature – about 450-475°C – Dough Man's Land pizza can cook in as little as 90 seconds, and Ryan says it's the perfect street food.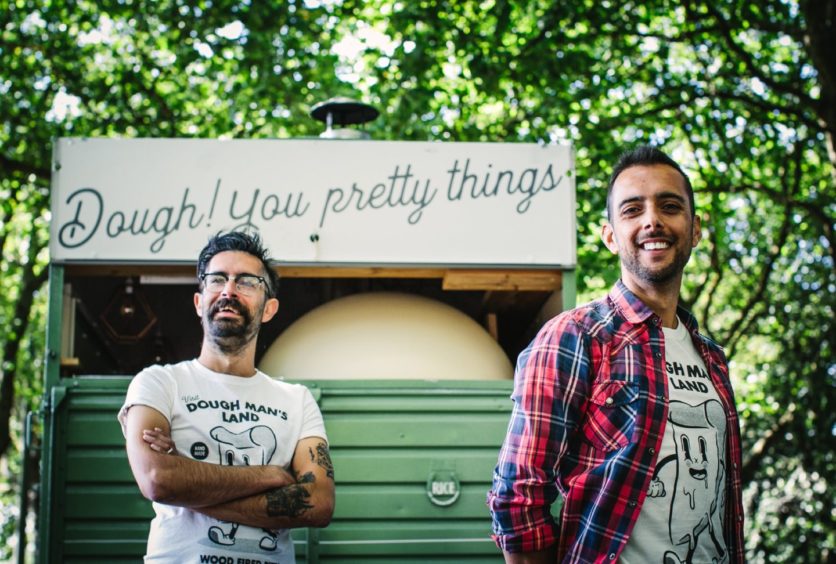 He explained: "Once you understand and learn how your dough works in different temperatures and environments, you have the base – pardon the pun – to create anything you like in terms of toppings.
"The sky really is the limit. It's so versatile and it's easy to make it vegetarian, vegan or gluten-free, which is really important now. It also allows us to work with and support local suppliers."
He added: "People are currently really focused on quality over quantity when it comes to food, and that lends itself really well to street vendors and mobile caterers. We can do one thing, really well.
"Plus, people have preconceptions about what a trailer can do, so when they see
that we have a wood-burning stove, they are kind of blown away. It's pretty unique."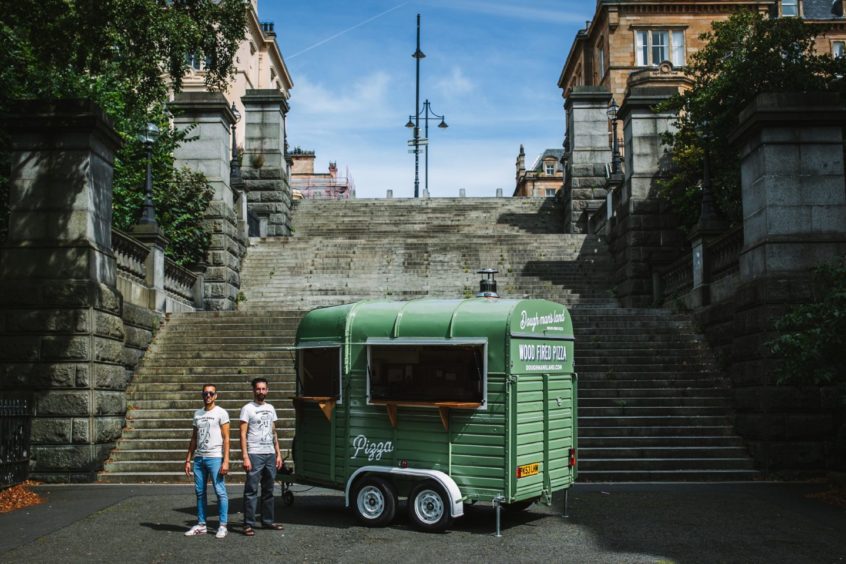 Having both worked in the hospitality industry, the brothers always wanted to start a project together but realised a restaurant unit would have been a big financial undertaking. So, they joined the street food scene.
"Street food really is a community," continued Ryan.
"If we get an inquiry for a wedding and we're already booked, we pass along information for two or three other vendors who might be able to help. It's about supporting each other. That's key for us.
"The majority of people we serve are local residents and families, and over the weeks you start to see regulars and build up relationships.
"Seeing the smiles and joy from our customers really never gets old."
---
Blowtorching brûlées in front of the customers adds a bit of theatre
Mel Duncan and Callum McDougall The Crema Caravan
Serving up "burnt to order" crème brûlée from two converted vintage Renaults, Florence and Percy, partners Mel Duncan and Callum McDougall first entered the world of street food in 2014.
Their first pitch was at the Edinburgh Festival Fringe, and since then they have even travelled to Dubai to show off their blowtorch skills.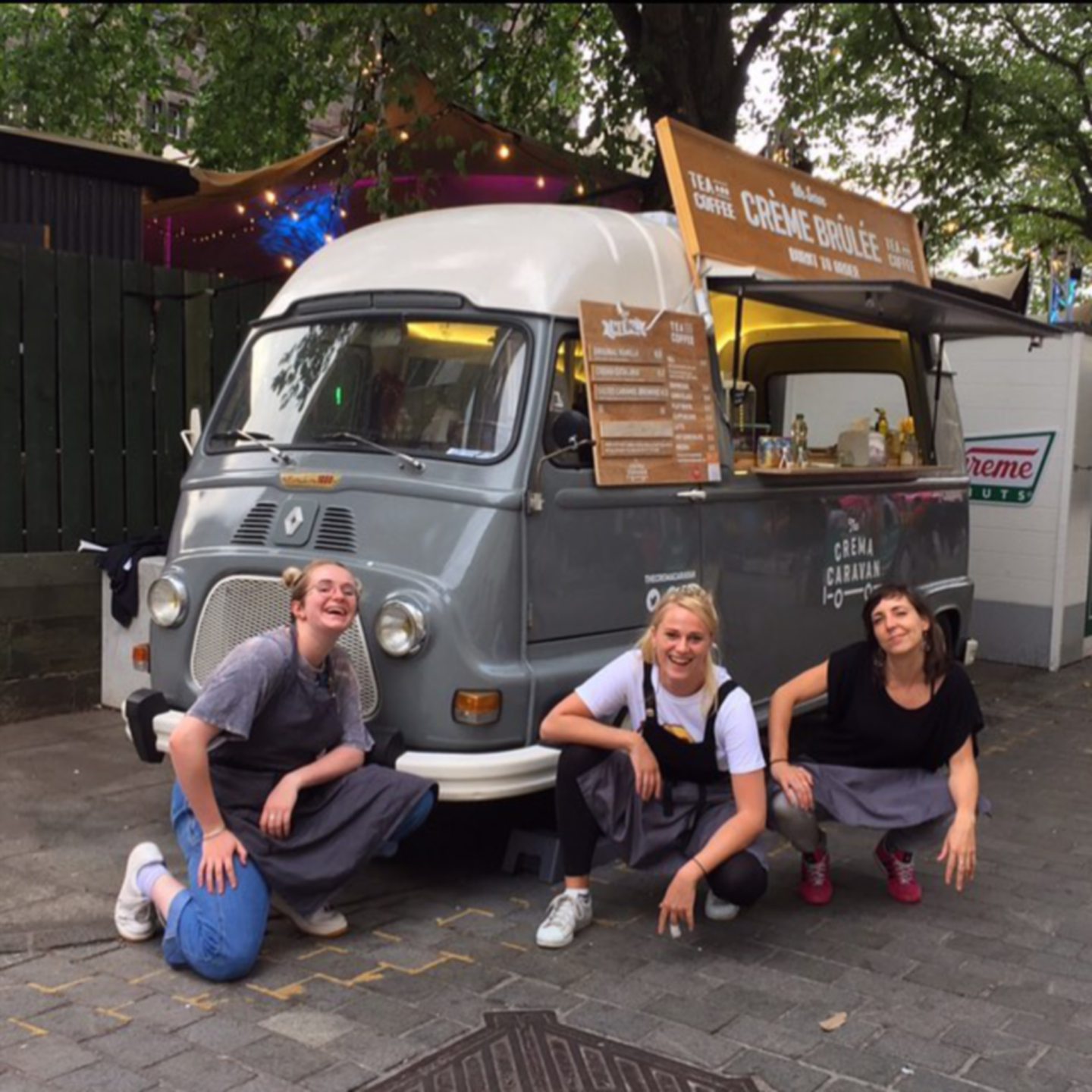 Mel, from the Borders, said: "There wasn't really anyone else doing much in the way of sweet food, and if they were it was crêpes or ice cream.
"We thought crème brûlée would be a bit different and fun, especially as we blowtorch the sugar in front of the customer so it adds a little bit of theatre. Plus, it's easy to eat on the go.
"More recently, we've started doing different toppings and flavours, including putting salted caramel brownies on top, which was a big hit."
Florence and Percy are usually popular wedding guests, so the Crema Caravan team have had to diversify during the pandemic. Mel and Callum have been delivering grazing boxes throughout the Borders, and hope to be able to get back on the road soon.
Mel continued: "We do a lot of weddings and our main bread and butter is the Edinburgh Fringe, but by the nature of what we do we're all quite resilient.
"We're used to having to adapt quickly and as a street food community we all support each other."
---
The key? Lower prices and lots of choice
Beth and Liam Davies, Stag Bites The Hog
Husband-and-wife team Beth and Liam Davies launched their passion project, Stag Bites The Hog, in 2019.
Both trained chefs, the pair were inspired after seeing the popularity of street food in Dubai during their honeymoon, and started their own business after Liam recovered from a period of ill health.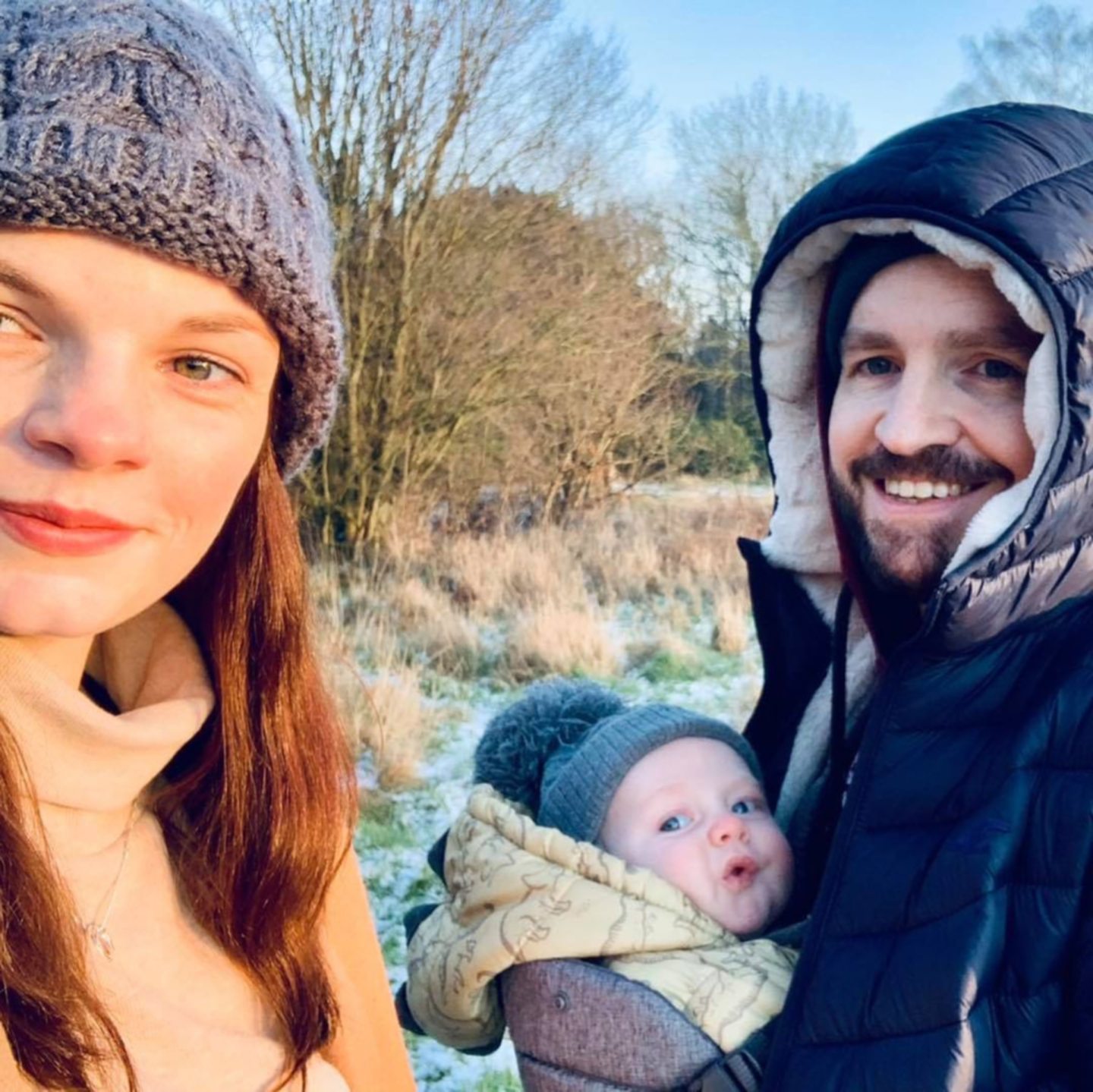 Focusing on slow-cooked, smoked meats, served from the back of a 1973 Citroën H van named Ronnie, the couple, from Alloa, initially planned to run the truck part-time but were forced to "kick it into fifth gear" after demand for their food soared.
"We actually started offering mainly venison, which is a bit of a hard one to get people to try, so we then moved on to offering other slow-cooked meats, too," explained Beth, who is mum to baby Arthur, born in October last year.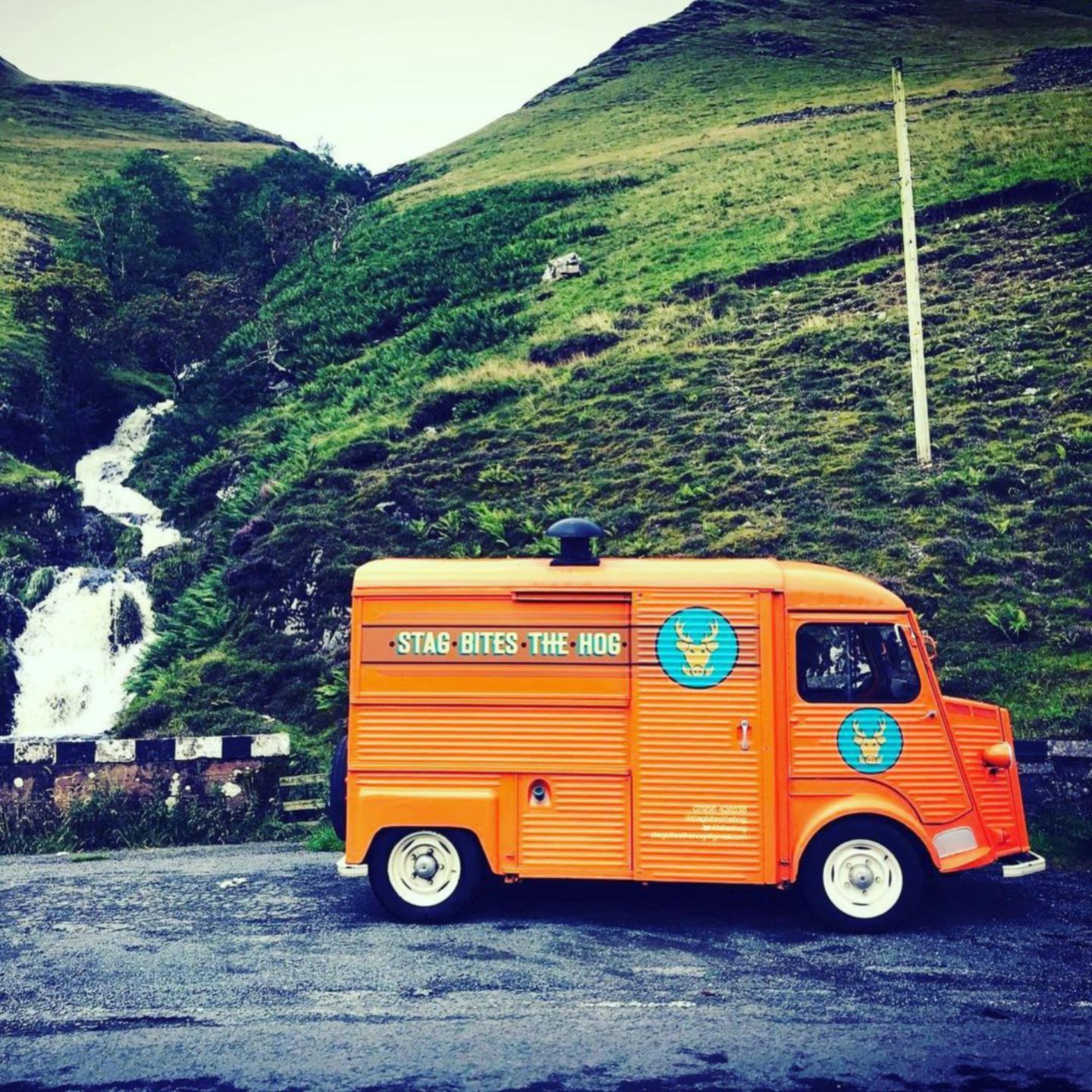 "Street food is popular because eating at a food truck doesn't feel like as much of a commitment as a restaurant. The price points are lower and there's always lots of choice, especially at street food markets where everyone can try something different.
It's definitely a lot more diverse, too.
"From a business point of view it also means we're not stuck in one place. We have a much bigger base of customers than, say, a regular bricks and mortar restaurant, because we can move around."
And although the Davies love life on the road, it doesn't come without its difficulties. Beth continued with a laugh: "Most people who have H vans just tow them – quite a lot of them don't even have engines any more – but we still drive Ronnie everywhere, and there have been a few breakdowns.
"Liam actually phoned me recently because he needed rescuing in Edinburgh. He couldn't get the van up a hill, so we had to empty everything out the back to get moving! But it's all fun and games."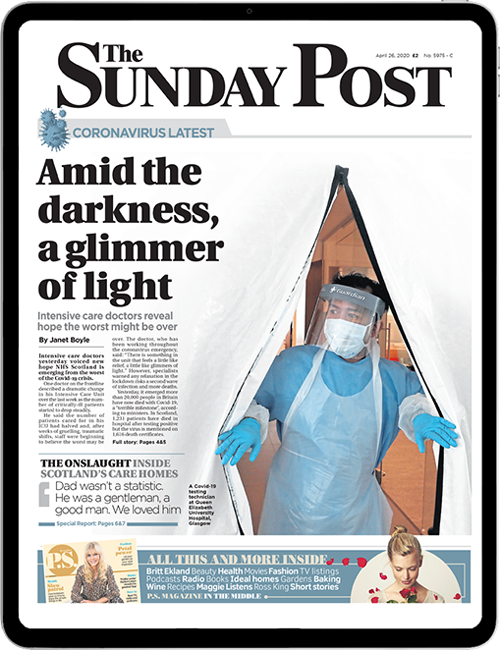 Enjoy the convenience of having The Sunday Post delivered as a digital ePaper straight to your smartphone, tablet or computer.
Subscribe for only £5.49 a month and enjoy all the benefits of the printed paper as a digital replica.
Subscribe