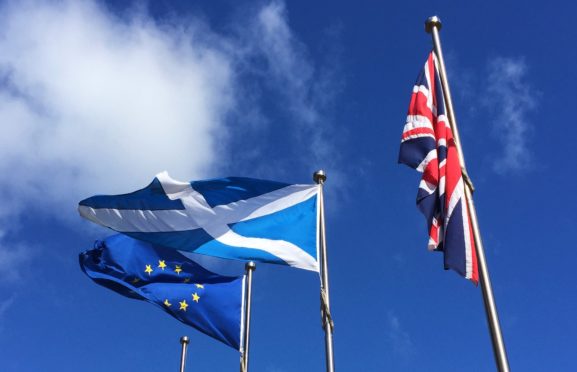 So could it really be, as the dust settles, a Super Saturday for Boris Johnson or are things even more wobbly than they appear?
Just when we thought the UK Parliament was going to decide our Brexit destiny, instead it picked prevarication.
Cue rows about legal letters asking for extensions, mass demonstrations and another rush to the courts.
But to say it has ended badly for the Prime Minister might be well wide of the mark. At least in his eyes.
Whatever your views on Brexit, it would be fair to say that Thursday had been a good day for the Prime Minister. And he knew it. As he ambled through the EU leaders' summit, his grin was wide, his hair had its trademark tussle and his relief was palpable. The backstop had become the frontstop. The EU did what they said they wouldn't do. He had delivered a deal when everyone said he only wanted no deal. Even the questions from the UK media were a wee bit tame.
Thursday was Boris Johnson's "heads I win, tails you lose" day. Whatever happens next, he mused, I have either delivered Brexit or I have stood up as the people's champion and can only be thwarted by parliament.
His tactics, defined by the ultimate goal of winning a majority in a General Election, were simple. Polling would have revealed that the overwhelming sentiments across the country were "we've had enough" and "a plague on your House (of Commons)" for not ending the anguish. So there had to be a deal so that Leavers were by and large happy, and Remainers could give him some credit for at least finding a compromise and ending the agony.
Hence, the slogan "Get Brexit Done". Not, as some have said, to brainwash public opinion, but instead as a device to reflect their own sentiment back to them. And thus the narrative of "people versus parliament" to ensure that, if failure came, it was the current parliament that was to blame and that it needed an overhaul in a General Election. A "victor or victim" strategy.
But, be warned, whatever happens in the days ahead, this is not the end of the Brexit story. It is barely the end of the beginning. Calls will continue for a people's vote because, they claim, we didn't know what Brexit meant. Well have I got news for you…we still don't. There's a long way to go.
We now know what constitutes a Boris Johnson deal – but there's a slim chance it could still become NoGo Deal. Even if and when a Brexit deal is signed, sealed and delivered, the more crucial phase of negotiations then begins – our future relationship with the EU and the wider world.
A withdrawal agreement has legal force, but it is only the divorce deal which deals with today. The political declaration which accompanies it is merely advisory – it is not legally binding – but what emerges from it is where the economic future of our country will be decided. It decides all our tomorrows. Ten years from now that will be far more important to our prosperity. And that work has not yet begun.
If the trauma of the last 40 months was a hard slog, then the next few days, months, or even years, might make it seem like a stroll in the park.
Because, even if the deal is sealed this week, we are only half way there.