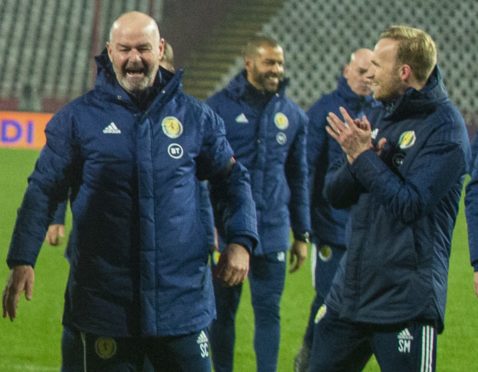 Scotland boss Steve Clarke told his partying players – that is the Euros sorted, now get us to the World Cup!
The national coach was thrilled by the clinching of a place at next summer's Championships via last Thursday's dramatic penalty shoot-out win in Serbia.
However, while he played his part in the ecstatic scenes that followed, he was already looking ahead.
To the Nations League ties away to Slovakia this afternoon and again in Israel on Wednesday.
More specifically, to the potential route they offer to a much more exciting competition in two years' time.
"It is time to refocus on the World Cup," said Clarke, who plans to reward himself with some quiet time with his grandchildren after the ties
are played.
"I interrupted the players' celebrations the other night just to have five minutes of serious chat.
"I thanked them for their efforts, players and staff, and also reminded them that we have qualified for Euro 2020 and we can now park that one in the cupboard.
"It gives us something to look forward to next summer.
"But now it's about the next tournament. The next tournament is Qatar 2022 and we want to be involved in that, too.
"We know better than anybody now surely how important these Nations League games are.
"It did give us the route. It started in 2018 with Alex McLeish and his staff and many of the players who were involved in those games are no longer with us.
"But that's where it started, in the Nations League C Section.
"I sent Alex a text this morning just to say thanks because he started the journey and thankfully we managed to finish it in Serbia."
The Scotland boss is convinced the momentum picked up along the way – they go into today's game in Slovakia on the back of a nine-game unbeaten run – should not be wasted.
"There's that and also the fact most of the squad are at a really good age and coming to a time in their lives where they have good international experience and are picking up more," he said.
"There is a nucleus there, the core of the squad can hopefully carry on for a few more years and hopefully take in another qualification.
"That has to be the aim."
Skipper Andy Robertson is set to miss out with a hamstring issue but the manager will look to freshen up the side by making full use of his squad.
"Mentally, for a lot of them it was really tough night in Serbia," said Clarke.
"Listen, we have recuperated quite well. I know the party and the celebration has made a lot of headlines but because of the draining nature of the game, emotionally and physically, it actually just broke up by itself.
"You get to a stage in the night when you are just tired and drift off to bed.
"That's not such a big part of it but the effort in the game was huge so I'm going to have to make a few changes to the team.
"I'm going to give them another 24 hours to see how the knocks and niggles settle down.
"I will speak to certain players about whether they are good to go again.
"Because on the back of the next game we have another on Wednesday. We have two games to prepare for.
"Andy Robertson is the one I have the biggest doubt about and I have to mention the worst injury is actually (assistant coach) John Carver!
"He has ended up on crutches although in his defence I have to point out that he got the injury on the pitch at the end.
"Somebody jumped on his back and his calf exploded. He has a really sore one but he is putting a brave face on it.
"I didn't look at my phone till the next morning so I don't know exactly when I called it a night, but I had over 200 messages and they were still coming in.
"I know that when I went to bed I was tired, I didn't get too much sleep and I know I didn't look terribly good on the television the next day! I had a great sleep last night though and I'm ready to go again."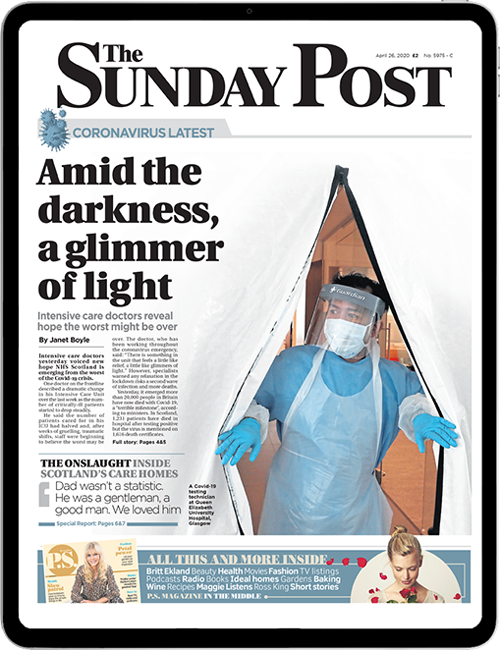 Enjoy the convenience of having The Sunday Post delivered as a digital ePaper straight to your smartphone, tablet or computer.
Subscribe for only £5.49 a month and enjoy all the benefits of the printed paper as a digital replica.
Subscribe