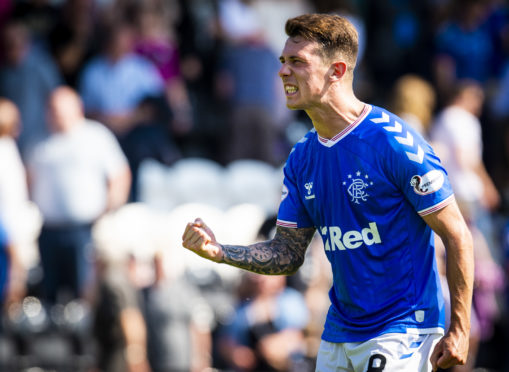 Steven Gerrard has shown his versatility with separate moves aimed at both gently applying pressure to one of his Rangers' stars, while taking the heat off another.
In the first case, the Light Blues boss has urged Ryan Jack to give the club a boost by signing an extension to his contract.
"He is in fantastic form right now and is so important to us," Gerrard said after watching the midfielder star in Thursday night's Europa League win over Feyenoord.
"We offered him a new deal recently, because if anyone deserves a pay rise and an extension to their deal it is Ryan Jack.
"Since day one he has been one of our most-consistent players and has earned everything that has come his way.
"People might find this unusual for a Rangers manager to say. But I think the Aberdeen people deserve a lot of credit for the job they did with him in terms of his development.
"I could see from my opening training sessions that people had worked with him, because he had a very good understanding of the game.
"A lot of young players don't have that. It takes time, and experience, to get an understanding of the game in terms of where you have to be in possession.
"You have to be asking yourself, 'What is the situation of the game? Are we winning? Are we losing? Do we need to speed it up?'
"Jacko came with that leadership ability and Aberdeen deserve credit for it.
"Since then, we have got more games and more confidence into him and he is really thriving now."
So much so, in fact, that some fans have voiced fears the 27-year-old could be the target for English Premier League clubs in the next transfer window.
"Could Ryan go to England? I think the question is does he want to?" countered Gerrard (below).
"I think he is very happy here, he is enjoying his football.
"He is on record having said that and he is working with a group of staff who have every confidence and belief in him.
"Sometime the grass isn't greener on the other side.
"It would depend, I think, on which team and which manager. There would be a lot of things for him to analyse if he were to go anywhere else. But we want him to sign an extension.
"We want him to be a big part of what we are trying to do here."
The win over Feyenoord is also the catalyst for Gerrard's second move, specifically James Tavernier's miss from the spot.
"I will have a chat with James over the penalty, because that is two on the spin, to get a feel for where he is at with it now," said the Rangers manager.
"Penalty-takers miss penalties – that is the way it is unless you are Harry Kane at the minute. You see quite a few misses these days.
"Listen, he has been outstanding from the spot (Tavernier has scored 19 of the 23 pens he has taken for Rangers) so I think it will boil down to him.
"As you grow with experience you get more confidence and belief in yourself. Early on, if I had said to Robbie Fowler that I was on the penalties I would probably have got a backhander. If I had said it to Alan Shearer on England duty I would probably get a forearm.
"So there will be two sides of how he is feeling right now. I can't wait for the next penalty because I am going to score it or he will be like, hmm maybe it is for someone else.
"We will see which it is and go from there. There are other penalty takers around him if he doesn't fancy it. There is no pressure on him.
"But if he wants to take it and he is confident in himself that he will score it, then he will take the next penalty.
"The questions I will have for him are:
One, are you confident you will score the next one? Two, do you want to take the next one?
"More important to me than the penalty miss is the fact he played his part in a clean sheet in the Europa League tie.
"Also more important to me was the positive reaction of the whole team to the penalty miss.
"Make no mistake, in terms of belief and confidence, James is a big player for us.
"To be a match-winner at right-back is very unusual and he has won us many a game with moments of brilliance, whether it be from open play or from a free-kick, or a big penalty.
"That won't be the last penalty James misses. But I guarantee he will score an awful lot more as well."