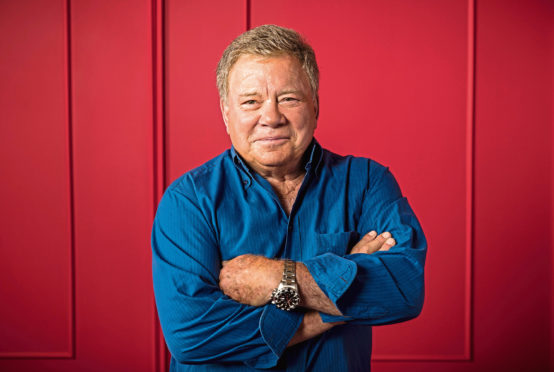 Yes, he is still going boldly forth – William Shatner that is.
He left Captain Kirk behind many years ago – or has he? He has had many successes since those early years of Star Trek yet somehow he is still Captain Kirk at heart.
"I'll never be really free of Captain James T Kirk," he said. "To be honest I don't really want to be.
"I am an actor and actors move on from one role to another, a kind of nomadic personality trait, and the result is that it can be difficult to have roots in any particular role or series – but the Trekkies have given me a home and I am delighted that they still want to meet me and shake hands. It's a great feeling.
"I remember the first time I went to a Star Trek convention, I was totally taken aback by what I saw.
"The place was packed and there were people walking around with false pointed ears or wearing the famous uniforms or even costumed up as weird aliens.
"I looked at them and thought – what am I doing here among all these crazy people?
"I'm just an actor and Star Trek is just a TV series. I wondered if Gene Roddenberry had created a monster.
"Then I realised that this was actually great fun and that Gene had not created a monster, he had created a wonderful world in which people could enjoy themselves – me included.
"I was proud to be a part of it – yes, I was still an actor but I was and still am a Trekkie!"
William Shatner might sound American but he was born in Quebec in 1931, the son of immigrants from the Bukovina region which straddles several European countries including Ukraine and Romania.
He had an interest in acting from a very early age and was helped by his parents as he tried to forge his career.
"I began at the top and worked my way down," he joked. "I left McGill University after graduating and became what was called business manager for the Mountain Playhouse in Montreal. I then had a chance to join the Canadian National Rep theatre and went to the bottom to learn how to act.
"After that I appeared at Stratford – not THE Stratford upon Avon, Stratford in Ontario. It was good, though, and I worked with people like Sir Alec Guinness and James Mason.
"Just watching them was an inspiration but working alongside them was such a very great and privileged part of my education."
Two years later William was making his debut on Broadway in Tamburlaine The Great.
"It was a small part but I was on Broadway – wow! I had already been on television playing Ranger Bob on the Canadian Howdy Doody Show. Yes, that was really its name!
"I had made my movie debut a few years earlier in something called Butler's Night Off."
William Shatner had established himself then as a stage, TV and movie actor before Star Trek came along in 1966.
He explained: "If I had thought very deeply about it I might have turned it down. There was next to no budget and to make the sets and props we were all going around other sets and lots looking for anything that was being discarded.
"There were no fancy hotels for the cast or anything like that. I had a truck which I kind of converted for basic living, and my dog and I lived in it.
"Between shooting we would find work in theatres, clubs or whatever, anything to make a living.
"Star Trek was not setting the world alight. I don't think we had the best time slots to make it work and it was threatened with cancellation a number of times.
"Then people started watching the re-runs which had been put on at a better time of the day.
"When the men who make decisions saw the viewing figures for the re-runs and heard that people were starting to talk about it, everything changed.
"I still had the mindset of taking everything and anything that was offered and perhaps I still do. I know I have appeared in some things that were not the best for my career, but there you go.
"There have been some good shows, too – TJ Hooker was very popular and still gets very good viewing figures.
"My dear and much-missed friend Leonard Nimoy even guest-starred in one episode. That was fun. We also got to ride motorbikes, one of my passions."
William does come across as passionate but doesn't take himself too seriously.
"That would be a big mistake," he said. "I have been accused of being difficult to work with but only by few people.
"I like things to be right and I am passionate about every role I play and every project in which I am involved.
"I used to do as many of my own stunts as possible because in my mind I could see how they needed to go.
"I have never been intentionally difficult but I always think we should do our best. Not everyone thinks like that."
Shatner will soon turn 89 and admits he has slowed down a bit, saying: "I don't do my own stunts any more, well, not all of them!"
He is still as passionate as ever about many things – including his horses, flying, his family, his dogs and his work.
He has been married four times and has three grown-up daughters. He has also battled with tinnitus for much of his life.
"It was a nightmare because it is there all the time. The more you worry about it, the worse it gets. I couldn't sleep or think, and I even thought about suicide because it was driving me crazy.
"Then I came across Dr Pawel Jastreboff who had invented a small device to help people with the problem.
"I wore the device for 24 hours a day for several months and now, I don't hear the tinnitus 95% of the time. Tinnitus can be managed and I am here as evidence that you can conquer it."
William appears to be in good shape and has no worries about his current commitments.
"I have been recording a TV series called The Elevator and a movie called Senior Moment which seems pretty good at my time of life," he said.
"I am also on tour with a kind of 'evening with' show, which has been well received. Maybe we will bring that to Britain."
Having become internationally famous as James T Kirk, sold countless albums as a recording artist and appeared in hundreds of films and TV episodes during a career spanning 70 years, does he ever think of retiring?
"No, I have many more things to do yet. I don't ever recall being asked to appear in Coronation Street so maybe one day I'll get beamed up to the Rovers Return.
"In Star Trek we roved the universe so turning up in the Rovers Return would be great.
"I'll keep going as long as I am asked. I have a diary with many appearances at Trekkie conventions right through next year and I am looking forward to every one of them. I get to be James T Kirk once again and love every minute of it.
"When Gene Roddenberry sent us boldly forth all those years ago even he could not have realised that all these years later the Starship Enterprise would still be breaking through the barriers of age, background and personality.
"Once a Trekkie, always a Trekkie and there are new, younger Trekkies every year.
"As my friend Spock always said: 'Live long and prosper'."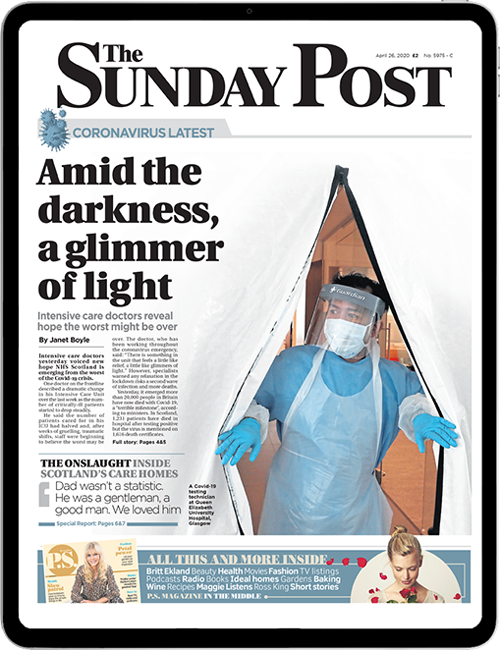 Enjoy the convenience of having The Sunday Post delivered as a digital ePaper straight to your smartphone, tablet or computer.
Subscribe for only £5.49 a month and enjoy all the benefits of the printed paper as a digital replica.
Subscribe