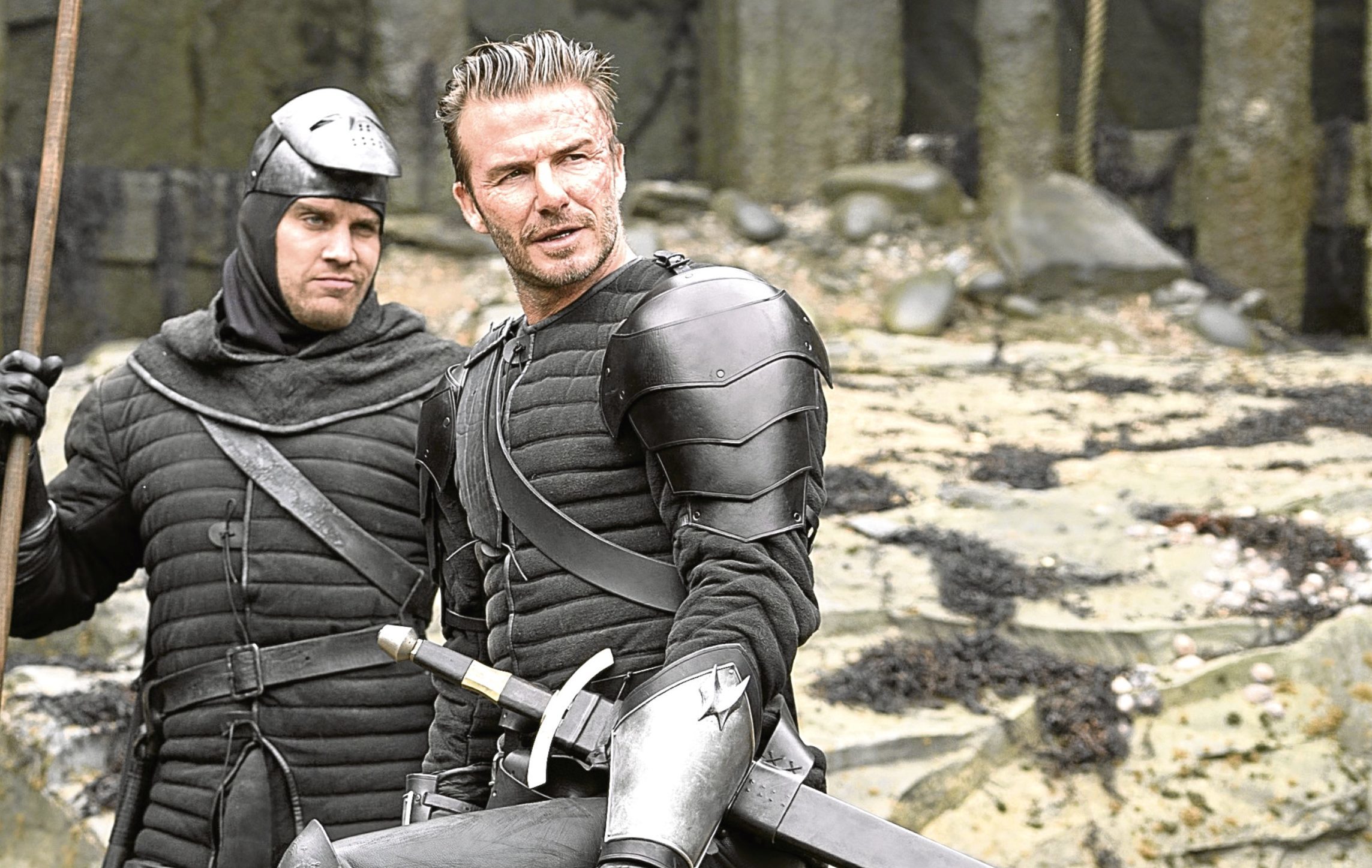 THE nominations for the Oscars won't be announced until the New Year.
But I'll put a bet on David Beckham not bothering the Academy's awards committee.
His "contribution" to new blockbuster King Arthur: Legend Of The Sword has got the critics' attention — and not in a good way.
One said he "literally had to cover my eyes he was so cringe-worthy" while another predicted, "Not sure if Posh will have to dust off the Oscars frock just yet."
"Becks" has 13 lines in the film — unluckily for audiences — and is so toe-curling, you'll think you're wearing Ali Baba's slippers.
His cameo is as a soldier telling Charlie Hunnam's Arfur — well, it is a Guy Ritchie film, so obviously it's all about Laahndahn geezers but with swords instead of the usual "shooters" — how to extract Excalibur from the stone.
And he's appalling.
This, remember, is the man touted as a candidate to be James Bond.
Now, while he is undoubtedly a decent-looking fellow, I don't remember Ian Fleming's suave 007 speaking in a squeaky Cockney accent. With a lisp.
But should we have expected anything different from a man who wasn't trained by RADA in the thespian arts, but by Sir Alex Ferguson in how to kick a football up a field?
Well, maybe.
From the very first days of Hollywood, sports stars have reinvented themselves as actors with varying degrees of success.
For every Schwarzenneger, there's been a Lou Ferrigno — both bodybuilders, at least Arnie can sort of act and starred in some of the biggest films, while Ferrigno wasn't allowed to speak when he was painted green as the Incredible Hulk.
For some unfathomable reason, the earliest sports stars to turn to acting were all swimmers.
Oddly enough, Johnny Weissmuller and Larry "Buster" Crabbe both played Tarzan throughout the 30s, with the Hungary-born Weissmuller starring in movies in 1932 and Crabbe following in serials a year later.
Weissmuller won five Olympic golds for the US in the 1920s and was the first man to break a minute for the 100m freestyle.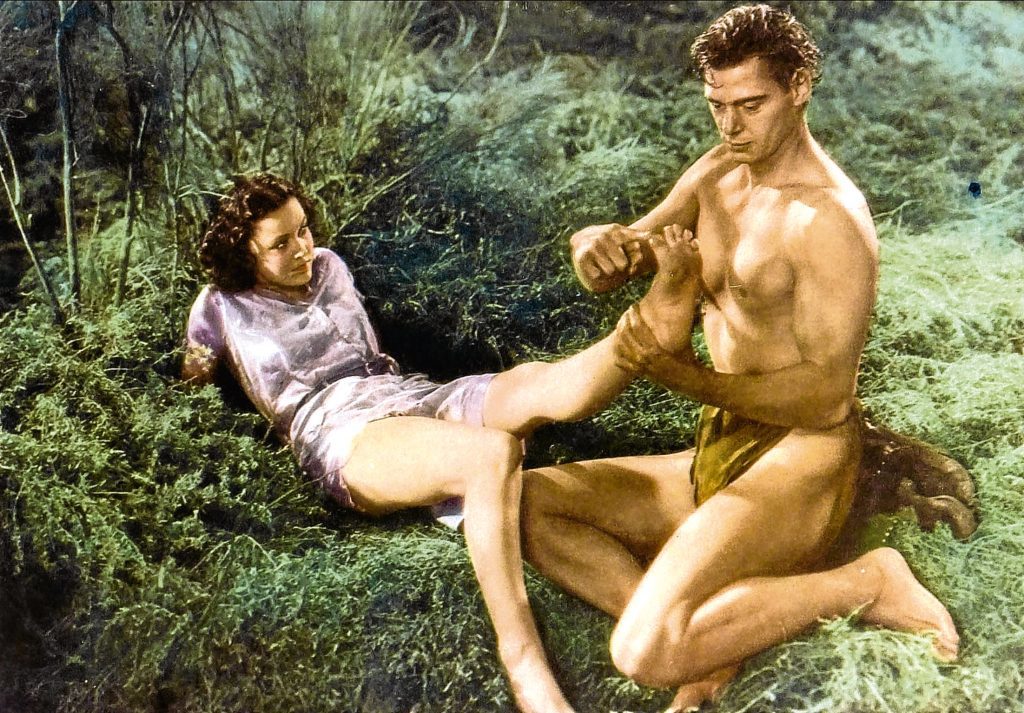 After 12 Tarzan movies, he stayed in the jungle, but turned in his loincloth for a slouch hat and safari suit for 13 Jungle Jim pictures.
Crabbe combined playing Tarzan with portraying space adventurers Flash Gordon and Buck Rogers, becoming the only man to play all three of the top newspaper cartoon characters of the era.
He'd go on to make 36 Westerns, many as Billy the Kid, during the war, but that came after he replaced Weissmuller in the Aquacade live show at the New York World's Fair alongside Esther Williams.
She'd taken the job after the outbreak of war caused the cancellation of the 1940 Olympics and would go on to make a series of "aquamusicals" featuring synchronised swimming routines.
Staying in the pool, Jason Statham was part of the GB diving squad for 12 years, competing at the 1990 Commonwealth Games before making a new career as a dependable action hero in films like The Expendables series.
"The Stath" grew up near Vinnie Jones, who introduced him to football, and the two would make their movie debuts together in Guy Ritchie's brilliant crime caper Lock, Stock And Two Smoking Barrels.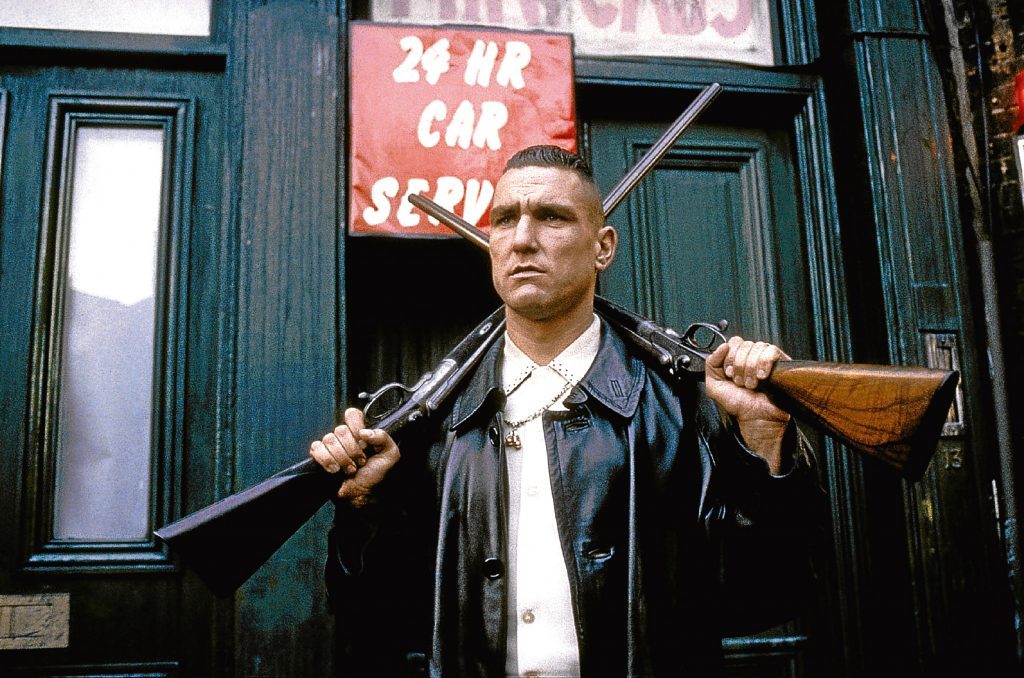 Vinnie played gangland enforcer Big Chris, and this set the tone for a series of movie villains, most notably Juggernaut in X-Men 3, though the roles seem to have dried up.
The same could be said of OJ Simpson, for a different reason.
One of the greatest American Football players, he'd already appeared in Roots and The Towering Inferno before he retired to concentrate on acting, with The Naked Gun trilogy marking the high point of his career.
He was acquitted of murdering his ex-wife and her friend in 1995 though a civil court later awarded huge damages against him for their wrongful deaths, and in 2008, he was convicted of armed robbery and kidnapping.
Two other gridiron stars fared somewhat better. Carl Weathers only played eight games in the NFL for the Oakland Raiders before returning to university where he finished his drama degree.
He made his name as another sportsman, boxer Apollo Creed in the Rocky movies, but for my money was at his best as a special-forces colonel fighting a vicious space monster in the jungle in Predator.
Merlin Olsen, in contrast, had a stellar 15-season career with the LA Rams and when he turned to acting, spent several years as Michael Landon's sidekick Jonathan Garvey in Little House On The Prairie.
For me, the greatest sports-star-turned-movie- hero is Chuck Norris.
He opened a chain of karate schools, training the likes of Steve McQueen, Priscilla Presley and Donny and Marie Osmond.
He met kung-fu legend Bruce Lee and acted as the baddie in his movie The Way Of The Dragon, after which McQueen encouraged him to take acting lessons.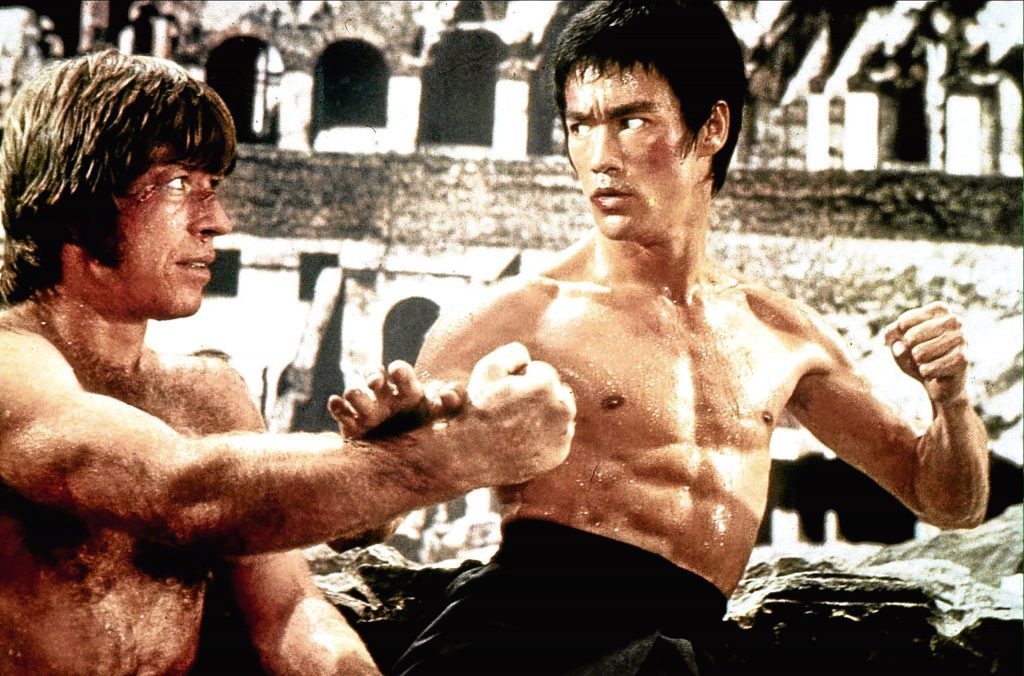 This led to a series of enjoyable but daft 80s action movies, then a long spell in the crime-busting TV show Walker, Texas Ranger.
Another to switch from fighting to films is Dwayne "The Rock" Johnson, who was one of the greatest pro wrestlers of all time.
He now mixes action films like the Fast And The Furious series with family fare like Moana.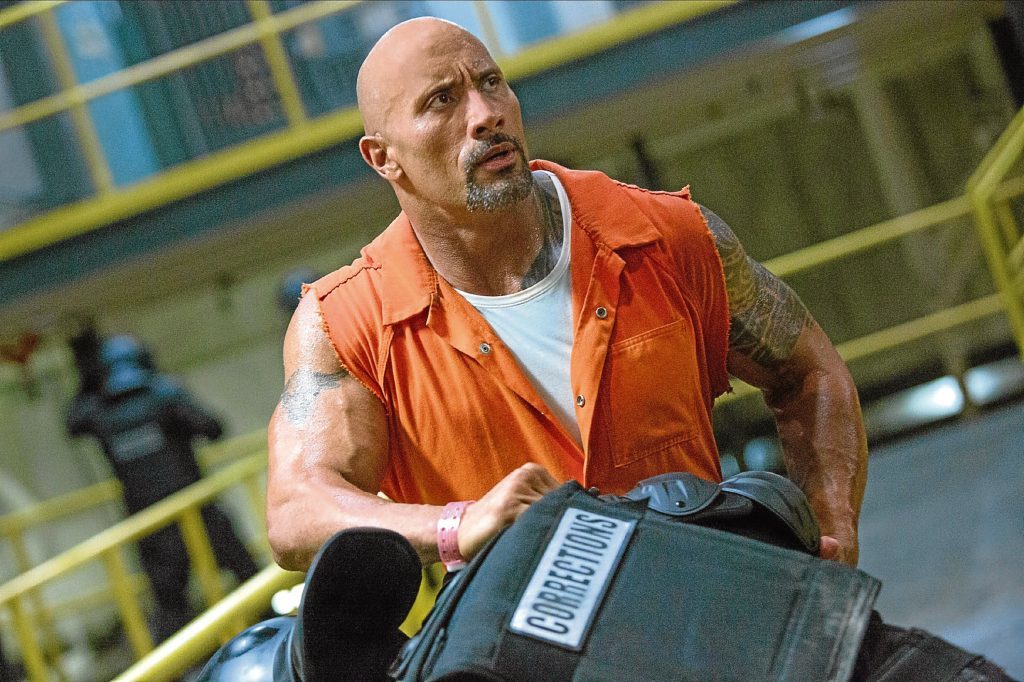 Now, you might not recognise Harold Sakamoto who won weightlifting silver at the 1948 Olympics in London, but you'd recognise his debut movie role.
He'd been a wrestler for many years before Cubby Broccoli thought his heavy build and intimidating gaze made him perfect as Auric Goldfinger's mute henchman Oddjob.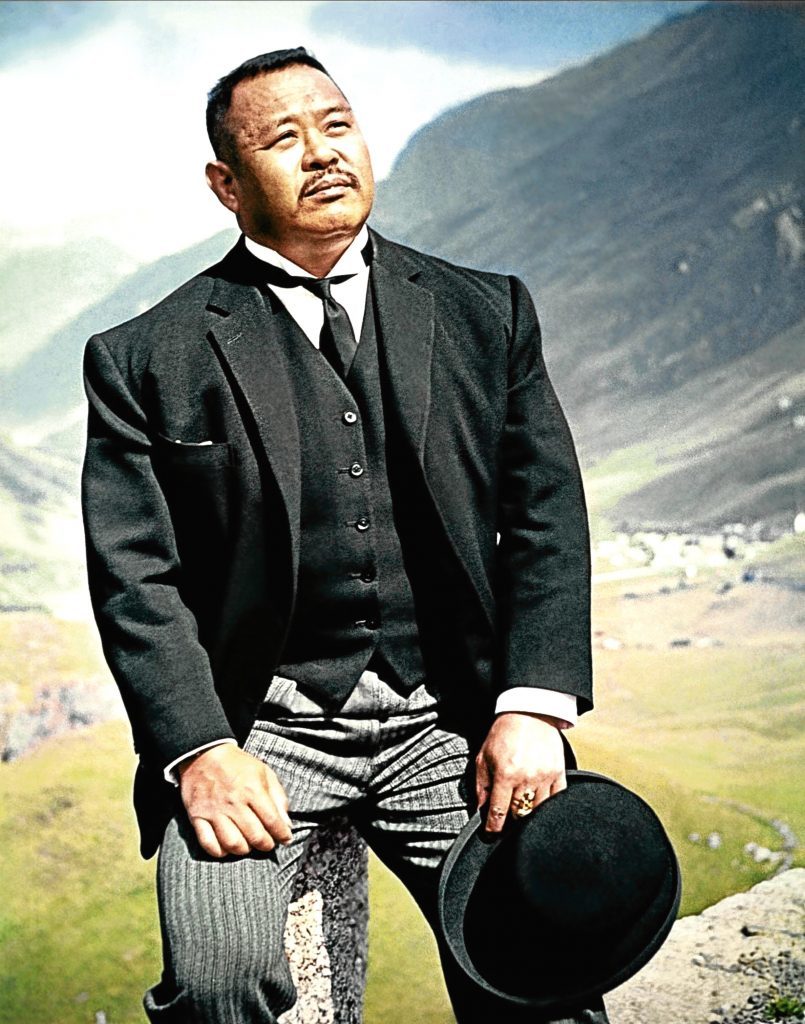 Finally, Geena Davis did things in reverse by being an actress before trying out the Olympics.
She'd already been nominated for an Oscar for Thelma & Louise before spending two years training to represent the USA in archery at the 2000 Sydney Olympics.
She was placed 24th of 300 entrants, and returned to acting where she's currently playing the lead in TV series The Exorcist.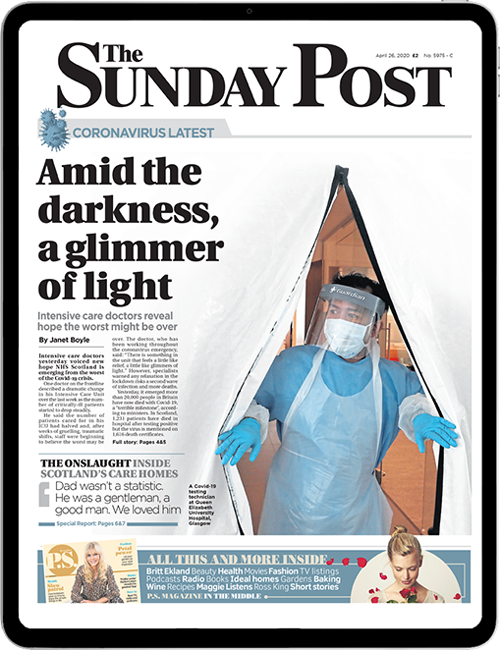 Enjoy the convenience of having The Sunday Post delivered as a digital ePaper straight to your smartphone, tablet or computer.
Subscribe for only £5.49 a month and enjoy all the benefits of the printed paper as a digital replica.
Subscribe