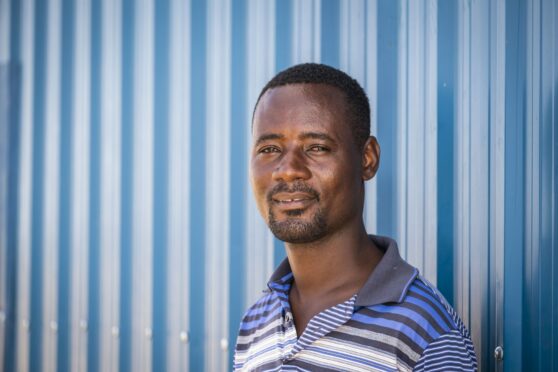 It is almost 10 years since he reached Kakuma, alone and carrying nothing but his loss.
Fred arrived in the settlement in north-west Kenya after fleeing his home in Burundi with only time to leave a note for his wife. He remembers: "I had a good life with a job and no financial stresses, but then fighters forced me to hide guns in my home. The government found out and wanted to jail me. I had no choice but to run."
He charted a perilous course through Tanzania and Uganda until he reached this town in Turkana. It was once a rural place populated by nomads, much like the rest of the region, but in 1992, the United Nations High Commissioner for Refugees (UNHCR) opened a camp to house the so-called Lost Boys of Sudan.
These orphaned and displaced children had fled turmoil in their own country, walking 1,000 miles across the desert to Ethiopia. A few years later, Ethiopia descended into civil war, too, and 10,000 of the boys made their way to Kenya.
With refugees also flooding in from Somalia, the camp quickly filled and newcomers spilled out on to the surrounding land. Today, there are around 250,000 people living in the camp and settlements nearby, 187,000 of them refugees.
The centre of Kakuma itself is a cacophony of colour, its streets lined with makeshift "dukas"– tiny general stores – and other shops, and criss-crossed by goats, which wander at will.
The shops have busy, brightly-coloured facades, and display their eclectic wares outside. Mannequins jostle with motorcycles; buckets with bathtubs. In between are cafes, pubs and guest houses so small you can't imagine how they function. Some names, like the Glory Be To God Hotel, testify to the role of missionaries and the hold Christianity has on the region. Gambling adverts testify to the way the world's poorest are preyed on from Tollcross to Turkana.
In the settlements, though, the vitality fades, the chaos of town replaced by bleak rows of cement houses and corrugated shacks. Though Kakuma is universally referred to as "integrated" – the refugees living in harmony with the indigenous community – each immigrant population has its own area.
Climate catastrophe blamed as drought and famine ravage Kenya
On arrival, Fred – not his real name as he remains at risk – stayed at the UNHCR reception centre before being given a tent. "After three days, that tent was stolen, and they wouldn't give me another," he says. "Someone helped me get a house in 'phase one' and now I live in Burundi Market. It was two years before my wife could come. In the beginning, I locked myself in, thinking about all the precious things I left behind and if my family would survive without me."
Today, Fred and his wife Nabintu-Louise are reunited. They have five children of their own and have informally adopted two more. But their lives remain precarious. In Burundi, Fred worked for a group distributing food to prisoners. In Kakuma, he has no job. The family live in a couple of grey brick buildings not much bigger than sheds. Washing is strung across the line in the yard as their son Kim Rodrigue, four, peers out from between Fred's legs. Fred says the transition has been tough for the children. "They made friends quickly, but they find the lack of food very difficult," he says. "Here, we don't have enough to eat. Their stomachs are never full."
What makes life manageable is the school, Nationokar-Lopur, built in 2010 with money from Unicef. Three of the couple's children attend primary there, and two go to the Early Childhood Development centre (ECD). Of all the schools I visit with Scots charity Mary's Meals, it is the best resourced: permanent classrooms, lots of textbooks, playground equipment. Even so, the only ECD teacher has to teach 270 children split into two classes.
Unlike the wider community, Nationokar-Lopur is truly integrated, with children from nine countries learning and playing together in Swahili and English. To ensure everyone feels invested, the school committees include a representative from each community. And in the ECD, courtesy of Mary's Meals, there is food – the need for which unites all cultures.
The charity provides lunches of maize and beans to 136,000 children in ECDs across Turkana and hopes to feed the primaries soon. The link between eating and learning is key as education is viewed as the route out of poverty. But here in Nationokar-Lopur it also helps bring diverse communities together.
"As soon as Mary's Meals began its programme here, the numbers attending the ECD went up," head teacher Edward Lobuin tells me.
Fred says it's a relief to know his younger children will have lunch at school "because some days there will be nothing for supper".
These meals are just as important to the indigenous population because they, too, struggle to put food on the table. Indeed, a recent study found 65% of Kakuma's refugees and 72% of the host community were living below the poverty line, with the four-year drought and the war in Ukraine intensifying hunger.
Simon Ekakarow has three children in Nationokar-Lopur primary and four in the ECD. A native of Turkana, he moved around with his livestock before settling in Kakuma 25 years ago. Back then, it was all traditional huts; but when the refugees arrived, the government and NGOs (non-governmental organisations) put up permanent structures. He says: "We were glad when Unicef constructed the school because our children benefit from the investment, too."
Simon's children walk around five miles a day to and from Nationokar-Lopur. He says the food provided at the ECD sustains the children and helps them focus. "I sold four goats and a donkey to help put my niece through university because I know, while livestock is important, education lasts for life," he adds. Soon, his seven-year-old son Esurut appears at his side and, unprompted, starts counting "one, two, three" in a sing-song voice. Esurut likes reading, "especially stories about children playing football".
I ask him if he plays football with the refugee children, and he says "yes". But, when school is over, they all return to their own communities. And what does Esurut do when he gets home? "I collect firewood," he says. Some of the firewood Esurut collects will be burned for charcoal. This is something more and more pastoralists are turning their hand to as other sources of income dry up.
But charcoal burning brings its own problems. It involves cutting down trees in a region where many species are threatened and deforestation is already reducing the availability of fresh water during dry periods. Developing countries contribute far less to climate change than industrialised ones – and pay a higher cost in terms of drought and flooding.
Even so, Kenya has pledged to reduce its greenhouse emissions by 32% by 2030. As a result, there are now legal restrictions around charcoal burning. In theory, these restrictions have increased demand for a fuel which, for decades, made up 70% of the country's domestic energy demand. Yet with so many still burning and selling it, the price it fetches in Kakuma has dropped. At Lomermagal ECD, about 20 miles from Kakuma, Nakali Lokulan, chairman of the school feeding committee, tells me villagers spend two or three days burning charcoal then take it by foot or bike all the way back to the refugee community.
"Imagine you have left your home early and have been in Kakuma for two or three hours," he says. "There is no one at home taking care of your kids. You are looking for a market for your charcoal but you are not finding it. Then one person says they will buy it at a throwaway price. You have no choice."
Lomermagal is so remote that no one I speak to can point it out on a map. "It is rare for us to have guests," Nakali says. "The only vehicles we see are those belonging to Mary's Meals, except maybe during election time when politicians come selling their manifestos."
And so our visit is treated with a sense of occasion. Some of the women are wearing their animal skins, while ostrich feathers in the men's hats give them a foppish air.
But there is a poignancy to the efforts being made. As the women perform their "welcome" dance they wave prosopis pods – a reminder they have nothing else to eat – and the song they sing is about their "forgotten" village.
Lomermagal hasn't seen rain in more than a year. Ekomwa Lokulan is one of those who has started burning charcoal. "But now a full bag only fetches enough to buy three plates of maize," she says.
Like many in Turkana, Ekomwa measures her age not in years but, more poetically, by the season in which she was born. She was born "in the season of the yellow maize" which means she is close to 30.
She has eight children, but she does not live with their father because no livestock has changed hands. In rural Turkana, a marriage is not "official" until the man has paid a dowry of goats. Not everyone can raise a dowry. But, also, accepting one means the children from that marriage have effectively been bought. Some women prefer to keep their children in their family homes.
Five of their children live with her, but the oldest three are being cared for by her sister in Kakuma. "It is hard to be apart, but I couldn't look after them all," she says.
I watch the 136 ECD pupils eat their lunches. The temperature is 34 degrees, the landscape a scrubland. With Ekomwa's words ringing in my ears, I am more conscious than ever of the importance of Mary's Meals. Around 30% of Turkana's population suffers from malnutrition.
"Without these lunches, I believe some children would not have survived," Nakali says.
We are preparing to leave when Benjamin Moite, school feeding manager and our guide, calls us over and tells us the "forgotten" village wants to give us a present. Out of nowhere, a brown goat appears.
"Can you take this back to the UK?" Benjamin asks. An image of us strolling through passport control pops into my head and I want to laugh. But everyone is so earnest. It is a huge gesture and refusing will clearly cause offence.
And so it is that we – myself, Mary's Meals director of communications Karen Gray and photographer Chris Watt – find ourselves accepting this precious gift in one of the poorest, driest spots on the planet. The speeches over, we load the goat on to the back of one of the vans but will leave it in safe hands when we return to Scotland.
As we bounce along the dirt tracks with Lomermagal fading into the distance, I think about the depth of gratitude the villagers feel for provisions so basic we take them for granted. And how, so often, across the world, it is those with the least who give most freely.
---
It costs just £15.90 to feed a child with Mary's Meals for a whole school year. Donate at www.marysmeals.org.uk or freephone 0800 698 1212. If you set up a regular gift with Mary's Meals before Friday, your first three donations will be tripled thanks to a group of generous donors who have made funds available up to £150,000.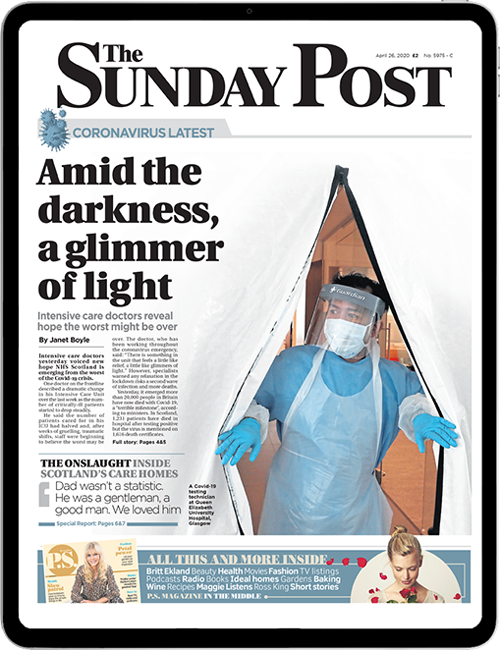 Enjoy the convenience of having The Sunday Post delivered as a digital ePaper straight to your smartphone, tablet or computer.
Subscribe for only £5.49 a month and enjoy all the benefits of the printed paper as a digital replica.
Subscribe