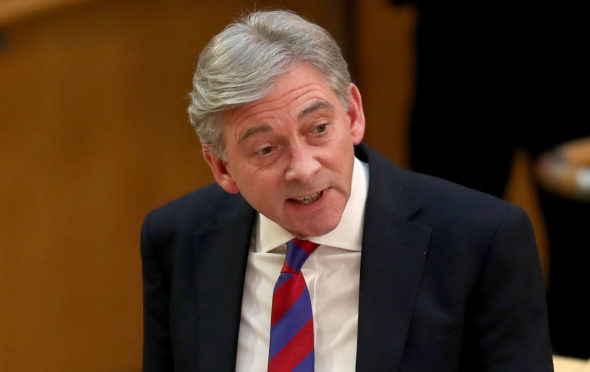 Richard Leonard has been urged to sack nine Scottish Labour councillors suspended by the party after agreeing a coalition with the Scottish Tories.
The politicians received their suspensions in 2017 after disobeying then-leader Kezia Dugdale, who had told them not to form a coalition with the Conservatives on Aberdeen City Council.
The deal was agreed with the Tories and independent councillors in a bid to outvote the minority SNP group on the council.
They were given a warning to stand down from the coalition but refused to do so before a set deadline. The future of the councillors remains undecided.
The SNP's Aberdeen Central MSP Kevin Stewart accused Mr Leonard of burying his head in the sand on the issue.
"This has dragged on for far too long – it's time Richard Leonard got a grip of his party and kicked these councillors out for good," said Mr Stewart.
"It's simply not good enough for the Richard Leonard to bury his head in the sand while councillors working under the Labour banner claim the Tories have been a force for good in Aberdeen."
Aberdeen City Council leader Stephen Flynn, also of the SNP, said: "The situation is a complete farce and this so-called suspension, that was implemented a shocking 28 months ago, clearly means nothing.
"These councillors are working hand-in-hand with the Tories to push through devastating cuts to local services while continuing to campaign for the Labour party across the city.
"Richard Leonard can't dodge this issue any longer – he needs to send the disgraced councillors packing."
A spokesman for Scottish Labour said: "This is desperate stuff from the SNP but the SNP is experiencing desperate times.
"This week the SNP has scrapped their Named Person legislation, ditched a flagship climate change commitment to ban landfill waste in Scotland by the end of 2021, did a U-turn and announced a public inquiry on the hospital failures under their watch.
"And the First Minister's answer to direct question asking about using private email account for Government business appears to be contrary to an open or transparent Government.
"Kevin Stewart is under pressure because of his Government's failures and keen to deflect."