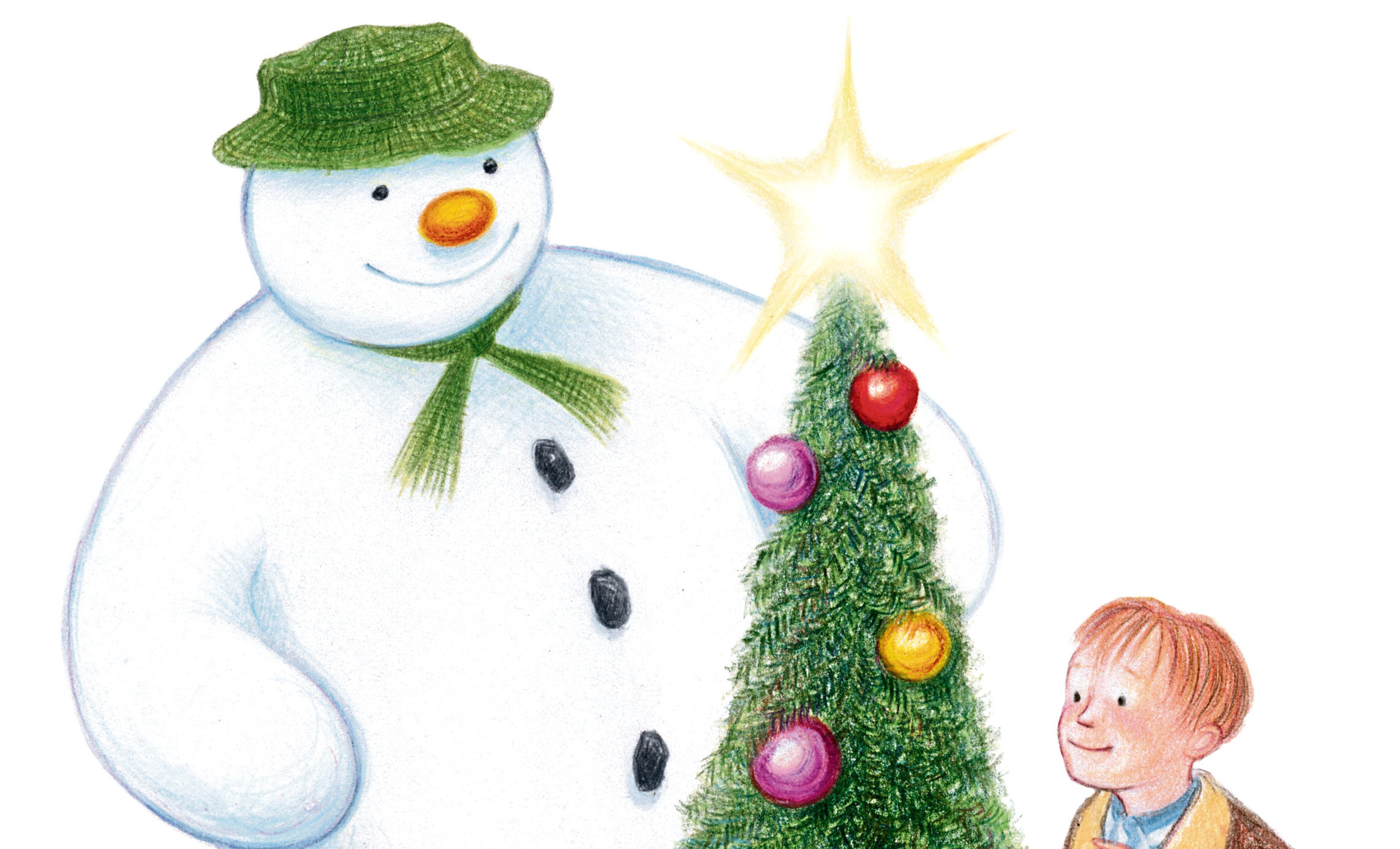 CHRISTMAS wouldn't be the same without mince pies, sleigh bells, singing along to Slade's Merry Xmas Everybody and, of course, the perennial screening of that stalwart of seasonal viewing, The Snowman.
The BAFTA-winning animated classic is an adaptation of Raymond Briggs' best-selling book, which has sold over 5.5 million copies and celebrates its 40th anniversary in 2018.
The small screen film took 18 months to make and tells the story of a little boy whisked off to meet Father Christmas by a lovable snowman who comes to life one magical evening.
The story blends fantasy and reality, a trademark of Briggs' work, before ending in tears when the snowman melts in the warmth of the morning sun.
The book, adored by all ages, was an instant hit. It won awards worldwide, much to the author's surprise, especially as the story ended in death.
"It wasn't a happy ending," says Raymond, 84, who nonetheless found it a refreshing project after being immersed for two years in slime.
His previous book, Fungus The Bogeyman, spotlighted a green, slimy character created in response to the prissiness of children's books at the time.
"After that, I wanted to do something completely different and The Snowman was ideal because it was clean and pure."
The adaptation for TV came to fruition four years after the book's release and was produced by John Coates, who died in 2012.
He recalled: "One of my animators bought the book soon after it was published, thinking it would make a lovely film."
The picture book, however, lay on Coates' desk for over a year until Channel 4's launch started the ball rolling.
With 70 people beavering away, the film cost £500,000 with Coates remortgaging his house to help fund the project.
The producer's bravery paid off, though, because the film was a hit and, before long, thousands of Snowman merchandise items and annual theatre productions based on the story were in existence.
Thankfully, the animators stuck closely to Briggs' style of illustrations, including using crayons to create softness, fluidity and sense of movement. Additional scenes, however, had to be added.
Briggs' book in its original format would have translated into just 10 minutes' screen time. With half an hour required, sequences were added, including the Snowman and little boy riding a motorbike in the country and flying to the North Pole to visit Father Christmas.
Initially, the idea of introducing Santa horrified Raymond Briggs. "My first reaction was, 'Oh God, how corny can you get!' But it worked extremely well."
The memorable tale was matched by an equally memorable theme song, Walking In The Air, originally sung – contrary to belief – by Peter Auty, a St Paul's Cathedral choirboy. A later Aled Jones version reached No 5 in the charts in 1985.
Raymond Briggs, son of a milkman and maidservant, was born in Wimbledon and studied illustration at Wimbledon School of Art and, later, Slade School of Fine Art.
His interest in the subject stemmed from his days as an evacuee in Dorset during the Second World War. "I illustrated all the letters to my parents. By the time I was 11, I wanted to be a journalist or cartoonist – writing and drawing have always been my interests."
Money was always tight in the Briggs' household. "We didn't have any of the things people take for granted these days, such as central heating.
"Most of the time, we lived in the kitchen at the back of the house with just a coal fire keeping us warm. There was no heating in the bedrooms and I remember the luxury of my parents buying me an electric fire when I became a student and started working upstairs," says Raymond, who admits his folks didn't like the idea of him attending art school.
"My mother would have favoured me becoming a suit-wearing office type instead of slopping around in baggy cords and sandals.
"She didn't think there was any money in art. My dad, meanwhile, remarked: 'That lot are all long hair, drink and nude women!'
"But they didn't try stopping me. In fact, my mother delayed her retirement and worked longer than she should have to help support me.
"My dad wcouldn't take a lot of interest in what I was doing because he knew nothing about art. But he wasn't remotely dismissive of it at all."
Raymond regarded his parents as "incredibly hardworking".
"Often, when my dad finished his milk round he'd go off with his mate and do some painting and decorating. He enjoyed it and it brought in much-needed extra cash."
As for his mother, Raymond says: "She was very keen to be respectable and middle-class.
"She was always concerned about presenting the right taste, such as having upstairs curtains matching those downstairs so they looked right from the outside. I thought it was crazy because I always believed you had curtains to match what you've got in the room not what the neighbours might think."
Raymond reflected on their lives in his 1998 book, Ethel And Ernest, which was adapted for the big screen. "That book was an enjoyable project and I continue to look at it because it's like a family album."
After art school, Raymond pursued a career illustrating books – surprising for someone who disliked them as a child. "I hated getting books as presents. I always felt the shape of any gifts and if there was a horrible concave edge down one side, I'd groan because I knew what it was."
He wrote his first book, The Strange House, in 1961, after illustrating a series of children's books and believing he could write better stories. "It was never a serious attempt to get anything published, just writing for fun, really. But I sent it to a publisher for advice and he snapped it up."
Seven books later, in 1973, Briggs hit the big time when his famous Father Christmas book was published, basing Santa on his own father. "Being a milkman, I thought of him plodding snowy streets delivering freezing cold bottles of milk – a job rather like Father Christmas."
Other books he's published include The Bear, The Man and, more recently, Notes From The Sofa. But he'll always be known for The Snowman.
Every year, the screen version of The Snowman draws large audiences and, in 2012, Channel 4 provided further festive cheer when they screened a sequel.
The Snowman And The Snowdog was a 25-minute film set 30 years on from the original story. While it featured the original house, it was a new boy who, saddened by the death of his dog, wrote to Santa asking for a new one.
Later, he discovered a shoebox under the floorboards containing a hat, scarf, lump of coal, shrivelled tangerine and photo of the original snowman and boy. Rushing into his snowy garden, he build his own snowman and snowdog. At midnight, the little boy was awoken by a bark and his magical adventure began.
"A sequel was a long time coming. John Coates, producer of the original Snowman film, wanted to make one straight away but I refused because that seemed like we were just out to make money," says Raymond.
"Then, during one of John's persuasive lunches, I agreed. Sufficient time had passed for it to be treated as an entirely separate enterprise."
Members of the original animation team worked on the sequel, which was written by Hilary Andus and Joanna Harrison, both animators on The Snowman.
After dreaming up the storyline over coffee in Andus' back garden, production started in December 2011.
Taking nearly a year to make, the animation team stayed true to Briggs' illustrative style by retaining the beautiful hand-drawn look which provided soul to the story.
Celebrate 40 years of The Snowman at Brighton Museum until January 6 2019, including an exhibition of the original artwork. An anniversary edition of the book is published in hardback by Puffin.
The Snowman by Michael Morpurgo, a new story inspired by the original tale, £12.99, is published by Puffin.