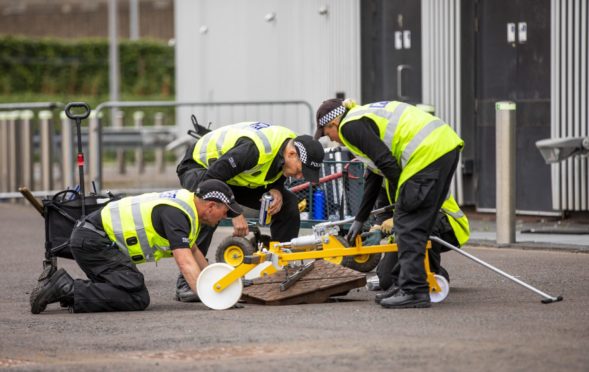 Security to protect world leaders and delegates attending a climate summit has been ramped up in Scotland's biggest city.
Police have launched a programme of searches at the SECC in Glasgow which will stage Cop26 in November, the biggest international conference ever hosted in the UK.
The UN climate change summit will be policed by up to 10,000 officers a day and will involve staff from each of Scotland's 13 divisions, including firearms officers, dog handlers, mounted branch, search teams and the marine unit as well as receiving assistance from forces across the UK. The build up of specialist capabilities has even lead to a shortage of sniffer dogs in Britain.
Last week Scots police officers were pictured being given riot training where they faced a fictitious protest group, Destruction Uprising, based on Extinction Rebellion activists who were policed by 2,000 officers the last two weeks of protests in London.
All roads lead to Glasgow
Some 30,000 people are expected to visit Glasgow during the November event. VIPs including US President Joe Biden, the Queen, Pope Francis and climate campaigner Greta Thunberg. On Friday – eight weeks ahead of the start of the conference – teams of officers from Police Scotland were seen inspecting manholes in and around the Scottish Events Campus (SEC) where the summit is being held. Officers confirmed they were checking in advance for anything suspicious.
As well as having the event venues assessed by counter terrorist security advisers, officers will also install CCTV and hostile vehicle barriers to help keep the talks secure.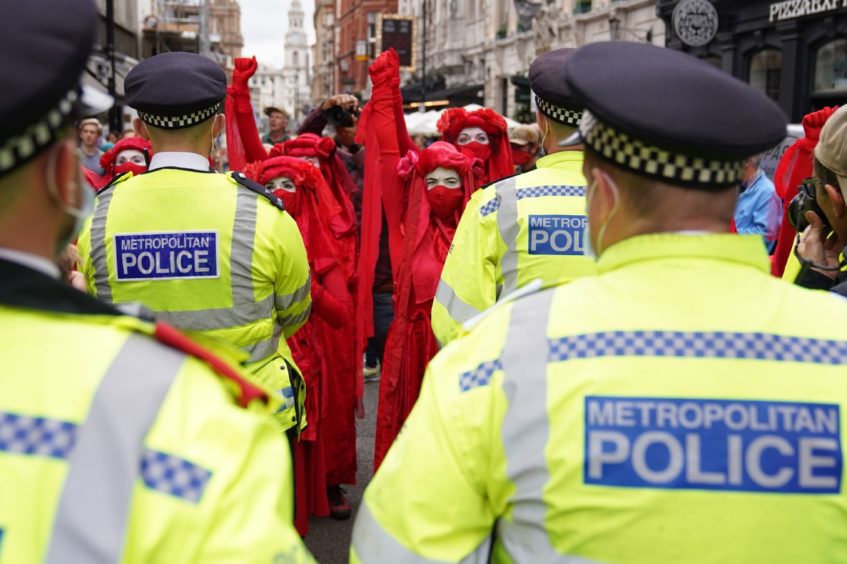 Charles Bird, a former diplomat and counter-terrorism lecturer at St Andrews University, warned the sheer scale of the event poses difficulties for police and intelligence agencies.
He said: "As well as large and organised terror groups to consider, there are still individuals out there who would see an opportunity," he said. "The politicians will be well protected but as we have seen happen in recent years in London, Mumbai, Paris and Boston, those determined to cause trouble will not hesitate to instead target crowds of ordinary people.
"The biggest nightmare happens when groups splinter and start hitting targets spread around a city in a coordinated attack. There is no such thing as 100% security and it is getting more and more difficult to combat determined troublemakers. There is an awful lot for the security forces to consider."
Protests
Extinction Rebellion protestors have been active in London over the last fortnight but suggest they will reconsider their tactics after firmer action by police to minimise disruption and keep roads and bridges open meant their protests failed to have the impact of previous activity.
In 2008, when G8 world leaders met in Scotland, there was sporadic violence on the streets of Edinburgh, protestors attempted to block motorways and trunk roads across central Scotland and riot police had to be flown into the grounds of Gleneagles, where the meeting was held.
Chief inspector Bob Shaw, the police search coordinator for Cop26, said that in the run up to the conference police search teams will be responsible for defensively searching all the venues that world leaders will attend.
"We will work with other partner agencies such as other police forces, local and UK Government, coastguard and other agencies to ensure that the safety of all world leaders and delegates is maintained throughout," he said.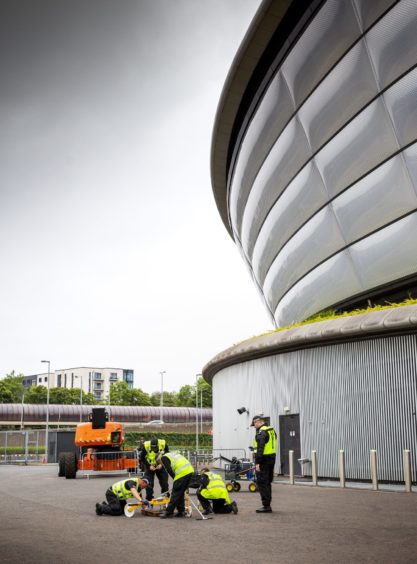 "Police search teams work very closely with police dog units, particularly their explosive search protection dogs, and we also work very closely with dive and marine units in terms of confined space searching.
"Our teams have been preparing for Cop26 for a number of months through specific training to prepare them for the roles which they will undertake during the conference. So, while there is no specific threat we are planning and preparing for any eventuality to ensure that we keep all the world leaders and the wider community safe."
Assistant Chief Constable Bernard Higgins said: "Our search teams have started securing and sealing venues ahead of Cop26, using a range of specialist skills. While there is no specific threat, we have been planning this event for well over a year and this search operation is part of our security plan."
Safety plans
Cop26 organisers said every effort was being made to ensure the conference passes safely, saying: "Ensuring Cop26 is a sustainable, safe event for attendees and the people of Glasgow is a priority for the Cop26 Presidency."
Stuart Patrick, Glasgow Chamber of Commerce chief executive, said city businesses would be kept informed of any potential protests and disruptions – and how to deal with these.
He said the organisation is hosting numerous conferences and events during Cop26 and as a precaution its headquarters in George Square will be largely out of bounds as the area is expected to be a main gathering point for demonstrators.
"We would rather people wouldn't gather in the square as the city centre has recently taken a pounding and it needs time to recover," he said. "But we have to be realistic, and there will probably be protests."
Charity: Cop26 climate summit means we can't recruit a canine colleague for our drugs-busting dog
Senior US government officials arrived in Scotland last week in preparation for US President Joe Biden's visit to Cop26. A Boeing C-40 Clipper jet – part of the US Air Force's VIP fleet used for overseas travel by the country's civil and military leaders – was spotted landing at Edinburgh Airport.
It coincided with a visit by security chiefs to a Glasgow hospital to plan for any medical treatment that the 78-year-old might need while attending the conference.
Under security rules, the SEC and surrounding area is also set to be a no-go zone for cyclists and pedestrians for about a month.
Glasgow City Council is consulting on the suspension of public access rights around the venue for the duration of the summit.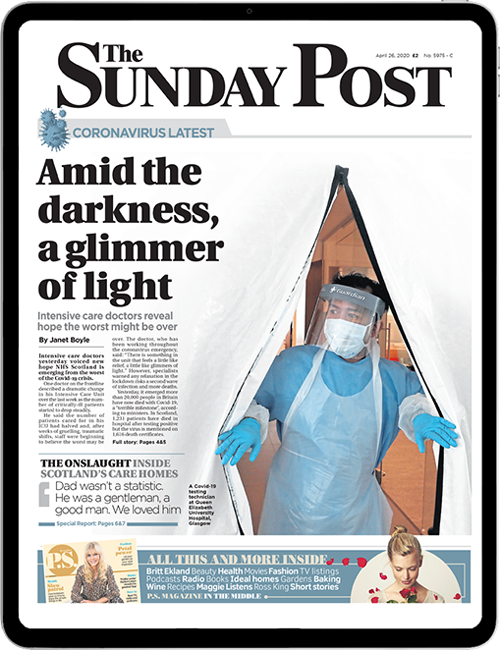 Enjoy the convenience of having The Sunday Post delivered as a digital ePaper straight to your smartphone, tablet or computer.
Subscribe for only £5.49 a month and enjoy all the benefits of the printed paper as a digital replica.
Subscribe