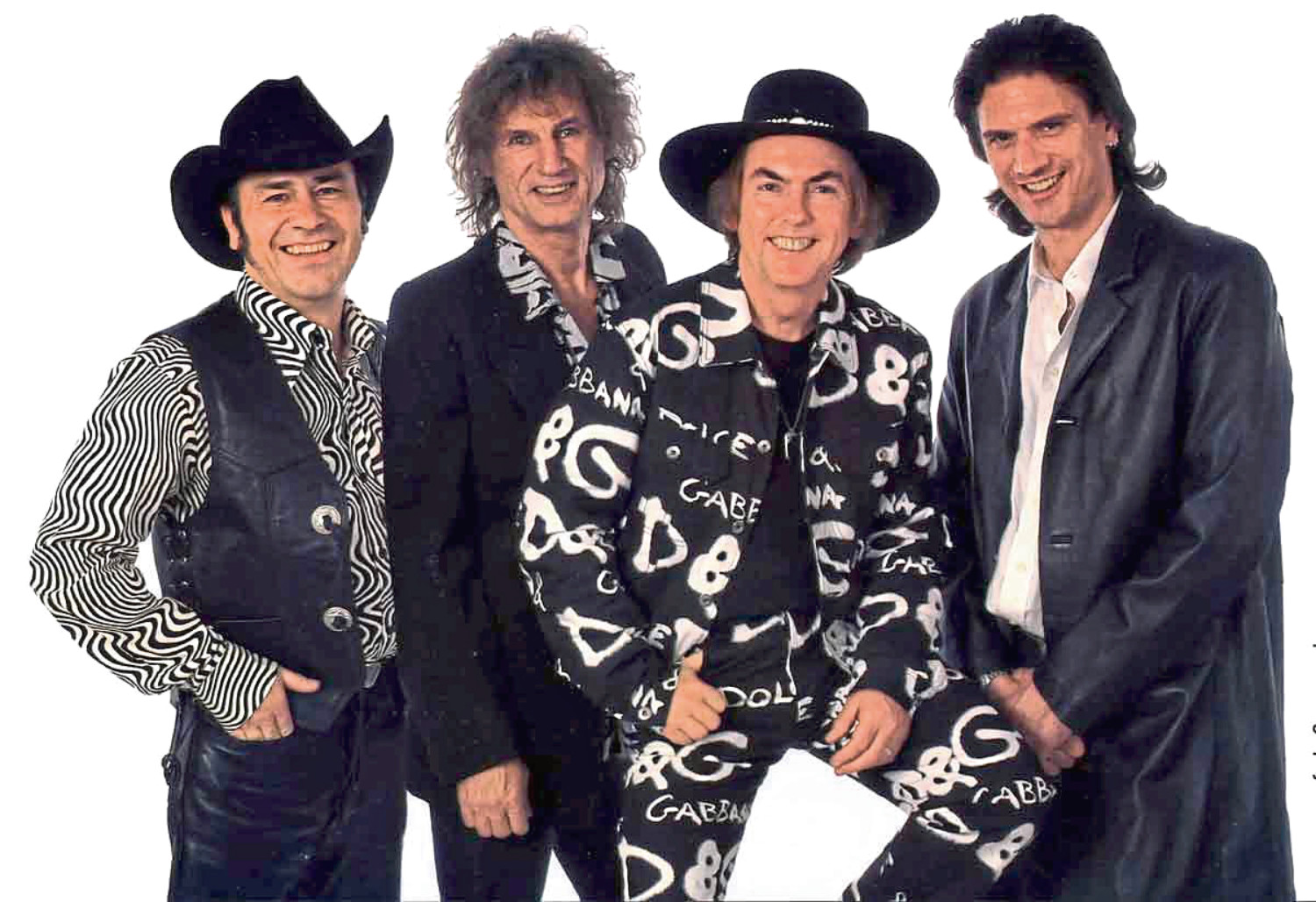 THEY were at the height of their fame, with smash hits, adoration and money flooding in.
Then Slade drummer Don Powell was in a devastating car crash in 1973 which left him in a coma for six days and his girlfriend Angela Morris dead.
Don's skull was fractured, his heart stopped beating twice and he suffered ongoing memory loss.
But as Slade get set to play a Glasgow gig, Don says his return to the band was incredibly quick – and incredibly painful.
"We were No 1 at the time with Skweeze Me Pleeze Me and had just played the biggest gig of our career at Earl's Court in London," Don, 72, told iN10.
"Then three days later came the crash. I've still got no idea what happened.
"When I got out of hospital, I went straight back on our American tour. It was very tough both physically and mentally. I had seen a brain specialist and he said I never would remember the crash.
"He said the brain switches off in moments of trauma and switches back on when it's ready and I wasn't even to bother trying to think about it.
"I just relaxed then, because trying to recall what happened had been driving me nuts."
The physical toll was just as troubling for Don – although there was some black humour involved.
"I had broken ribs and two broken legs and playing the drums really took its toll," admitted Don.
"The roadies used to have to carry me on stage, put me at my drums and take me off again at the end.
"Well, sometimes they'd just leave me on the kit when everyone else had gone off and I'd be stuck there.
"Although I was all broken up and it was the last thing I was up for initially, the surgeons said that if I didn't do it then, I never would.
"That was the best advice I ever had."
In their 1970s heyday Slade were a chart phenomenon. They had 23 top-20 singles, six of which were No 1s. The band were mobbed everywhere they went and Don says that was a contrast to their home-bird ways.
"We were still living with our parents and I remember driving round to see my sister who lived a few streets away," recalled Don.
"Of course it was just as the kids were coming out of school and she was saying, 'What were you thinking!"
"It was absolute mayhem.
"There was a mania all the time, it really was crazy. But we always tried to take the time to chat if we were at a railway station or whatever as it meant so much to the fans."
Don, Dave Hill, Jim Lea and, of course, Noddy Holder were the foursome who never seemed to be out of the charts with hits like Cum On Feel The Noize and Coz I Luv You. Now Don and Dave are the original members who'll be taking to the stage at SWG3 Galvanizers at the start of next month.
Don diplomatically says Noddy just had other avenues to explore when he left and Jim didn't want to carry on without Noddy.
But he insists they still get together several times a year for a catch up with other musicians and friends. Prime among their hits, of course, was 1973's chart-topper Merry Xmas Everybody which will be getting its annual money-spinning festive outing over the coming weeks.
However, Don says it almost never made it on to vinyl in the first place.
"We were in New York at the time and Nod and Jim had this song that the manager said we had to record during a week off.
"It was 100 degrees outside and there we were singing that record, getting some strange looks off of the American technicians.
"We didn't want to release it afterwards as we weren't sure it was right for us.
"But we were told it was coming out regardless of what we said and the rest is history."
Slade played Scotland numerous times, including in the remotest locations before they hit the big time.
"At one time we had a tour that started in Wick and we drove all day from our homes in the Midlands," says Don.
"We were in our old van and there weren't lots of motorways or good roads so we left at 6am and got there at 6pm, just in time to lug all our gear in as we had no roadies."
Slade, SWG3, Glasgow, December 6