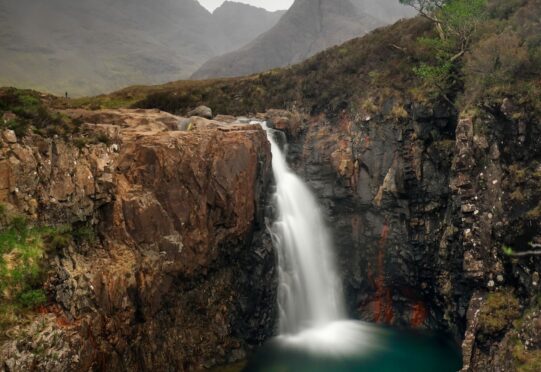 September, going on October, and that Skye morning was as reluctant to wake up as a hedgehog in January, sluggish as a duck in mud. The day was warm and windless, rain fell and fell, soft and ruthless.
I have a taste for the off-piste in islands. You don't see many postcards of the high moors above Bracadale or the River Snizort. The Snizort was never the most expressive of rivers, and now that it was swollen with its own too-muchness and its peaty banks trembled at its own peat-stained power, there was a morose air about its character.
You make what you can of such days if you are a nature writer.
My relationship with water is complex. I was reading in a book called Water Always Wins: Thriving In An Age Of Drought And Deluge by Erica Gies that many indigenous traditions consider water to be a "who" not a "what", not a commodity – and far less a threat – but a living entity, even kin. I have sympathy for this, not least because such an attitude must lead to a much more considerate and protective relationship with water.
It was easy on that Skye morning, the dawning of the third such consecutive day, to invest the Snizort with animistic character traits, for it was exploring new territory from the day before and its vocal range was more diverse and expressive. In an age of drought and deluge, water – the lack of it or the superabundance of it – will have a lot to say to us over the next few decades.
One of the smartest things we can do as we contemplate the climate monster we have spawned is to liberate water, to find ways of abandoning our age-old determination to control it and let it flow where it wants to rather than how we want it to.
That single course of action, liberally applied, would be seen by historians of the future as the moment when we decided to enter into a new partnership with nature as just one more of nature's creatures rather than as a tribe that likes to think we can rule the world. We can't. We never could. We never will.
Such was the train of thought that spilled into the River Snizort, watching the river contemplate a new life beyond its banks, as if the idea was one that it had held in check for decades, centuries perhaps, but had given voice to it again in response to its sudden liberation.
I considered the river that morning, saw it in a new light, thought it might approve, and I moved easily from there to the idea that I might match my mood that day to nature's mood, and move the more enjoyably through the landscape, keeping the river's company.
My experience of Skye, more than 50 years of it, long since concluded that September-into-October was the best of it, that it was more at ease with itself then than any other time of the year, that it was a kind of slack water of the seasons, a brimful tidal pool among the rock and wrack of the wild year.
The morning was a riot of greys, visibility cordoned by a circle of wet cloud and mist but if you would match your mood with nature's you can settle agreeably enough into even that monochromatic ethos.
Then, just when I began to think I was the only one of nature's creatures on the prowl that morning, five mallards leapt from the redefined river, perhaps more from astonishment than alarm. I followed their flight for as long as my eyes could hold on to it in the murk.
They circled back overhead, quacking like every cartoon duck you ever heard, and apart from the river's theirs was the only conversation I would hear for hours. I unsheathed my binoculars and followed them for all of 50 yards before I lost them to the rain and the mist and the cloud and the land-devouring grey.
Given that I had gone to the trouble of bringing the glasses to bear, I cast around with them anyway, suppressing a long-held belief acquired from my mountaineering years that once you have seen the inside of one cloud you have seen the inside of them all. I swung them through a slow sweep of the horizonless world. Somewhere between north and south-south-east there was a discernibly mobile fragment of low hillside.
I overshot it, of course, for I had expected nothing at all but habit and experience stopped them in mid-sweep and inched them slowly back. What I found was a moor-quartering golden eagle.
My old friend, the naturalist and writer Mike Tomkies, once gave me a piece of priceless advice about looking for golden eagles in golden eagle country (and all of Skye is golden eagle country): you must learn to scan the middle distance.
It's not as easy as it sounds, for in the middle distance there is no focal point, and you must scan in search of one, but on a day such as that one, there was only middle distance, and anything that moved was self-evident simply because it was the only thing that did.
I watched her work the land for perhaps 10 minutes or more – I decided she was female on the basis of her great size but that too could well have been a trick of the light, or rather the absence of light – crossing and re-crossing the same hillside as methodical as a ploughman. In that time she was never higher than 6ft above the moor. Often less. But she did not touch it once. Yet the wings barely moved. Restraint. Fluency. Unflinching purpose. A masterclass in the art of flight in the slow lane.
Once, she dipped a wing and dropped to within inches of the ground, so low and slow now that she must surely land. But she checked even that descent, levelled out, laid open her wings and let whatever it is that lifts an eagle a foot in the air lift her.
And then suddenly the slope's possibilities were exhausted, she rose through the curtains of mist and rain in three wingbeats that were the strides of giants and she was first a blur and then an absence.
It is not hard to see eagles on Skye once you know where to look and you have learned to filter out the buzzards. Nesting ledges abound and there are good open tracts for hunting. Even so, the chances of a solitary human hell-bent on making the most of such a day and a solitary hunting eagle coinciding for 10 unbroken minutes on the same quarter-of-a-square-mile are not high.
Someone told me not long ago that I was lucky to see so much. And I remembered the golfer Gary Player's response to a journalist who suggested an extravagantly holed bunker shot was "a bit lucky".
"The thing is," said Player, "the more I practice them, the luckier I get."
The change began in the north. The rain eased, then stopped. Mist receded, vanished. I felt wind on my face, light and cool. I peeled off the waterproof layer. It was like stepping from a chrysalis and discovering flight.
An hour later, 1,200 feet up and atop a crag, I watched the sun tunnel through, saw quicksilver Skye turn the landscape's tears to sequins. I wondered where the eagle was.
---
Into the wild: jimcrumleynature.com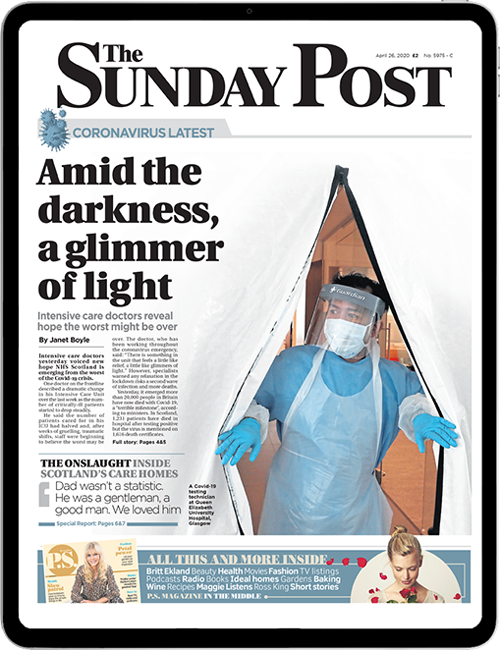 Enjoy the convenience of having The Sunday Post delivered as a digital ePaper straight to your smartphone, tablet or computer.
Subscribe for only £5.49 a month and enjoy all the benefits of the printed paper as a digital replica.
Subscribe