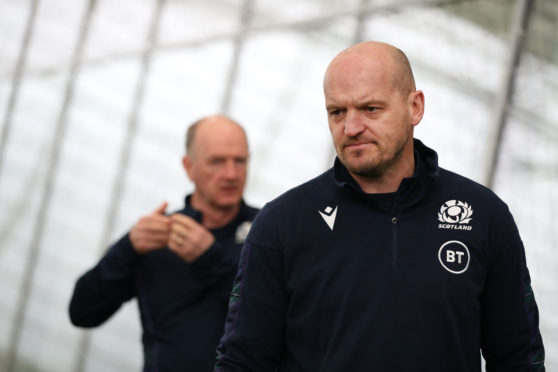 The Six Nations clash between Wales and Scotland on Saturday has been postponed due to the coronavirus outbreak.
It joins the two other scheduled games in the fifth round of the 2020 Championship in being called off.
The Welsh Rugby Union had insisted earlier today that the game would be going ahead as planned.
But the match has now joined the vast numbers of sporting events to be postponed amid the Covid-19 outbreak.
The Welsh Rugby Union said in a statement: "Whilst medical advice remains consistent, we have decided that it is in the best interests of supporters, players and staff to fall in line with recent measures taken across the UK and global sports industries.
"The WRU would like to thank all parties for their counsel on the subject and will make further announcements with respect to rescheduling the fixture in the coming days.
"Every effort has been made to stage this game and we appreciate that individuals will have been inconvenienced.
"Given the fluid and unprecedented nature of this issue a postponement became the only viable option."
MATCH POSTPONED | WRU have confirmed Guinness Six Nations match between Scotland and Wales has been postponed in light of the evolving Coronavirus (Covid-19) situation.

More details to follow…

— Scottish Rugby (@Scotlandteam) March 13, 2020
A Scottish Rugby Union spokesperson said: "Scottish Rugby has acknowledged the decision of the WRU to postpone tomorrow's Guinness Six Nations match in Cardiff.
"While it is disappointing the fixture could not go ahead there are clearly wider public safety issues unfolding at this unprecedented time. We support the WRU in the difficult decision they have had to make and will continue to have a strong relationship with them going forward.
"All the Scotland players and management team would like to pass on their thanks to the Scotland fans who were aiming to attend the match and share their disappointment this game now will not be played.
"The team will aim to return to Scotland at the earliest opportunity."
Earlier today, Scottish Rugby took the decision to suspend all rugby in Scotland from Sunday March 15 at 6pm up to and including March 29.
A Scottish Rugby spokesperson said: "We have taken on board all expert medical advice before now and we are taking a precautionary approach to give time to assess what the impact of coronavirus will be on Scottish society in the coming weeks before deciding on next steps.
"This decision has been taken with the best interest of everyone involved in the game and in support of the country's work to address the impact of Coronavirus."
The full statement read: "In light of government restrictions on public gatherings and the resulting pressure on emergency services and healthcare provision, Scottish Rugby has decided that with effect from Sunday 15 March at 6pm there will be a short period without domestic competition (or training) whilst a further assessment can be made. This will be in effect up to, and including, 29 March 2020.
"This will impact rugby in all domestic league and cup fixtures, training, festivals and other rugby events as well as the FOSROC Super6 tournament, which come under Scottish Rugby's jurisdiction. During this suspension period Scottish Rugby will undertake further assessment and advise on any further action that may be required.
"The Scottish Rugby Age-Grade Programme (male and female) will also be cancelled with immediate effect for the remainder of the season. This includes all training sessions that were planned for the age-grade teams as well as all other age-grade internationals for the rest of the season. However, the U20 Six Nations fixture tonight versus Wales will still go ahead in Colwyn Bay."
All Scottish football fixtures have also been suspended until further notice.
We'll bring you all of the news as it happens throughout the day: