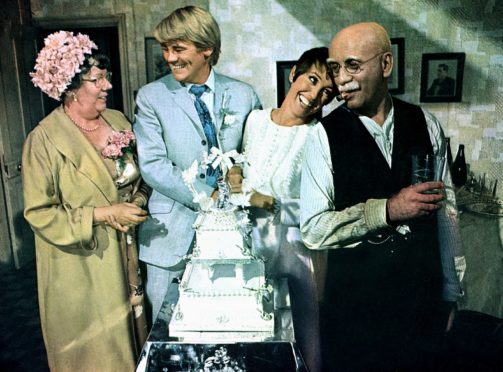 In an age when most sitcoms never make it beyond the opening series, the 1960s, in comparison, was a truly fecund period.
An abundance of golden nuggets emerged from the pens of estimable scriptwriters. There is no finer example than Dad's Army, which marched on to our screens in July 1968 and has become a true classic.
I could write endlessly about Jimmy Perry and David Croft's glorious sitcom but as I've already spotlighted the programme in previous articles, I'm going to trawl through the archives to highlight some of the other offerings which filled the schedules during the Sixties.
Talking about David Croft, he produced Beggar My Neighbour (1967-68), which emerged from Comedy Playhouse, a vehicle for testing out pilot scripts.
Starring Peter Jones (replaced by Desmond Walter-Ellis after series one), June Whitfield, Reg Varney and Pat Coombs, the "keeping-up-with-the-Joneses" sitcom focused on married sisters Rose and Lana, who happened to live next door to each other and whose husbands were at either end of the salary spectrum.
Examining what made the show a success, David Croft told me: "It was all about the snobbishness of Peter Jones and his screen wife (June Whitfield), as they tried to succeed in the upmarket world, next door to Reg Varney and his wife, who were real workers."
Reg Varney and Peter Jones were reunited after originally working together on The Rag Trade (1961-63).
Exploring life inside the workshop of Fenner Fashion, Ronald Wolfe and Ronald Chesney's sitcom had us in stitches.
Much of the humour stemmed from the boss's constant confrontations with Paddy, played by Miriam Karlin, the trade union shop-steward.
Over 14 million tuned in and the cast, including Sheila Hancock, was deluged with fan mail. Karlin told The Radio Times in 1962 that it was difficult getting away from the attention, even on holiday.
Two years after quitting Fenner Fashion, Sheila Hancock was back working with writers Wolfe and Chesney in her own sitcom, The Bedsit Girl (1965-66).
The writers, paid £600 per script, detailed the experiences of a girl living in a cheap bedsitter in Bayswater, facing a continual struggle against loneliness, making ends meet and holding down jobs.
The BBC production ran to two series, between 1965-66, before Hancock waved goodbye to bedsit land for pastures new.
Among the longest-running sitcoms during the Sixties was John Chapman's Hugh and I (1962-68).
The comedy starred Terry Scott as a dreaming bachelor continually concocting unrealistic dreams in an attempt to earn his fortune while Hugh Lloyd played a down-to-earth lodger.
After five series, Lloyd and Scott were ready to call it day but were persuaded to continue. Changes were introduced, though. The cosy suburban setting was swapped for different backdrops, with the sixth season based around a world cruise and the final, retitled Hugh and I Spy, seeing the couple return from their holidays.
Producer David Croft found it a pleasant experience. "Terry and Hugh were very professional so it was easy.
"Terry always wanted things right, quite understandably, and wouldn't stand any mucking about. It was a little difficult because he was partially deaf in one ear and if people didn't speak up when giving him his cues, he got terribly cross."
A comedy actor regularly on screen was Harry Worth, most notably in seven series of Here's Harry, which ran until 1965.
Penning most of the scripts were writing partners Vince Powell and Harry Driver. Whenever asked to describe the series, Powell referred to the pilot episode.
"It all hinged on that first show where he left his umbrella on a bus and went to the lost property office. He told the chap in the office that he'd left it on the number 29 bus, but when asked to describe it, replied: 'It was a red double-decker with four wheels.' That was Harry Worth, always getting the wrong end of the stick."
Powell and Driver were prolific during the decade, creating – among others – Nearest And Dearest and Pardon The Expression, starring Arthur Lowe as fussy draper Leonard Swindley.
Swindley was a leading character in Coronation Street, but the writing duo decided they'd like to take the character out of the Street setting and base a sitcom around him.
Set in a northern department store, where Swindley was assistant manager, 36 episodes were transmitted before the series ran out of steam.
Sid James was among our best-loved comedy actors and during the Sixties his craggy features were rarely off the screen.
Written specially for him by Ray Galton and Alan Simpson, Citizen James (1960-62) was the writers' way of acknowledging his contribution to Hancock's Half Hour, in which he'd been unceremoniously dumped when Tony Hancock decided to go it alone.
Galton and Simpson wrote the first series before moving on to Steptoe And Son (1962-74).
It was the writers who suggested Harry H Corbett and Wilfrid Brambell to play the scruffy, filthy rag and bone men.
When Brambell arrived for the first readthrough, however, the writers were shocked.
"We couldn't believe it when this immaculately-dressed man walked in with this terribly posh voice," Simpson told me. "But we'd seen him play old cockney men, so knew he could do it.
"He wore false teeth so we had a set blackened and stained. Straight after the recording, he'd change and emerge like a butterfly from a chrysalis – totally transformed wearing beautiful clothes, highly-polished shoes, overcoat draped over his shoulders, homburg hat and carrying a cane with a silver top."
One of the grittiest sitcoms to hit our screens during the Sixties was The Likely Lads (1965-66). Focusing on the lives of two working-class lads from the north-east of England, Bob Ferris and Terry Collier, played by Rodney Bewes and James Bolam, 21 episodes were made and spawned a successful sequel and feature film.
Dick Clement and Ian La Frenais were treading into uncharted areas in some respects.
"Nobody had portrayed the North or the working classes in situation comedy," explains Clement.
"We'd been influenced by all those British black and white films of the period, including Billy Liar, all bringing a breath of fresh air to the British cinema. We wanted to do the same for television."
Rodney Bewes's next long run was a series he wrote and produced with Derrick Goodwin.
In September 1969, the first of four series of Dear Mother… Love Albert was shown with Bewes playing Albert Courtnay, who regularly writes to his mother, exaggerating events which have happened to him.
It was while he endured the rigours of flu that Bewes came up with the idea. Having been bed-bound for over a week, he reached for pen and paper and started scribbling a note to his mother. Suddenly it gave him the idea for the series.
One of our most popular comedy actors was affable Richard Briers, best known for The Good Life and Ever Decreasing Circles.
He launched his sitcom career in Brothers In Law as fledgling barrister, Roger Thursby, but his big break was as George Starling, alongside Prunella Scales, in Marriage Lines.
With each of the 45 episodes concentrating on everyday issues, audiences soon warmed to the newlyweds as they tried to get ahead in life. Briers enjoyed the series. "Richard Waring, the writer, got to know me well and was able to write for my nervous style."
Writers John Esmonde and Bob Larbey, who'd later write for Briers in The Good Life and Ever Decreasing Circles, began achieving success in the Sixties, too.
They struck gold with Please, Sir! (1968-72).
Watched by millions, the sitcom followed the adventures of newly-qualified teacher Mr Hedges, played by fresh-faced John Alderton.
He taught an infamously unruly rabble at Fenn Street Secondary Modern, a tough place to cut your teaching teeth.
Neither writer can recall what sparked the idea, but Bob Larbey told me: "Being a bit young at heart, or childish, we still had a fair recall of school, the ambience and sounds in the corridors."
Each year during the Sixties brought more successes, such as The Liver Birds. Carla Lane's sitcom about two young women sharing a flat in Huskisson Street was a major success, as was Johnny Speight's Till Death Us Do Part (1965-75).
Starring Warren Mitchell as Alf Garnett, the world's worst bigot, the sitcom spawned two revivals, including In Sickness And In Health, which brought Garnett back to our screens for a further five series in the Eighties.
Garnett was a loud-mouthed, opinionated, expletive-spewing individual who berated his family for holding different views.
With near-the-knuckle scripts confronting life's more controversial issues, Mitchell brought to life a character who'd earn himself a place in televisual history.
The character was conceived when Speight devised an aggressive socialist for The Arthur Haynes Show before he was later promoted to his own series, heading a working-class family living in Wapping. Inevitably, the programme attracted more than its fair share of criticism.
Other shows tickling the nation's funny bone included Sykes And A… where Eric Sykes's long-standing working relationship with Hattie Jacques began in earnest.
Over on ITV, Father, Dear Father became a big hit. Throughout the seven series, Patrick Cargill, as adventure writer Patrick Glover, struggled to cope with life as a one-parent family looking after two daughters after his wife had run off with his best mate.
The decade closed with the highly amusing On the Buses. Back then, bus drivers weren't expected to be multi-skilled because they had conductors to help, affording Stan, the driver, and Jack, the conductor, time to chat-up the voluptuous clippies, eye-up girls in mini-skirts and torment their petty-minded boss, Inspector "I 'ate you!" Blake.
While critics hated the show's bawdy humour, the public adored the innuendo-laden scripts, tuning in by the millions.
Many people regard the Sixties as the heyday of British TV. Whether that's true or not, no one can dispute it was an exciting decade.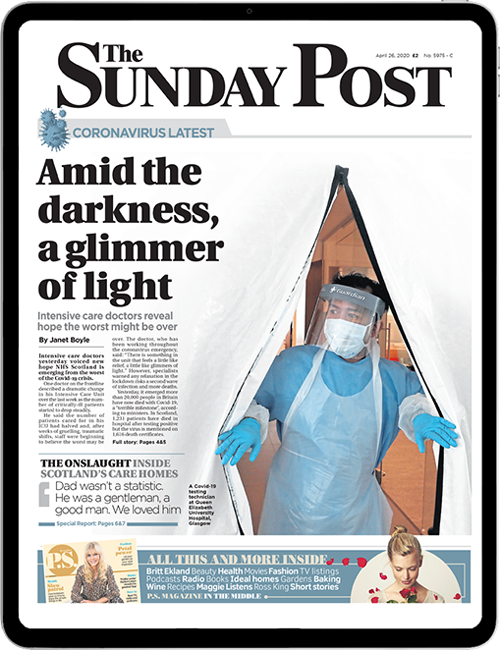 Enjoy the convenience of having The Sunday Post delivered as a digital ePaper straight to your smartphone, tablet or computer.
Subscribe for only £5.49 a month and enjoy all the benefits of the printed paper as a digital replica.
Subscribe