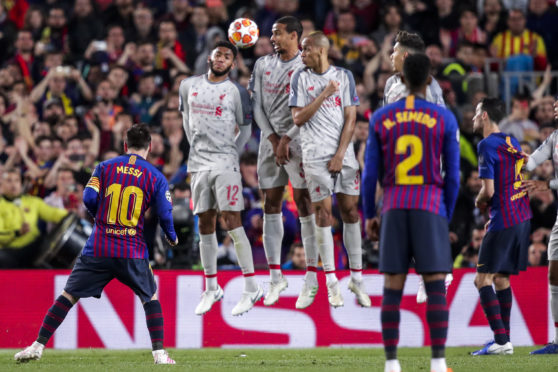 I was in the Camp Nou on Wednesday night for the Champions League semi-final.
Barcelona won 3-0, but I don't think the scoreline was a fair reflection on the run of play, or the way Liverpool handled the occasion.
Of course, it's hard to see any team scoring four against Barca to get through.
But I do think the tie is still open, and there remains a glimmer of hope. It would be foolish to say the tie is over.
Jurgen Klopp said he felt it was the team's best away performance in two years, and it's hard to argue with that.
Firstly, I believe Liverpool showed in the first leg that they are fitter and stronger than their opponents.
Also, with the game being at Anfield, the backing from the home support will drive the players on.
There is also a rich history of comebacks by Liverpool in Europe over the years, and that's why I'd never rule out that being the case again.
I automatically think of the 2005 Champions League Final against AC Milan when the team came back from 3-0 down to win on penalty-kicks.
There was also the comeback against Borussia Dortmund three years ago in the Europa League when Dejan Lovren scored a last-gasp winner for a 4-3 home win after a 1-1 draw in Germany.
So there is a back catalogue of belief.
That said, if the players were to overturn this three-goal deficit against Barcelona, it would be the greatest comeback of them all, no question.
Obviously the key to it all is getting the first goal.
Ideally, you score in the opening 15 minutes to settle everyone down and put real doubt in the minds of the Barcelona players.
If that happens, then I wouldn't rule anything out.
However, I'm not naive enough to write off Barca. They are a top-quality team and they know how to handle big occasions.
They have also had the luxury of resting players this weekend, whereas Liverpool had to travel to Newcastle United last night, still chasing the league title.
In Lionel Messi, Barca also have one of the finest footballers the world has ever seen.
The free-kick he scored on Wednesday evening was just another reminder of the sublime skill he possesses – not that we needed to be reminded!
He will turn 32 next month but shows no signs of letting up.
Messi continues to break record after record, and his hunger to succeed looks every bit as strong as it was 10 or 12 years ago.
The way he just glides past players as if they aren't there is unbelievable.
He was pivotal to Barca the other night, although I thought he gave away possession in the game more often than I can remember.
But he still can turn the game in a split second.
I don't envy any defender having to try to stifle him.
In footballing terms, it's as close to being as an impossible task as you could get.
People always want to get into the debate about whether he is the greatest at the moment, or is it Cristiano Ronaldo?
It used to be whether Maradona or Pele was the greatest of all time.
As I've said many times, it's all down to opinion. It can't be factual.
My answer is that we are extremely fortunate to have two such outstanding players in the game at the same time and you just enjoy them – not try to compare them.
It's because of Messi and the other top players they have that Barcelona will arrive in England with great belief that they can get the job done and march into the Final in Madrid on June 1.
I'm not for ruling anything out, however. I'm not going to concede anything.
Whatever happens on Tuesday, and indeed in the league race, Liverpool have had a great season. Their levels of consistency have been breathtaking.
They deserve enormous credit, as do Manchester City. They have served up a title race to remember.
They are operating at a totally different level to the rest of the Premier League.
They have left the other four or five big clubs in their wake, and there is a huge gulf.
The difference has been that City have taken four points from Liverpool in the two league clashes.
That may well be the deciding factor as its always going to be difficult to find enough favours from elsewhere to tip the balance. The head-to-heads are clearly so important.
But there is still work to be done and points to be played for.
Now the focus is on Tuesday and I will also watch the Ajax-Tottenham second leg with interest the following evening.
Beating Tottenham in London the other night was quite brilliant by Ajax.
It was yet another result to be proud of on the back of the victories against Real Madrid and Juventus.
However, Ajax have won by chasing it away from home. Being on their own patch with a lead to defend is new territory for them.
But they are a talented bunch and they can't be dismissed.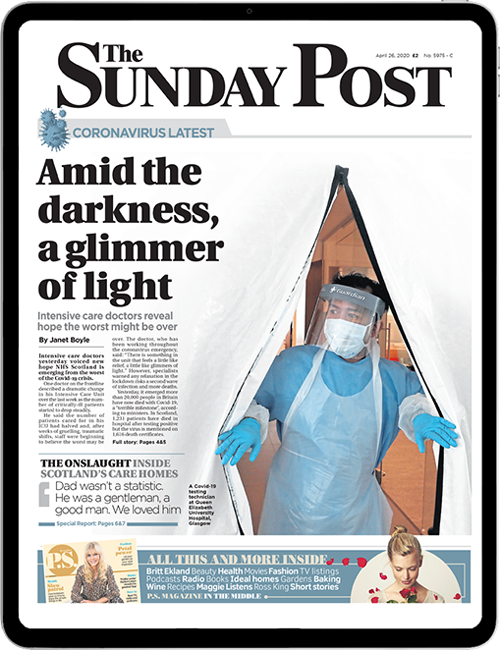 Enjoy the convenience of having The Sunday Post delivered as a digital ePaper straight to your smartphone, tablet or computer.
Subscribe for only £5.49 a month and enjoy all the benefits of the printed paper as a digital replica.
Subscribe