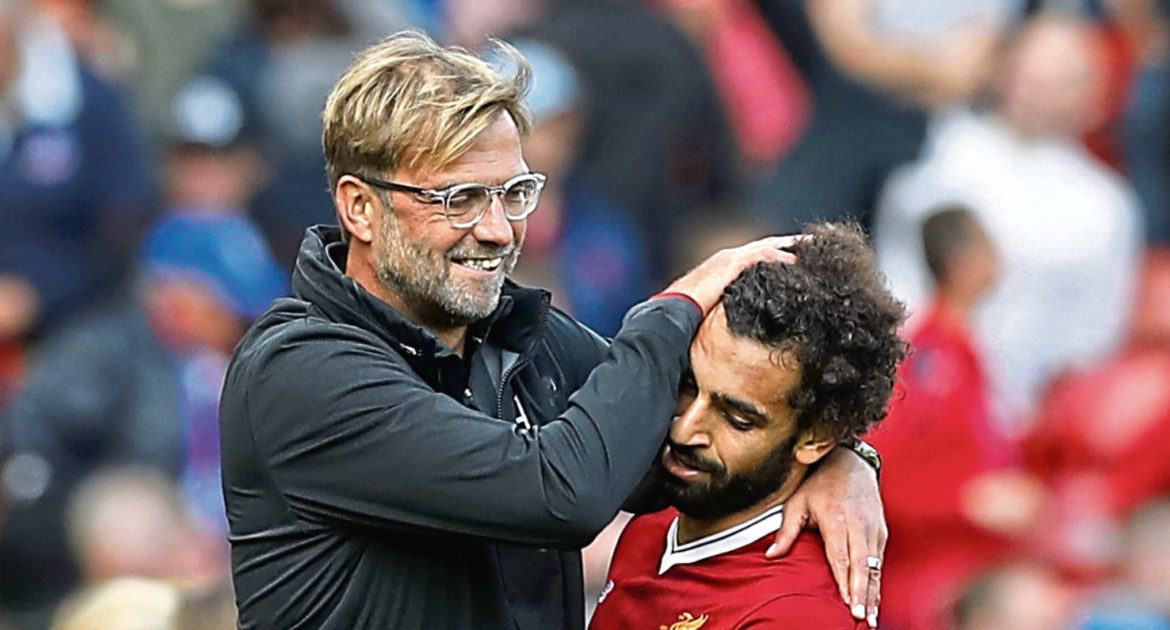 I'VE no doubt champions Manchester City will be the team to beat in the English Premier League this season.
However, as much as I've never hidden my respect and admiration for Pep Guardiola and the football his players produced for long periods during their triumphant campaign, I do not believe they are uncatchable over the course of 38 games.
And I genuinely believe that the team most capable of overtaking them during the next 10 months is Liverpool.
Yes, I'm of the opinion that the title can come back to Anfield for the first time since 1990, when I'm very proud to say I was manager.
Now, I can hear some people ridiculing my prediction, and pointing out that having tipped the Reds every year for the past 28, I'm bound to get it right at some stage.
For sure, I can have a wee chuckle at that. Yes, Liverpool are my team, and I want to see them doing as well as they possibly can.
But my optimism is not blind. It's not based on misguided loyalty.
I get the fact that City finished 25 points ahead of Liverpool last season.
Liverpool finished fourth, tucked in behind Manchester United, Tottenham and the champions. Chelsea were fifth and Arsenal sixth.
I'm confident that all of the same clubs will finish top-six again. It's just that the order might be a slightly different.
It's no secret that this Liverpool team can score goals, and there is an abundance of quality in the final third of the pitch with Mo Salah & Co.
The signing of Xherdan Shaqiri will only add to that.
At the back, you will also see Virgil van Dijk get better and better, and the addition of goalkeeper Alisson is great work as he is top class.
Fabinho and Keita have also arrived and they bring more quality.
So the strength and depth of the squad is impressive, and Jurgen Klopp must be very pleased to have got so much business done in plenty of time.
I don't know exact amounts spent on all of the players, but I would imagine it will be around the figure received for Philippe Coutinho back in January – in the region of £145m.
Add van Dijk's fee to the spend and it's still all very acceptable.
Sure, transfer fees are expensive, but clubs are financially well rewarded for being in the EPL and they have a right to spend – as long it's within the boundaries.
Of course, the amount of money spent by Liverpool in the summer has attracted attention, and Jose Mourinho has had his say on it.
I'm not sure what it's got to do with him, really. He should be focusing on his own club.
Remember, he has spent plenty himself on transfer fees and massive wages during his time as Old Trafford manager.
He said plenty on their pre-season tour of the United States, and I'm not sure that some of his comments about some of the players helped the situation he chose to highlight.
It's all well and good saying what he said, but it can lead to deflating players, especially younger ones.
I don't think the comments were inspiring to anyone.
I expect United to be in the shadow of their city rivals once again in the coming months.
Guardiola has a well-oiled machine at the Etihad. But, don't forget, Jurgen Klopp's side defeated them three times last season – once in the League and twice in the Champions League.
However, the fact the team still finished 25 league points adrift of them hammers home the point how vital it is to beat the other teams.
Last season there were dropped points to the three relegated clubs – West Brom, Swansea and Stoke.
For Liverpool to be crowned champions in May, 2019, that can't be happening.
I'm not saying this is going to be a two-horse race, and it would be foolish to dismiss Chelsea, Tottenham and Arsenal. The three London clubs are more than capable of mounting a serious challenge.
I like watching Tottenham. They are pleasing on the eye, and in Harry Kane they have a match-winner, fit for any company.
Unai Emery has replaced Arsene Wenger as Arsenal manager, and he has a great CV from his time at Seville and PSG.
He has made a number of changes, and will also be pleased to have got so much business done so early.
Winning the title is likely to be a step too far, but I wouldn't rule out the Gunners being back in the top four.
At Stamford Bridge, they have replaced Antonio Conte with fellow countryman, Maurizio Sarri.
He has arrived with a fine reputation after his work at Napoli.
Much of their campaign may well depend on who they can keep between now and the closure of the transfer window on Thursday.
Eden Hazard is sought after, and rightly so. He is an outstanding footballer.
N'golo Kante is as good as they come in the engine room. Keeper Thibaut Courtois is one of the finest in the world.
Lose all three and you face an uphill battle.
And that's not even taking into account the uncertainty over Willian, and his late return from playing for Brazil in the World Cup.
However, keep them all, add one or two more, and Chelsea could emerge as proper contenders.
Jorginho has already followed Sarri to London, and I like the way he operates in the middle of the park.
All will be revealed in May.
I hope my prediction comes to fruition. I know from experience it's a wonderful feeling being the champions of England.