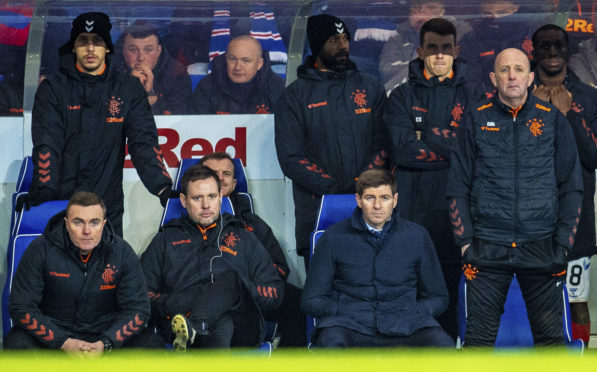 There are times during every manager's career when they feel everything seems to be coming down on them like a ton of bricks.
It can take a long time to fight your way through the rubble.
That's maybe how Steven Gerrard is feeling at the moment.
In the past eight days, he has the Alfredo Morelos disciplinary issue to deal with. Then his team gets knocked out of the Scottish Cup by Hearts. That was quickly followed by a midweek defeat in the league to bottom club, Hamilton Accies.
If all that wasn't bad enough, in between it all James Tavernier makes some ill-advised comments in one of the club's own publications.
There is a big difference between being honest and being irresponsible.
This has all led to Steven taking time to make a serious and considered assessment of where things stand for him just now as manager of Rangers.
And, more importantly, what he and his staff can do to move things in the right direction again.
He will be disappointed in what has happened, not only in the past couple of weeks, but since the winter break.
But that disappointment won't be for himself – it will be for the club and the supporters.
He will, I am sure, be frustrated at trying to find the right answers, and work out the best way to get out of the current predicament.
But sometimes there are no solutions.
You just need to keep fighting through it, removing one brick at a time.
That's what Steven will do because he is not a quitter. He will not run away from Rangers, that is for sure.
If anything, what has happened recently will only make him more determined to get things right and bring success to the club.
He will have been encouraged with the news that he has the backing of the Ibrox hierarchy.
But, to be honest, I'd expect nothing other than that.
Make no mistake, Steven is the right man to lead Rangers.
If Steven wasn't in charge of the club, then there would be far greater problems at Ibrox.
He has improved the club in the past 20 months, of that there is no doubt.
And part of the reason for the current disappointment felt within the club – and among the supporters – is because Steven has raised the level of expectation.
Results and performances were great up until the winter break. Everyone was in a positive frame of mind when they went for a well-deserved rest in January.
But since they've come back from Dubai, it just hasn't clicked.
Morelos was suspended for a few games, and didn't find the same rhythm during January and February that he had in October and November.
The Colombian striker asked his manager for a few days off on compassionate leave, and that was granted to allow him to go back home to visit his mother.
Every manager has been there with that kind of request.
Steven had to allow the player to return home. If he hadn't, who knows what kind of reaction there would been.
But for the player to have then returned late back to Glasgow was very poor.
In fact, it was scandalous.
It's not the first time this has happened to a manager, and it won't be the last, either.
It's part of the job and it happens at all levels.
Players will let you down, unfortunately.
For Morelos to do that to Steven and the club was out of order.
As has been the case from day one, Steven tried his best for the player and protected him many, many times.
He put his trust in the player and the player let him down.
It left Steven with a decision to make in terms of whether or not to play him against Hearts in the Cup.
One thing Steven doesn't lack is the bottle to make big decisions. And he made the right call by leaving Morelos out.
Rangers should still have had enough to win the game, and the same applied to the clash against Hamilton.
They need to find a way of scoring more goals. That is there for all to see.
They haven't had too many clean sheets recently, but they have had in the region of 60 games without conceding during Steven's time.
So there needs to be a collective belief from all within the club that a change of fortune is coming. Indeed, with the run of fixtures between now and the international break, there needs to be.
It's Ross County away in the Premiership today, then a home game against Celtic. Sandwiched in between is the Europa League last-16 clash against Bayer Leverkusen.
What a fixture list!
But that's what you want, although you would prefer to have a wee bit more time to rest to prepare for such vital clashes.
It might not seem like it, but this can still be an acceptable season for Rangers.
If they can finish the campaign strongly and show all the right signs, everyone will be bursting to get back for pre-season and for the new campaign to get under way.
But, first things first. It's case of taking one game at a time.
Dingwall is about getting the business done and moving on. It doesn't need to be pretty. Get the sleeves rolled up and get wired in.
A win this afternoon won't leave a clear pathway ahead. But it will see off a few bricks, that's for sure.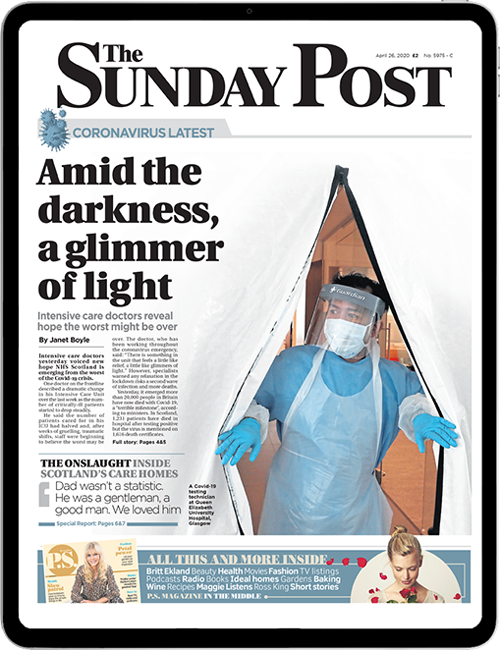 Enjoy the convenience of having The Sunday Post delivered as a digital ePaper straight to your smartphone, tablet or computer.
Subscribe for only £5.49 a month and enjoy all the benefits of the printed paper as a digital replica.
Subscribe