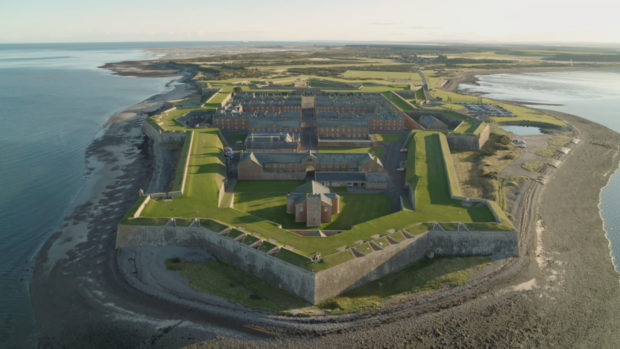 For centuries they have been the imposing and majestic guardians of our country's coastline.
Now Scotland's historic castles, strongholds and forts could be at risk from the very thing they were defending.
Historic Environment Scotland's Jamie Crawford, presenter of returning documentary series Scotland From The Sky, says our historic sites are in grave danger from the coastal impact of climate change.
The three-part series makes use of the millions of archive pictures held by Historic Environment Scotland to tell the country's story from above.
Having seen the impact Blue Planet had on the public's attitudes towards plastic, Jamie says he wanted to use the platform to warn of the potentially catastrophic effect we are having on our history – before it's too late.
"Sometimes you make TV to engage and entertain, but I needed to send a message, too," said Jamie.
"Many of our most important historic sites are, of course, on the coast due to us being an island.
"Sea levels are rising and the process of erosion is increasing, due to uncertain weather. Sites are under threat but a change in behaviour can impact positively on that. We can play a part in helping to save these places.
"It's a conversation we need to have as a nation as to what we do about it.
"Scotland will inevitably lose some of its historical coastal sites over the next century – the only question is how many."
Scientist David Harkin, an expert on the impact of climate change on precious buildings, agrees.
"Coastal erosion and sea level rises are very much natural processes and have always happened, but what makes it different now is the rate of change with which it is happening," he said.
"In past 20 years, sea levels have been rising three millimetres a year. That's higher than the UK average, which is around 1.4mm a year. What that shows is in the past 20 years, sea levels have gone up, it's getting faster."
David hopes the threat of losing some of these sites could push us to make changes in our lives.
"What people need is to react to something they love and who doesn't love coming to historic sites like this," he continued.
"We are lucky in Scotland to have such a rich and diverse historic environment. It's part of our everyday lives, our DNA and essentially who we are as a nation.
"People love coming to these sites, so if they know the impact of climate change means they might lose them, then that potentially is what they need to inspire them to take action."
Jamie visits Fort George, near Inverness, to see the impact the erosion of the coastline could eventually have on the near 300-year-old garrison.
It's just one of many sites featured in the new series. He also goes to remote locations like Canna, Staffa, the Whaligoe Steps near Wick and Shetland, as well as more central sites like the Greendykes Bing near Edinburgh, the Clyde and the former Ravenscraig works in Motherwell.
Having been born in Shetland in 1978 while his dad worked on the Sullom Voe oil development, his return to the island was of particular personal interest. "Shetland has always been a big part of my life," he said. "I left at six months old but being back there felt like home."
Jamie's connection to the aerial archives stretches back a decade to when he began working with the Royal Commission (now part of Historic Environment Scotland).
"They caught my eye because they provide an almost seamless record from 1920 to now.
"Having that record of the landscape from above allows you to see an enormous amount of change and tackle it in a novel way."
While he spends much of his time in the series in helicopters and light aircraft, Jamie also gets his hands dirty down on the ground.
"I love doing that stuff," Jamie continued. "It's good to see it from above, see things you might not see on the ground, and then go and study it in detail.
"The aerial photo is often just the start of the story but you have to be on the ground to explore the place."
---
Scotland From The Sky, BBC One Scotland, Wednesday, 9pm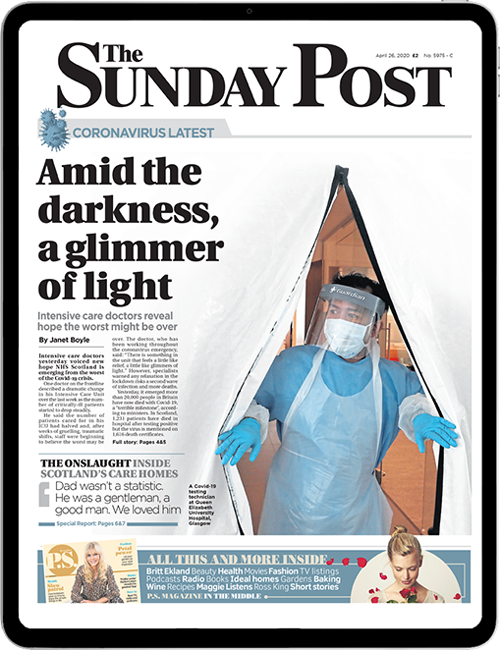 Enjoy the convenience of having The Sunday Post delivered as a digital ePaper straight to your smartphone, tablet or computer.
Subscribe for only £5.49 a month and enjoy all the benefits of the printed paper as a digital replica.
Subscribe