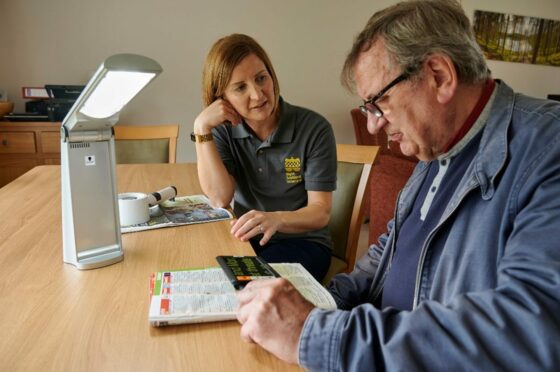 Can you imagine losing your sight? In Scotland there are more than 175,000 people living with significant sight loss. Over the next 10 years, another 30,000 people will be diagnosed with sight loss too.
Some Sunday Post online content is funded by outside parties. The revenue from this helps to sustain our independent news gathering. You will always know if you are reading paid-for material as it will be clearly labelled as "Partnership" on the site and on social media channels,

This can take two different forms.

"Presented by"

This means the content has been paid for and produced by the named advertiser.

"In partnership with"

This means the content has been paid for and approved by the named advertiser but written and edited by our own commercial content team.

---
Being diagnosed with a visual impairment can make you feel uncertain, anxious, and worried about what the future holds. If you served in the Armed Forces or did National Service and live in Scotland, Sight Scotland Veterans can help you adapt to life with visual impairment.
Here are three major adaptations that Sight Scotland Veterans can help you with.
Use a Long Cane to navigate
Long Canes are used to detect objects in a user's path. Long Canes will usually be as tall as someone's chest, and are also known as "White Canes". People using canes will sweep the floor two steps ahead, allowing the user to detect objects that could be in front of them.
Long Canes can also be used to detect kerbsides, walls, and doors. Importantly, Long Canes can be used to detect changes in height, such as stairs or raised platforms, which is essential for safe travelling. Sight Scotland Veteran's qualified Rehabilitation Officers can teach you to use the Long Cane most effectively.
You can learn about different types of canes on the Sight Scotland Veterans website.
Changes to your home
Good lighting in the home can make life much easier for many people with partial sight. In our older years, our eyes often need more light anyway. You may find yourself moving across to the bright light provided by the window to read letters and newspapers. But there are ways to increase the amount of lighting in a home.
Sight Scotland Veterans' Rehabilitation Officers can advise on the best kind of lighting, depending on your sight condition. Options available include directional task lighting, that shines light down on a letter, newspaper or book. Lights that use LED bulbs can also be very effective because LED bulbs provide even and constant light. LED bulbs are sold by many retailers, including supermarkets.
Lighting the darker areas of a room is very important for safety, too, as this minimises the risk of trips on unknown objects, and injuries from falls. Take care to ensure good lighting is installed around staircases and steps, where the risk of falling is even greater.
Glare from bright light sources can be challenging for some people with visual impairment. Glare can make focussing very difficult, which can cause a great deal of discomfort. Sight Scotland Veterans can provide equipment like glare shields to minimise the effects of glare.
You can find out more on the Sight Scotland Veterans website.
Equipment can help you keep reading
Many people affected by sight loss in their older years will be partially sighted. Digital magnifiers are very easy to use, and are used by many to increase text size until it is large enough to read.
Large desktop magnifiers are very popular: these magnifiers can show the whole width of a page, so you can read the whole screen at once. The magnifiers have a camera that projects the text onto a screen. There is a contrast feature that enables you to change the colour of the text. Some desktop magnifiers have built-in speech, that reads the text aloud. Sight Scotland Veterans can provide advice to veterans and their families on the best magnifiers available.
Handheld magnifiers can also be useful for people out and about. These magnifiers are battery-operated and the size of a large mobile phone. You can often change the contrast settings to suit your vision best.
Sight Scotland Veterans supports people who served in the Armed Forces and those who did National Service who experience sight loss.  If you are a veteran, or you know a veteran experiencing changes to their sight, contact Sight Scotland Veterans on 0800 035 6409 or visit sightscotlandveterans.org.uk.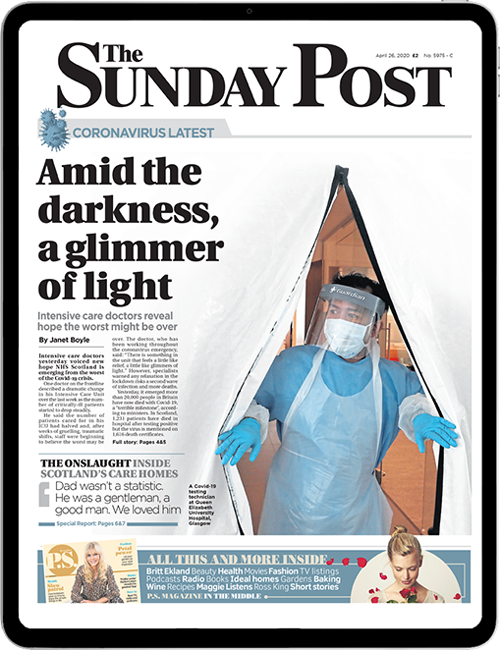 Enjoy the convenience of having The Sunday Post delivered as a digital ePaper straight to your smartphone, tablet or computer.
Subscribe for only £5.49 a month and enjoy all the benefits of the printed paper as a digital replica.
Subscribe