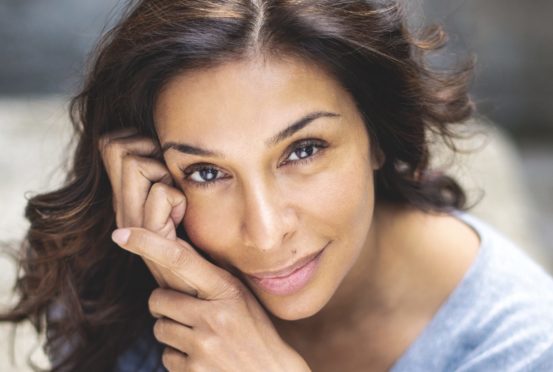 Last year, fearing her life was coming to an end and unsure of how much time she had left, Shobna Gulati began to write with a furious urgency.
She wrote of her father's journey from India to Britain, of her own journey as an actress and, most importantly, of her mother's life story and living with dementia.
Shobna's mum, Asha, had passed away in late 2019, and the former Coronation Street actress cared for her until the end. Then, just a few months later, Shobna herself became very ill, struck down with coronavirus. Full of distress and concern, she vowed to write down her experiences in the hope it might help others in a similar position. Before, she worried, it was too late for her to tell her family's tale.
"Last March, I was feeling like my life was over and I didn't know how much time I'd have," Shobna revealed. "Not much was known about coronavirus at that point, and everywhere was shut down – I only had 111 to call.
"All of these strange symptoms were happening to my body – it felt like every bit of me was being invaded by something. It took me over and I felt truly awful. Much like anyone who is alone, you are living with your thoughts and feelings, and your body is deteriorating and you have no control over it.
"I'm used to having structure in my life, so in order to deal with what was going on with me physically, I had to try to give myself a structure, because my mental health was affected, too. I suddenly felt I could channel my mum in a way that made me feel very close to her and what she was going through towards the end – isolation, the day-to-day world being closed off. It was like an understanding of her that I'd never felt before.
"I had this real urgency to get out all of the feelings, the thoughts and the memories. I had a desire to share my experiences of looking after a parent with dementia, because it impacts a lot of families from a lot of backgrounds.
"I wanted to write it from my perspective. As my mum's dementia developed, she became clearer in the woman she was. It was almost like she removed the mum coat and I saw the woman, or the girl or child. As I discovered her and learned about her, it made me think how I was as a child, and the kind of woman I've become, and whether there were any parallels.
"We all have joy and we all have sadness, and being from a different cultural background I just wanted to underline in my writing that we have this commonality. I wanted the book to resonate with everybody."
Remember Me? Discovering My Mother As She Lost Her Memory is the result of Shobna's fever-induced frenzy to tell her story. It was released late last year and the former River City actress will return to Scotland – online, at least – this week to discuss the book at Pitlochry Festival Theatre's Winter Words festival. She is looking forward to the event, not least because it is chaired by the theatre's artistic director Elizabeth Newman, who gave Shobna's son, Akshay, his first professional acting job at The Octagon Theatre in Bolton.
During her coronavirus, Shobna was further impacted by pneumonia and, almost one year on from the initial diagnosis, the 54-year-old star is still not 100%. "I've recently been in touch with a long Covid clinic because I'm still not myself," she revealed. "It was a frightening time and I feared for myself. I lost my sense of taste and smell for about seven weeks and to this day I still have fatigue."
Born in Oldham, Lancashire, Shobna was one of four children to Kulbhushan Gulati, a doctor who came to the UK from India, and Asha Gulati. She has a degree in Arabic and Middle Eastern Studies from the University of Manchester, but it was in acting she found her passion. Her breakthrough TV role came as Anita in comedy Dinnerladies in 1998, and roles followed in shows such as Eastenders, In The Club, River City and Doctor Who, but it's her two long stints as Sunita in Coronation Street for which she is best loved.
Shobna can currently be seen on Celebrity Best Home Cook, a job she jumped at when it was offered.
"To be around people again was so much fun," she smiled. "When I had coronavirus, my friends would knock the door and leave the shopping outside, it was so frustrating not to see them, so it was lovely to be in that face-to-face environment of people, plus cooking for people is my favourite thing in the world. Cooking for one is not fun.
"I found it hard to be competitive after missing people so much and I've never had that killer instinct. I wouldn't be good at surviving in a castle in Wales, but what's not to love about doing a cookery show with Mary Berry and Claudia Winkleman?
"You might notice, though, that I'm the only contestant to sit down. I'm on a stool when the judges are delivering their results or talking to us. There were long days of filming, but my modus operandi has always been to work no matter what. Much like everyone else, if I don't work I don't eat or pay the mortgage."
Shobna hasn't had her troubles to seek in recent times. As well as losing her mum and falling ill, she suffered an on-stage injury mid-performance that shook her confidence.
"I was at The Globe doing Richard II, playing the Duke of York, when a piece of scenery fell out of the fly grid on to my head. I'd always thought of the stage as the safest place in the universe, where I could be free to be who I wanted to be within the realms of a character.
"I was knocked unconscious for a moment or two and it was a long process of healing, to go from the place of your job being the safest area to it not being so. And then, on top of that, the world became an unsafe place. It was all a bit too much at times."
Things are looking better for Shobna now, though. As well as the critical acclaim given to her book, and her appearance on the BBC cooking show, she is currently filming a comedy drama, and has a film due out whenever cinemas are able to re-open.
She plays Ray in the movie adaptation of hit West End musical, Everybody's Talking About Jamie, having also starred in the stage version.
"I remember when I went to London for the stage audition a few years ago," said Shobna. "I had set out some sandwiches for my mum and left notes for her, and told her I'd be back soon. I turned up for the audition and by the end of the day, on my way home to mum, I knew I had it. And I just thought, 'wow, the West End'.
"My mum was really encouraging of my desire to be on the stage and she helped me whichever way she could. It was my dream. I might have been 52 before I made it but sometimes dreams really do come true."
---
Star loves Glasgow food scene
Shobna's appearance at Pitlochry's Winter Words Festival is just the latest event in a long personal history with Scotland.
"My dad was a doctor and his first job when he came from Bombay was at Rottenrow in Glasgow, to the maternity hospital," she said.
Shobna became very fond of Glasgow during her time on River City as Farah Khurana a few years ago.
"It's one of my favourite cities in the world – so vibrant, warm and friendly. And Punjabi food in Glasgow is some of the best in the world. The food in the city, from all culinary backgrounds, is extraordinary."
Prior to lockdown bringing theatre to a halt, Shobna was in Edinburgh with the new touring production of Everybody's Talking About Jamie, which was due to come to Glasgow and Aberdeen, but she hopes new dates can be arranged.
In the meantime, she is taking part in Winter Words, which features a packed line-up of live virtual talks from the likes of historian Neil Oliver, crime writer Denise Mina, playwright David Greig, Taggart star Colin McCredie, former Makar Liz Lochhead, The Curious Incident Of The Dog In The Night-Time author Mark Haddon, and many more.
---
Shobna Gulati is in conversation at Pitlochry Festival Theatre's Winter Words, Tuesday, 7.30pm (tickets from pitlochryfestivaltheatre.com). The festival runs from tomorrow until Sunday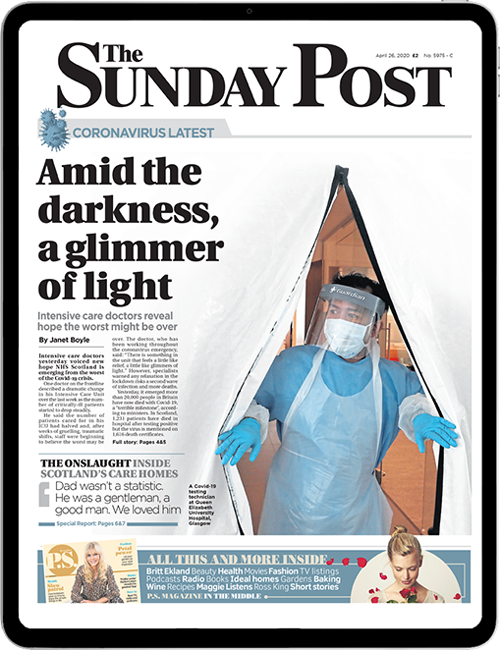 Enjoy the convenience of having The Sunday Post delivered as a digital ePaper straight to your smartphone, tablet or computer.
Subscribe for only £5.49 a month and enjoy all the benefits of the printed paper as a digital replica.
Subscribe