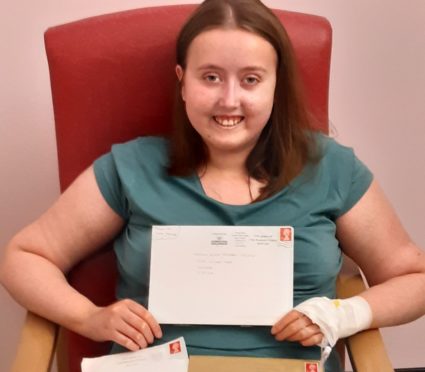 Adjusting to the so-called "new normal" during the coronavirus pandemic has been difficult for everyone – but spare a thought for those who have not been able to leave the house for months.
New Scottish Government guidance issued this week means the tens of thousands of "shielded" Scots who are most at risk from the virus will have to wait until at least July 31st to rejoin society, while the rest of us enjoy picnics, sunbathing and meeting up with friends and family outside.
One Dundee teenager has been patiently shielding in her family home since lockdown was instated, with visits to the hospital being her only trips out in three months.
Pandemic or not, 17-year-old Cara Hockley must always be careful not to catch an infection. She suffers from Scleroderma, a rare disease which causes the immune system to become overactive and attack healthy tissue within the body, producing excess collagen which hardens the skin and affects the joints, tendons and internal organs.
She is one of two young people in Scotland that her family know to suffer from the often life-threatening condition.
Cara had hoped to be isolating this year, albeit after a potentially life-changing stem cell transplant instead of from a deadly virus. The transplant, which would be carried out in Sheffield, could help to reset her immune system to stop it from fighting itself.
However, the tests to assess her eligibility have been cancelled due to Covid-19.
"I understand why they have been cancelled, but it's so disheartening," said Cara. "If I am eligible, and it works for me, it could be amazing, so it's disappointing that it's on hold when I was so close to starting that journey. At least I will be good at isolating if I get the go ahead for the treatment!"
As well as putting Cara's many other tests on hold, reducing her hospital appointments and replacing medical consultations with video calls, coronavirus has impacted her life for the foreseeable.
The teenager's specialist nurse, who takes her bloods and gives infusions and injections, is the only person who has been to the house since lockdown began.
The extra hand washing and sanitisers irritate Cara's skin so she requires daily wax bath treatments. She has also suffered from increased anxiety and stress – which can trigger Scleroderma symptoms – on the few occasions she has visited hospital.
Covid-19 has also affected Cara's family, who are shielding alongside her to ensure she doesn't become infected.
Her dad is on leave from his job with Police Scotland, while her mum, Karen, is furloughed from her job at a pharmacy, and her younger brother was taken out of school before they were closed.
"It is hard, but at least we know we're in our own wee Covid-free bubble," said Karen.
"We're managing better than we expected. We've got priority from the supermarkets for food delivery, and my sister lives next door so she can pick up Cara's medication and anything else we've needed. We've been quite self-sufficient.
"Last week [after lockdown restrictions were eased] was really tough as other people have been going out. There's a lack of understanding of what shielding means. The fact there's someone in our house who's very vulnerable – I don't think people realise to what extent that affects us and to what extent we must listen to the guidance.
"We've all got to rejoin society at some point, but it is a bit annoying when you see crowds of people on beaches on the news. You think, 'really?'"
Cara was diagnosed with Scleroderma in October 2017, when she was 15. She already knew she had Raynaud's. Karen had been searching for gloves for her to wear when she came across the Scleroderma and Raynaud's UK (SRUK) website and realised Cara's symptoms matched with the more serious condition.
After blood tests, a GP referred Cara to a local hospital where her diagnosis was confirmed and she began treatment – steroids and medication to help increase blood flow to her hands, immunosuppressants and having a port-a-cath fitted to allow intravenous access for bloods and infusions.
She has even had Botox on her hands and needs to ensure her skin is always covered.
"Cara's had a really terrible time with it," said Karen. "Even during lockdown we've been at the hospital twice this week. At the moment, her joints are reasonably good, but it can get to the point where she can hardly walk because they're so sore. Her lungs are affected, her digestive system is affected.
"This meant attending school was really tough. Cara should have been in sixth year but she's doing distance-learning instead which leaves her socially isolated. As long as Covid is about, this will be the case, although she's applied for a few college courses.
"You do have to take it in your stride but it's not nice – I wouldn't wish this condition on anybody."
June is Scleroderma Awareness Month, which aims to draw attention to the increased challenges facing the community during the coronavirus crisis.
SRUK, the only UK charity dedicated to improving the lives of those affected by Scleroderma and Raynaud's, said it was inundated with calls at the beginning of lockdown from anxious suffers seeking reassurance and worrying about access to medication, appointments and shielding.
The charity has developed a programme of online support and activities and has a dedicated helpline service, and there is a Scotland-wide Scleroderma support group which has been meeting during lockdown over Zoom.
Cara also hails her "brilliant" NHS team who have been helping her while she stays shielded – but Karen says there is still not enough awareness of the rare condition among medical professionals.
"A lot of doctors don't know about it. It's only a fraction of people with Raynaud's that actually turn out to have Scleroderma, and it's complex. Two years ago, we were in the position when we didn't even know about the condition, so it's hard.
"Cara's not feeling good today, so you wonder if that means we're going to end up in the hospital. You don't really know what the day brings but you have to take it as it comes – there's nothing else for it."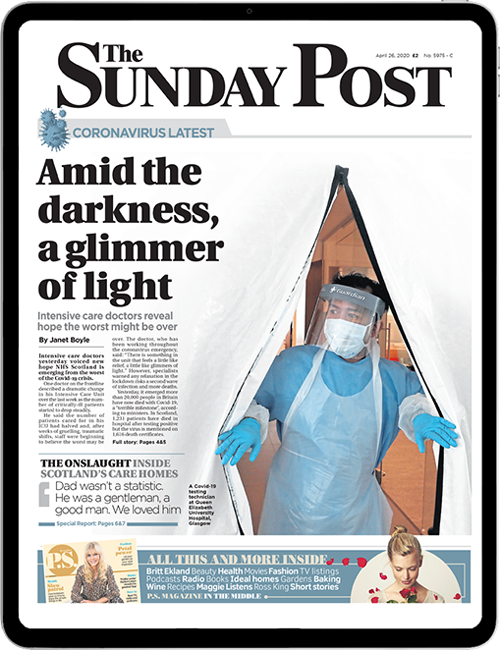 Enjoy the convenience of having The Sunday Post delivered as a digital ePaper straight to your smartphone, tablet or computer.
Subscribe for only £5.49 a month and enjoy all the benefits of the printed paper as a digital replica.
Subscribe