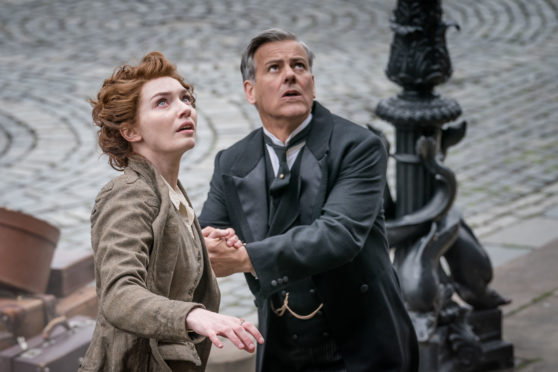 She created the streets of Shieldinch for River City – now Scottish production designer Pat Campbell is set to terrify audiences by unleashing unimaginable scenes of alien Armageddon.
Pat is one of the key visionaries on the new BBC dramatisation of the HG Wells novel War Of The Worlds, which sees Martians land in Britain and terrorise the earth. And the director of the three-part drama, which is set to be screened later this month starring Poldark's Eleanor Tomlinson and Black Mirror's Rafe Spall, has credited the Drymen-based designer for her creative genius in creating terrifying scenes of alien invasion.
Glasgow School of Art graduate Pat designed the stunningly realistic set for BBC Scotland's weekly soap when it was launched in 2002, and has also worked on projects like Wolf Hall and Rillington Place, as well as early-days projects on classics like Scotch and Wry and Taking Over The Asylum.
Speaking at the London premiere of the first British-set TV adaptation of the 1897 novel, director Craig Viveiros paid glowing tribute to the experienced artist's eye for detail in portraying such a realistic vision of extra-terrestrial destruction.
He said: "Pat is utterly brilliant when it comes to attention to detail, especially when it comes down to presenting a decaying world in Edwardian England.
"We wanted to carry and reference the original book as much as possible, so we worked with the ideas of red weed and black smoke, destructive elements that the Martians have at their disposal.
"I had already worked with Pat at the BBC Studios in Dumbarton when we filmed Rillington Place a few years ago, and every time I walked on set I honestly felt like I was walking into a murderer's home.
"Her production design on War Of The Worlds had the same effect. It is so utterly real, so visceral, that the actors were feeding off it. Pat has done a fantastic job, because she's a phenomenal artist.
"When it came to sending a message to the audience about the hubris of the British Empire, Pat really brought an artistic hand to conveying that point. It's so good to work with her and find unique ways to frame this story and make it feel real.
"We're not on a Hollywood budget by any means, so we had to overcome the struggle of portraying a Martian landscape. Pat conceived the idea of building the red world of the Martians in a shed. She's really brilliant at being able to dilute extreme ideas into effective smaller elements and then present them concisely."
The mini-series was filmed largely in a disused shipyard shed in Liverpool, and on location on Merseyside.
Writer Peter Harness, whose credits include Doctor Who and McMafia, acknowledges some of the themes he scripted for the adaptation are designed to subtly resonate with today's world, especially around issues such as climate change and military intervention in other lands.
He said: "One of the overriding themes is the selfishness of life, not necessarily presented as a good or bad thing. The Martians invade us because they need a new planet, and that's what we would do – that's the unadorned unpleasant truth, that life will survive.
"But religion is pretty roundly rubbished, because religion, militarism and notions of nationhood, all wither in the face of nature doing the cruel and unpleasant things it needs to do to survive."
He also used creative license to reinterpret the ending of the legendary story, a radio version of which famously sparked civil unrest after being broadcast as a news bulletin voiced by Orson Welles.
He said: "Looking at that world, it was difficult to see how it could all turn round and change in five minutes, and people could be back on trains or working in newspapers like in Wells' book. So I felt that if all this stuff had happened then you need to stay a while and look at the ramifications of that.
"This is a book that's 120 years old. People know and love it – they know all the beats of it, they know the end of it, and it was important to preserve that. But I think at the same time it was very important to surprise people and to try to keep a level of shock and not know where it's going to go. So if you think you know the story, then you don't."
Peter also adopted elements of author Wells' life and transposed them on to George, the central character – originally unnamed in the novel – played by Rafe Spall.
He said: "He was referred to as George by his friends and he did marry his first cousin and left her for a woman called Amy. That's all a bit of fun, really.
"So it has been interesting to put him and his life situation. He was going through these things when he was writing it, so they must have been playing out in his mind. I thought it would be nice to mirror that."
---
War Of The Worlds is due on BBC1 later this month