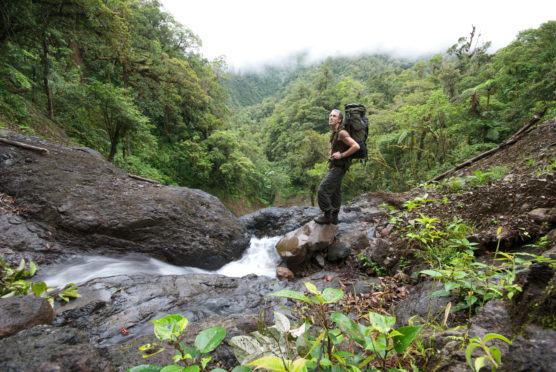 Gordon Buchanan has seen a lot of the world in his 25 years as a wildlife cameraman and in that time has observed much harm being done to the planet.
Despite the devastation, however, he remains upbeat the huge problems can be overcome by mankind itself.
In his latest series, Equator From The Air, he takes a different tack on the wildlife documentary, looking at the interaction between humans and nature.
The immediate findings are not good, but rather than throwing up his hands in despair Gordon believes the future could be bright.
From his home in Glasgow, he says: "It is an interesting one for me because it is the most environmentally-driven thing I have done.
"Past projects have tried to push forward the bigger picture and bigger messages but this is all about those big issues, broken into small parts. It deals with some of the gravest issues of our time," he adds.
In the first episode he looks at the imbalance to be found in the tropics, where 40% of humanity lives. At the moment the balance is against nature, because of problems such as deforestation, which causes nutrients to be washed away from the soil, or illegal gold mining which pollutes water courses.
"We know what the problem with the planet is," Gordon says. "There are just too many people putting demands on it. There has to be a way forward for Earth and everyone and everything that lives on it."
While he saw the harmful effects of a human population which is growing at its fastest rate on the African equator, Gordon says he has high hopes that a way can be found to make things better not just for animals but for ourselves as well.
This includes creating wildlife corridors to allow animals to migrate across the great plains of Africa, thus avoiding farmed land with fences which can trap wildebeest and other creatures. It also includes coping with refugees in a more eco-friendly manner than large encampments such as in Uganda, where there has been a huge influx from war-torn South Sudan.
He says: "It was fascinating to travel such a great distance and see the horror of some of these things happening to species and habitats. But it was ultimately uplifting because you realise we are our own salvation – we are the ones who are going to solve these problems.
"After a year of filming the series I had a lot more hope because I could see the light at the end of the tunnel. That doesn't mean to say there isn't going to be more loss of species but we are too intelligent to lose everything, that's what I think it comes down to."
Gordon says making a difference is possible through new technology but also through the passion and dedication of a small number of people.
"I thought if this is what a few people can make, hopefully over time many can make the difference that is needed." Gordon believes that positivity helps people understand, rather than lecturing. He says: "I think you want people to listen. That is key because we have to change, as communities, societies and as a species, and you aren't going to get people to listen by ranting.
"At one time I was a cameraman who told stories with images but now I want to communicate the things and messages that are important to me. As a communicator you have to engage and help your audience understand what it is all about."
Equator From The Air took a year to make and the decision to film from above was taken because much of modern wildlife management is done from the air.
He says: "If you are in an art gallery and you stand too close to an image it doesn't make sense. But if you take a step back you can see things a lot better because you are making sense of it as a bigger picture."
Technology such as drones, satellites, helicopters and light aircraft is being used in a variety of ways including searching for poachers, finding evidence of illegal deforestation or, as is shown in the programme, to find a baby elephant trapped in a snare.
In the future, Gordon sees an even greater role for drones that are constantly patrolling and monitoring the remaining wild places, as searching for a distressed animal can be a race against time.
"It's like having this eye in the sky that is giving you a minute by minute report of what is there."
Despite the wild locations he visits, Gordon isn't scared by animals because experience has taught him to approach them properly. "If you find yourself in a position where you feel threatened, it's because you have done something wrong."
Humans, however, are another proposition.
"The scariest animals on the planet are human beings. We did a night patrol with the military police in Brazil," Gordon says, "and we had to go out with our bullet-proof vests on. They were all fully-armed with pump-action shotguns and pistols to look for illegal loggers. That was the most worrying sequence we filmed because we were going out at night looking for people who didn't want to be found and were prepared to shoot someone else."
Thankfully, no shots were fired and an arrest was made.
Gordon, 47, was brought up on Mull and learned to love the environment for what it was.
He now lives in Glasgow with his wife Wendy and their two children but likes to travel to other parts of Scotland. He says: "We have started exploring. I've travelled to some of the furthest flung places in the world but there are parts of Scotland I've never seen."
One highlight in the last year was a trip to Sandend, near Banff, where the family went surfing. "I've driven on the main road from Elgin to Aberdeen but was unaware of how spectacular the coastline is, with charming little towns," he says.
"That kind of discovery, of new places in Scotland, is as exciting than going anywhere else.
"I was working in Russia last year and we drove for nine hours and it was beautiful but it's really quite monotonous. Whereas in Scotland you can fly round it in a day and see a huge variety of landscapes which are all stunning," he says.
---
Equator From The Air is available on BBC iPlayer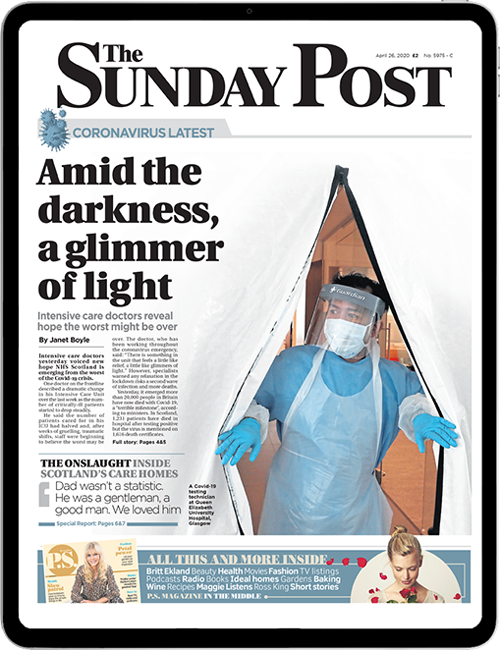 Enjoy the convenience of having The Sunday Post delivered as a digital ePaper straight to your smartphone, tablet or computer.
Subscribe for only £5.49 a month and enjoy all the benefits of the printed paper as a digital replica.
Subscribe