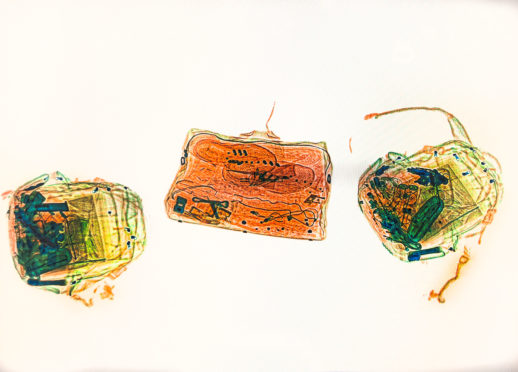 Workers standing in for striking scanner staff missed more than 260 potential threats in two days at Scots airports, we can reveal.
Staff who operate baggage X-ray scanners at Glasgow and Aberdeen airports have been among those taking part in industrial action this month.
Managers have drafted in contingency workers from other airports to fill in for strikers but replacement workers at both airports have failed to spot large numbers of suspicious items on baggage scanners.
A source at Glasgow revealed around 95 suspicious items had slipped through on each of the first two strike days.
Meanwhile, Aberdeen saw around 70 missed items over the two days.
Unions have questioned the competence of stand-in staff and claim more is being spent bringing in replacements than it would cost to end the dispute.
More walkouts are planned tomorrow and Wednesday.
Similar action is taking place at Aberdeen and Southampton airports as part of a dispute over final salary pensions between unions and AGS Airports which operates the three transport hubs. To ensure vigilance, the airport's security system beams images of prohibited items into randomly chosen bags as they are scanned.
It's understood around 100 of the threat images – which can include bomb components, guns or knives – were missed during the first eight hour strike shift on June 7.
The normal number for that period is around ten. One operator alone missed more than 20 items. Failing to notice three threats normally results in disciplinary action.
A Glasgow Airport insider said: "When operators see something suspicious on their screen they have no way of knowing if the item is real or if it's a projected image.
"Every item missed is a potentially lethal threat to an aircraft. It is an effective tool to keep people alert and properly checking every bag as it goes through.
"Everyone doing the job knows there will be repercussions if they repeatedly miss these items as they go through. It certainly concentrates the mind.
"It's a bit like a computer game and is designed to keep operators at maximum levels of alertness and have them frequently identifying prohibited or suspicious items.
"If the system was not used then operators may mentally switch off as they know the possibility of seeing something suspicious may be remote. This way, they know there are going to be frequent alerts and so they have to be continually on their toes.
"The concern is that if these images of prohibited items are being missed, what else is getting through?
"It's deeply concerning – especially as more strike days are likely."
An Aberdeen airport source said: "There are major concerns about what is going on. You wonder what else they are missing?"
Aviation security analyst Tim Ripley said: "Any reduction such as this in the efficiency of people monitoring luggage for security purposes is a major concern.
"It is a skilful job to spot dangerous items.
"There are strict regimes with breaks, rest periods and swapping staff over, as they have to be sharp at all times.
"There is a well-known saying that terrorists only have to be lucky once. Security personnel have to be focused at all times."
Glasgow Airport says the contingency workers are trained to the same level as those they are standing in for.
It's also claimed the Civil Aviation Authority – who oversee UK airport security – have not performed checks on strike days.
CAA could shut down an airport if they believe security is being compromised.
Sources also claim security operatives who walk through with prohibited items to see if security detect them have not been performing these checks on strike days.
The industrial action involves security and fire safety officers, airfield operations staff and engineering technicians.
It has resulted in long delays at airport security and a suspension of some flights
A series of industrial stoppages are due to take place at Aberdeen Airport on June 27 and 28 from 6am to 10am.
The dispute centres on a pay claim and AGS closing the defined benefit, or final salary, pension scheme.
Unions say this broke an Advisory, Conciliation and Arbitration Service (ACAS) agreement made in 2016 to keep the scheme open to existing members.
Glasgow Airport posted a £74 million profit after tax in 2017 up from £51 million in 2016.
Pat McIlvogue, Unite regional industrial officer, said: "The position of Glasgow Airport in this dispute has been to spend more on contingencies than it would cost to resolve this dispute, which is economic madness.
"We continue to have real concerns over the competence and training levels of the workers brought in from England on a contingency basis by Glasgow Airport.
"We want the travelling public to be safe.
"Our members have been left with no option but to defend their pension scheme and to fight for a fair pay increase.
"The industrial action will now roll into the summer holiday period with more days being added and more to follow if AGS don't get back round the negotiating table for meaningful discussions.
"We hope the public understands that our members do not take this action lightly."
A Glasgow Airport spokesman said they were unable to "discuss operational security details".
He said: "Our contingency teams, which have ensured the travelling public have not been disrupted by the industrial action, are trained and certified to the same UK standards as our own staff.
"As long as strike action continues, we will deploy our contingency plans to ensure it remains business as usual.
"Talks with Unite are ongoing with a view to bringing the dispute to an end."
A CAA spokesman said: "For security reasons we cannot discuss when we carry out inspections.
"Each UK airport is responsible for meeting the security requirements set out in UK and international law.
"CAA inspectors ensure that the aviation industry as a whole meets these security requirements, and where issues arise they are rectified swiftly."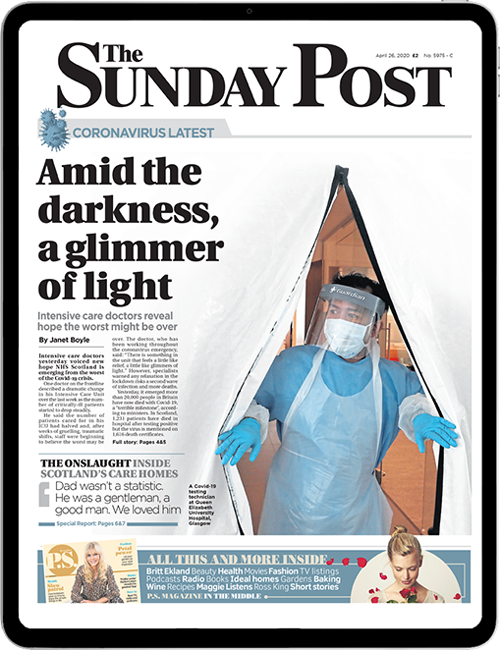 Enjoy the convenience of having The Sunday Post delivered as a digital ePaper straight to your smartphone, tablet or computer.
Subscribe for only £5.49 a month and enjoy all the benefits of the printed paper as a digital replica.
Subscribe