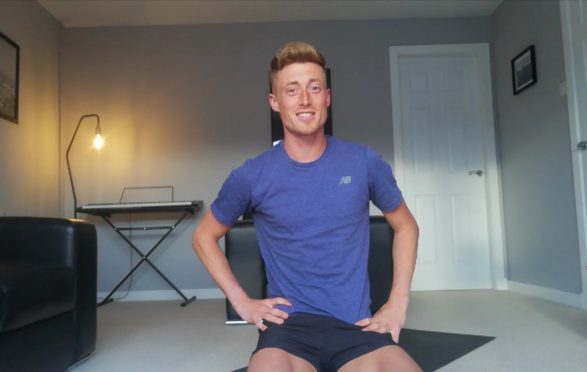 Superman is old news, as children across the UK have a new hero – in the unlikely form of a curly haired internet sensation with a strong cockney accent.
Joe Wicks, the famed fitness guru also known as The Body Coach, has taken over household screens since the start of lockdown with his daily "P.E. with Joe" YouTube workout sessions.
His mission? To take on the role of the nation's P.E. teacher, ensuring millions of kids – and their parents – stay happy and healthy while Covid-19 keeps schools across the country closed.
One man from Craigellachie, Moray, is on a similar quest.
Long-distance runner, Kenny Wilson, has taken to Facebook to post challenging workout videos for people in his Highland community.
His selfless endeavour has earned him the welcome nickname of "the Scottish Joe Wicks", which Wilson humbly says he'll "definitely take".
"Myself and Joe Wicks have a similar motto in that we just want to do what we can to help and inspire people. I want to play my part to keep friends, family and neighbours safe and healthy at the same time," he says.
"I'm pleased to be able to do something for the community – and the workouts have definitely brought people together during lockdown."
The local reaction to Wilson's workouts has been huge, with the athlete's bi-weekly videos – produced in partnership with Moray Active Schools – racking up thousands of views each time.
Instead of being threatened by his northern counterpart, Wicks himself has given Wilson the seal of approval, labelling him a "hero" for the work he's been doing.
"Anyone that can inspire someone to move, get active and be positive is a hero in my eyes. He is definitely a hero – and good luck to the Scottish Joe Wicks," the Body Coach said.
Wilson, 30, who has represented Scotland internationally with his running, is certainly inspiring people in his local community and beyond.
He began posting workout videos for fun on social media at the beginning of Scotland's lockdown, to keep people active while ensuring they stayed safe at home.
Moray Active Schools then contacted him asking if he'd be interested in making a "Joe Wicks-type workout" since Wilson is well-known in the area thanks to his running prowess.
Instead of targeting school children and families who may not have a high level of fitness, as Wicks does, they discovered a gap in the virtual market – the children and adults in Moray who would usually attend and compete with clubs, and who have recently found themselves without sport due to the pandemic.
It's fair to say, then, that Wilson's workouts, posted to Moray Active Schools' Facebook page every Tuesday and Thursday afternoon, have become a lifeline for some in the community.
Wilson coaches his virtual audience through pre-recorded "real-time" sessions that he has designed himself, which consist of classic indoor workouts ranging from High Intensity Interval Training (HIIT) and aerobics, to power training and core workouts.
"The workouts are based on sessions I would do myself, alongside running training seven days a week. But I also include easier alternatives so the whole family can get involved and feel in control of their own exercises," says Wilson.
The athlete has been selected as part of the Scottish Athletics Marathon Project, and is aiming to complete London Marathon in October (if it goes ahead), in an eye-watering time of 2:18. His debut marathon was Frankfurt last year, which he finished in a rapid two hours and 22 minutes.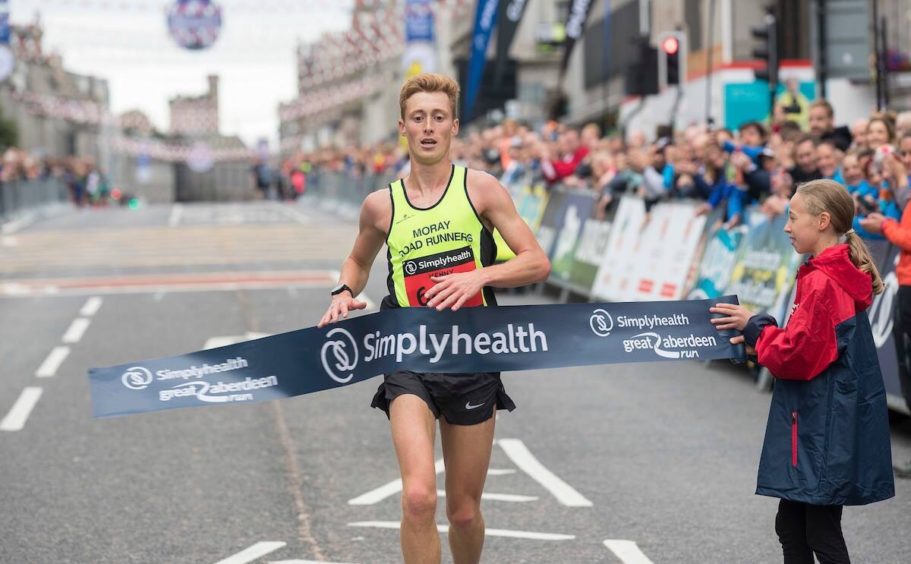 He also works full-time at a local Speyside distillery alongside his intensive training. Despite returning to work this week, after being furloughed during the peak of the virus, Wilson is looking to keep these virtual workouts going for as long as he can.
"It's something I love doing, and hopefully I can keep it going. Doing something for the local community has always been a passion for me, but I've never had the opportunity to do it, so I was delighted when Moray Active Schools asked me on board. I want to be a good influence on youngsters doing sport and want to be someone they can look up to.
"Another of my reasons for doing it is to help people's mental health. It's giving my viewers something to look forward to and hopefully giving them a positive spin on their day. I like being able to help people and it's exciting to see what doors this might open."
One such door may be that the "workouts with Kenny", as they've become known, go national.
Rosalyn Carruthers, Active Schools Coordinator for the Forres Associated School Group, who has been working closely with Wilson to produce and optimise the videos for social media, has been asked to write up this project for Sport Scotland as an example of best practice.
The hope is that the workouts could be rolled out across the country to reach even more people who may be struggling to keep fit during this time.
Carruthers has nothing but praise for Wilson: "He has a really likeable personality – he makes fun of himself a bit and he's just an open, friendly person with a lot of good on-screen presence. Having Kenny do the workouts is almost like doing them with a friend or partner.
"We already knew him through the running scene, and saw he'd been doing his own workouts on Facebook. But these were at a much higher level than what most people would manage! Our goal was to make these workouts accessible for our audience and he was up for the challenge."
Carruthers runs through the exercises – she's always hoping there's no burpees involved – before they're posted on Facebook, so she can pen an introduction so viewers know what they can expect from the workout.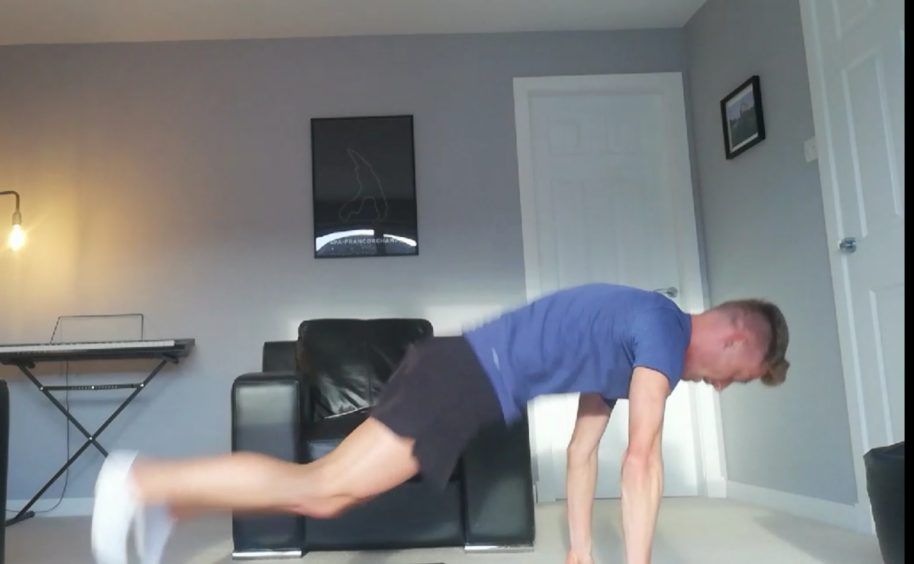 She tries to include snippets from Wilson's personality – he often uses classic sporting catchphrases like, "let's go!", "let's smash it!" and "you've got this!" and talks his audience through tips he himself uses when training.
"We're hoping the reaction keeps up," she says. "Kenny has had to go back to work but he's keen to keep doing the two sessions a week. We didn't want him to do something he wouldn't be doing anyway – what's been really key is that the workouts are strength and conditioning sessions he would be doing himself, and that comes across.
"Kids have something else to focus on through Kenny's videos. He's starting to get a bit of a following. We're hoping we can challenge Joe Wicks to some kind of online head to head!"
The Body Coach's Instagram followers currently stand at a whopping 3.7 million and counting, and Wilson says it would be a "dream" to build up something like the fitness guru's following in Moray, with everyone in the community enjoying being active.
Watch out, Wicks…
Kenny Wilson's workouts are posted to the Moray Active Schools Facebook page every Tuesday and Thursday at 2pm.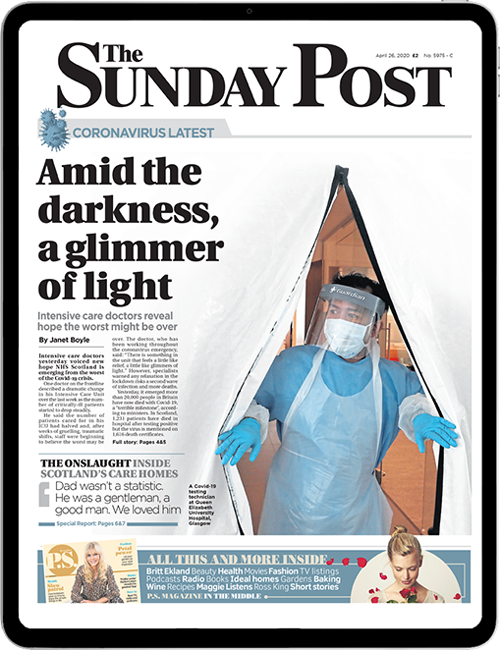 Enjoy the convenience of having The Sunday Post delivered as a digital ePaper straight to your smartphone, tablet or computer.
Subscribe for only £5.49 a month and enjoy all the benefits of the printed paper as a digital replica.
Subscribe