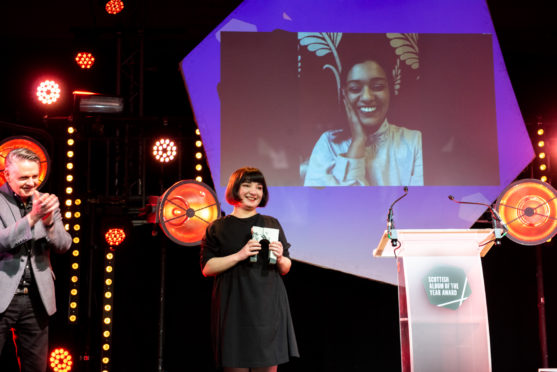 The Scottish Album of the Year (SAY) Award has named its youngest ever winner in Edinburgh producer, rapper and DJ Nova.
The 24-year-old, Shaheeda Sinckler off stage, accepted the award and £20,000 cash prize via video link while isolating following a positive Covid-19 test.
Her album, Re-Up, celebrates Glasgow's DIY underground music scene, taking listeners on a journey through afterparties and the struggles of young Scots.
On accepting the award, Nova said: "It is such an incredible feeling to have won the 2020 Scottish Album of the Year Award, just a couple of weeks shy of my 25th birthday!
"It is so affirming – any doubts that I might have had previously are now out of the window and I'm seriously so excited for the future. I'm excited to keep on this upwards trajectory, thrilled to encounter new experiences and take my professionalism to the next level.
"To think that my manager and I had no idea where we would end up when we started working together and now to have made it here is just fantastic!"
Nova said that the award was only made possible through hard work and determination.
She added: "It hasn't always been easy – there have been a lot of late nights, night buses and moments of uncertainty, to name a few challenges, but winning this award has solidified my belief that hard work and determination bring results. So don't call me lucky because I worked my butt off to move forward – and you can too.
"There is so much possibility in the air and I feel so free, nurturing old bonds and making new ones is what I can see on the horizon. I've already begun working on my next project and I cannot wait to see how that is received. I'm sending much love and blessings to everyone who made this possible."
It was a record breaking year for the SAY Award, as well as being the first entirely virtual event.
There were 362 eligible albums submitted for consideration, and the final shortlist of ten included eight debut records.
Chairing the Judging Panel this year, John Williamson said: "Choosing one album over others to award a prize is, at the best of times, something of a fool's errand.
"This year the judges had a not inconsiderable task – trying to compare the lavishly-produced and orchestrated against more homespun, DIY creations spanning a range of styles, backgrounds and outlooks.
"Nova's 'Re-Up' is, regardless, a worthy winner: brilliant, idiosyncratic and poetic: its brevity even challenges what we consider an album in the first place."
Robert Kilpatrick of the Scottish Music Industry Association (SMIA), who organise the awards each year, said this year's winner sent a powerful message of hope and ambition for Scotland's music scene at a difficult time.
He said: "Nova's win challenges the idea of what an album actually is in 2020, as whilst 'Re-Up' may be short in length, its impact and resonance as a body of work is nothing short of powerful.
"In an age where streaming dominates music consumption, artists and labels are met with new pressures around what they should release and how they should release it. These external factors are continually moving, and they vary from genre to genre, where consumer tastes and behaviour have developed in different ways.
"In the context of 2020, 'Re-Up' winning The SAY Award feels incredibly special. Scotland's music industry is facing catastrophic challenges, and the live sector in particular is in urgent need of financial support; especially with the furlough scheme closing at the end of this month.
"Artists are struggling to sustain themselves, music businesses are closing, jobs are being lost, and with those losses, skill-sets are leaving the industry too. The very infrastructure of what generated £5.2 billion for the UK economy in 2018 is crumbling, and if it's not saved now, it will vanish, and the impact will be sorely felt for decades to come – not just by the music industry, but by all of us who benefit from having music in our lives.
"Whilst the current challenges are plentiful, and the impact of those challenges painful, never has it been more important for us to celebrate our music and culture. By celebrating, we help further articulate its value, increase its visibility and stimulate opportunity for our artists and music scene at a time where it's never been needed more.
"Music is about so much more than just money, but money is absolutely essential to keep the artists we love and the industry which supports them afloat. Music's about us connecting; understanding both ourselves and each other better, and ultimately discovering more about the world around us.
"It's fitting that 'Re-Up' explores tales of a young artist in modern day Scotland struggling to keep financially afloat. These challenges poignantly mirror challenges that many of us in music face today, and in the articulation of these challenges through the creation of 'Re-Up', Nova now finds herself in a position where the future presents opportunity, recognition and ultimately hope. This is something that can and should inspire us all."
---
The SAY Award Shortlist for 2020
Blanck Mass Animated Violence Mild
Bossy Love Me + U
Callum Easter Here Or Nowhere
Cloth Cloth
Comfort Not Passing
Declan Welsh & The Decadent West Cheaply Bought, Expensively Sold
Erland Cooper Sule Skerry
The Ninth Wave Infancy
Nova Re-Up
SHHE SHHE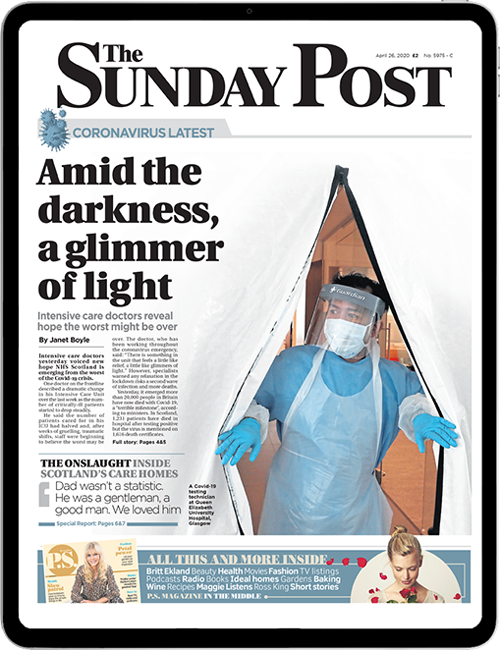 Enjoy the convenience of having The Sunday Post delivered as a digital ePaper straight to your smartphone, tablet or computer.
Subscribe for only £5.49 a month and enjoy all the benefits of the printed paper as a digital replica.
Subscribe