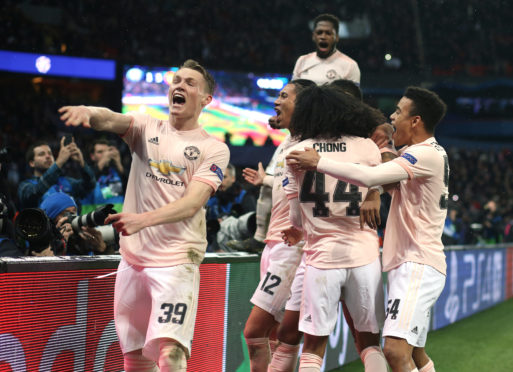 If Ole Gunnar Solskjaer is not to be Manchester United's permanent choice to succeed Jose Mourinho, I'm pretty sure he will have a number of top clubs interested in him.
What a fantastic result he engineered for his club last Wednesday evening to come from two goals down and defeat PSG in their own backyard.
Never before in Champions League history had a first-leg deficit been overturned in that way, and that's why Solskjaer and the United players deserve every plaudit going.
However, I have to say that I thought it was tough on PSG to be given a penalty-kick against them in stoppage time.
There has been a lot of debate about the referee's decision, and I totally understand the frustration felt by the PSG players, management and fans.
Neymar has been the most vocal over his bewilderment.
United defender Diogo Dalot appealed for a penalty after his shot struck the arm of Presnel Kimpembe.
It's fair to say that the claim from the Old Trafford man was more in hope than expectation, and the referee, Damir Skomina, wasn't surrounded by the player's team-mates, arguing for him to point to the spot.
But that little protest was enough for the VAR panel to whisper into the ear of their colleague to take a look at the television monitor.
After a lengthy review of the incident, he decided to throw United a lifeline.
For me, it looked a natural position for Kimpembe's arm to be in.
However, VAR is there to help the referees, and to assist them with their decision-making, not embarrass them.
Despite the state-of-the-art technology, it still goes to show that most decisions are down to opinion. Very few are factual.
When things had settled down, Marcus Rashford coped extremely well with the pressure, and displayed wonderful nerve to slot the ball past Gigi Buffon.
Of course, the victory has elevated Solskjaer to another level and led to a clamour for him to be given the United job on a permanent basis.
I can understand the fans wanting him tied down on a long-term deal. And I respect that the media has a job to do, and they need to ask "that" question of Solskjaer at every press conference.
I don't doubt for one second that Solskjaer wants the job for longer than until the end of the season.
His connection to United is well-documented, and the way he has turned things around in the space of three months deserves nothing but the highest praise.
But there is an agreement in place between United and FC Molde.
The Norwegian club have Solskjaer under contract and expect him to return to them when the loan arrangement at Old Trafford expires at the end of the campaign.
So there is no reason for United or Solskjaer to rush into anything. There is no pressure or necessity to agree compensation with Molde and tie him down.
But right now, it's hard not to see United not offering him the job beyond this summer.
There is no doubt that he has displayed that he can operate at the highest level, and his stock has risen considerably in the past 10 weeks or so.
Ole has every right to be proud of his achievements as United manager, and he now just has to let things take their course.
He certainly seems very calm about the whole situation.
From a Scotland perspective, it was also pleasing to see Scott McTominay being an integral part of the win in Paris.
For any young Scotsman to go into that environment and absolutely hold his own makes you proud.
When you are up against such quality players as Marco Veratti and Marquinhos, you are never going to dominate the ball and dictate the flow of the game.
But that wouldn't have been what Solskjaer asked of McTominay and his central midfield partner, Fred.
The manager would have wanted them to disrupt the tempo of the game, and that's what they managed to do – and they did it admirably.
They exerted relentless pressure when the opposition were in possession and made some fine tackles.
It would be nice to see McTominay rewarded with more domestic and European games.
Of course, I hope Liverpool are in the last eight of the Champions League with United and Spurs.
Manchester City are in a decent position after their 3-2 win away to Schalke.
Jurgen Klopp and the players, however, face a tough task after the 0-0 scoreline in the first leg at Anfield against Bayern Munich .
But if you are going to draw a game in Europe on your own turf, then that is the perfect result to take with you into the next match.
Bayern will not be at full strength, and Liverpool will need to find a way of exposing any weaknesses.
It will as tough a test. But they have the ability, organisation and determination to succeed.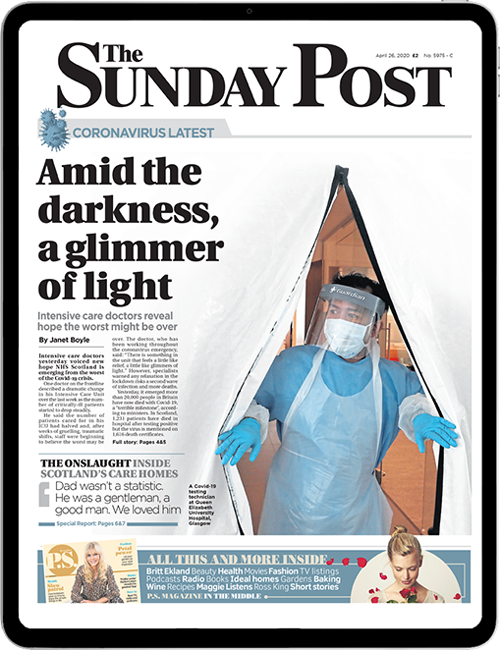 Enjoy the convenience of having The Sunday Post delivered as a digital ePaper straight to your smartphone, tablet or computer.
Subscribe for only £5.49 a month and enjoy all the benefits of the printed paper as a digital replica.
Subscribe