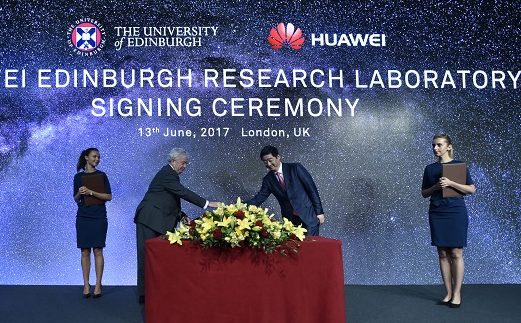 LEADING Scots universities and the national police force have refused to sever links with a Chinese tech giant despite mounting global fears their devices may be used to spy for Beijing, we can reveal.
Huawei makes smartphones but is also a world leader in telecoms infrastructure, in particular, the next generation of mobile phone networks known as 5G.
The tech giant has denied allegations of espionage after a series of UK organisations cut links in recent weeks.
However, Edinburgh and Napier Universities, who have teaching and research partnerships with the firm, and Police Scotland, who use the firm's broadband devices, have rejected concerns around the security of the firm's products.
Oxford University, Queen's University Belfast and Prince Charles' charity, The Prince's Trust, are among the organisations which have said they will no longer deal with the company.
In December, BT said it would remove Huawei equipment from its 4G network, while Vodafone decided last week to "pause" the installation of new Huawei equipment in its core networks.
The company is banned from bidding for government contracts in the US, where intelligence services raised questions about Huawei's links to China's ruling Communist Party.
Germany is considering ways to block Huawei from its next generation mobile phone network, while New Zealand is prohibiting the company's equipment being used in 5G mobile networks.
Police Scotland said the force uses Chinese mobile broadband devices that contain no data and do not directly connect to their internal networks, adding: "We use mobile internet devices by the manufacturer Huawei with the internet service provided by Vodafone. This service does not directly connect to our network.
"While BT carries out its work to remove Huawei products, Police Scotland will follow a well established process to ensure any impact is kept to a minimum."
Edinburgh University's partnership with Huawei is worth £5.1m. The Edinburgh Huawei Research Lab allows Huawei and the university to "jointly explore new theories and technologies in data management and provide direction for cutting-edge research into the next generation of information technology".
When asked if the partnership would be reviewed, the University of Edinburgh said: "The university's ongoing partnerships with Huawei enables our researchers to explore new technologies in data management and information technology.
"As with any research partnership that we undertake, this has undergone a rigorous process of due diligence and is the result of long-term collaboration between experts at the University of Edinburgh and Huawei."
Edinburgh Napier University announced a collaboration with Huawei in 2017 in Information and Communications Technology.
The university said: "Our relationship with Huawei Technologies is focused on teaching programmes rather than research projects."
Last week the UK Government was asked to confirm that national telecommunications infrastructure was secure amid growing concerns about Huawei.
In letters to the secretaries of state for defence, foreign affairs and digital, the Commons Science and Technology Committee said it was crucial the UK was confident in the security of its telecommunications infrastructure.
In response, the Ministry of Defence said: "The Ministry of Defence does not have any contracts with Huawei."
Huawei insists it is a private company owned by its employees, with no ties to the Chinese government. The firm says it remains committed to its £3bn investment in Britain.
Speaking last week at the World Economic Forum in Davos, Huawei's chairman warned that his company could shift away from Western countries. Mr Liang Hua said his firm might transfer technology to countries "where we are welcomed".
He stressed that Huawei follows regulations wherever it operates.
Meng Wanzhou, the daughter of Huawei's founder, faces extradition to the United States over accusations the company flouted US sanctions against Iran.
Last week, The Prince's Trust said it would no longer accept donations from Huawei while Oxford University said it would decline new research grants from the company.
Queen's University Belfast said it would not pursue new funding opportunities. The university has a research partnership with Huawei worth more than £700,000.
In the US, some top universities are ditching telecom equipment made by Huawei and other Chinese firms to avoid losing federal funding, under a new national security law backed by the White House.
Cyber security expert Donald Smith says that it difficult to judge exactly how far the relationship between state and private enterprise in China actually goes.
Mr Smith, Director of Cyber Intelligence at IT security firm SecureWorks, said: "The relationship between the state and private enterprise in China is undoubtedly closer than it would be in the UK
"It is difficult for outside observers to assess exactly how far that relationship may go," he added.
Mr Smith said the security of tech products has implications for users and for nations.
"The integrity of goods and services is of paramount importance," he said. "If it were the case that goods have a vulnerability or a weakness, it could provide leverage for compromise or data theft."
In December, Meng Wanzhou, the daughter of Huawei's founder, was arrested in Canada and faces extradition to the United States over accusations the company flouted sanctions against Iran.
The Huawei chief financial officer is due in court in Canada in February after the US said it would file a formal extradition request by the January 30 deadline.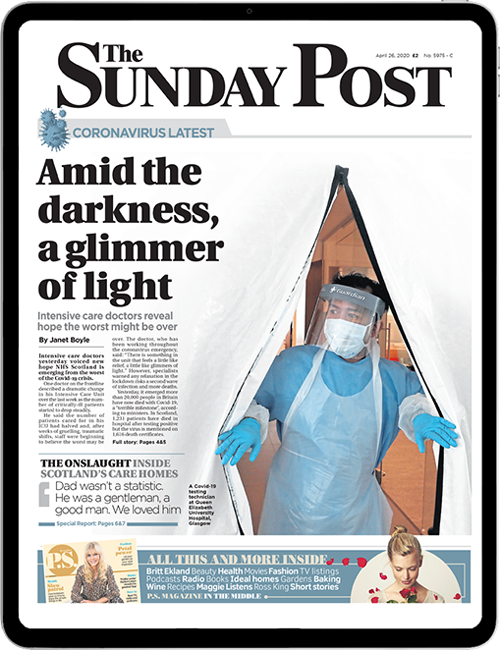 Enjoy the convenience of having The Sunday Post delivered as a digital ePaper straight to your smartphone, tablet or computer.
Subscribe for only £5.49 a month and enjoy all the benefits of the printed paper as a digital replica.
Subscribe