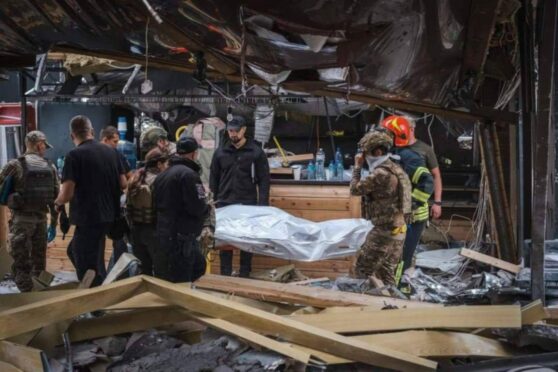 The wounded Ukrainian soldier is bleeding heavily from injuries caused by an incoming Russian missile, his body and uniform are covered in blood and soil.
Emergency medical treatment is given to stem the bleeding before he is stretchered into a waiting ambulance and evacuated out of the frontline at Bakhmut.
The young man lies with his ­silver emergency blanket as the battle goes on to save him.
Attending to him is Scots medic Dougie Young, a former soldier with the British Army and now a civilian assisting the Ukrainian army by running the medical evacuation of military casualties in the Bakhmut area.
He works to keep the young ­casualty, who is no older than 23, alive until he gets back the field hospital where doctors can take over.
Speaking from near the ­frontline, Young, 43, from Forres, says: "I am assisting in a technical sense but not a member of the Ukrainian army and I give emergency treatment and evacuate ­casualties with devastating injuries from the frontline here.
"It is vital to stop them ­bleeding to death before we get back to base.
"These casualties range from 17 to those in their 50s, who have signed up or gone back to serve in the army a decade or so after military service.
"I also train Ukrainian soldiers and others in emergency medic skills. This is a war like no others because of the drones and their precise targeting, and there is no bigger teaching ground for a medic than the frontline of a war.
"It is also a world away from anything that is learned in the classroom."
He is currently setting up blood banks to help save seriously injured military and civilian casualties.
Young says: "Transfusions can make a huge difference to surviving serious injuries because blood loss is one of the greatest risks to recovery, especially on the frontline, when you can be miles from a field hospital.
"Exsanguination, or bleeding to death, has long been recognised as the most-common cause of death from combat injury.
"And a blood bank will work here because we have this pool of young, fit, healthy soldiers who can donate, and the blood will be screened before transfusion.
"Whole blood will be used, in the way it was in the First and Second World Wars."
Recent research in the USA ­suggests better outcomes for patients with whole blood transfusions.
On every mission in Ukraine, Young is accompanied by his translator, Roman, a merchant seaman from Odessa whose real mission was to serve at the front.
Young goes on: "He was highly experienced but could not join frontline action because his eyesight is not perfect.
"However, he has mentored and trained the guys for a long time and is an excellent translator, as well as second pair of hands in the ambulance."
The ambulances are from humanitarian charities in the UK and Ukrainian Patriot, an international group working to get vital supplies.
The UK Government sent a fleet of ambulances along with medical supplies and devices.
But Young makes a special plea for more support on the Ukrainian frontline. "We always need good working ambulances and want to emphasise how much everyone here appreciates the kindness of humanitarian support," he says.
Young served more than 16 years in the British Army in the 4th Scots, until 2012, before training as a medic in Guatemala and then becoming a security specialist in Afghanistan.
He was the lead medic with the team attending blast victims at the restaurant in Kramatorsk hit by Russian missiles last month.
A total of 11 people, ­including four children, were killed and almost 60 injured.
"Treating casualties with blast and crush injuries is challenging and I was the lead medic. The teamwork was outstanding.
"We were 45 hours triaging and helping to administer medical care to children and adults trapped under the rubble.
"It was also our job to speak to the anxious and distraught families waiting outside to update them while trying to save and retrieve their loved ones. That job never becomes easier.
"We visited families a week or so later to check on their health and the psychological impact. Some of the injuries were too serious to survive."
Young says he went out to Ukraine as a medic accompanying the American NBC news team covering the war.
"I could see the Ukrainian army needed support and decided to stay and do what I could to help.
"It certainly helps to be ex-military because when you are working in a war zone administering medical care to others, it is important to stay safe yourself."
Setting up blood transfusions on the frontline has an illustrious history for Scots. Pioneering Scots Canadian surgeon Norman Bethune, treated casualties during the Spanish Civil War which broke out in 1936.
He played an important role, particularly in advocating transfusion of blood to soldiers at the front rather than at medical centres behind the lines. Early transfusion can save lives.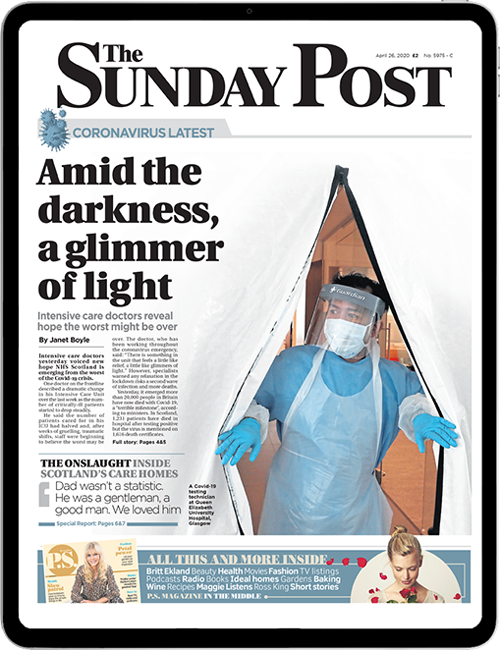 Enjoy the convenience of having The Sunday Post delivered as a digital ePaper straight to your smartphone, tablet or computer.
Subscribe for only £5.49 a month and enjoy all the benefits of the printed paper as a digital replica.
Subscribe