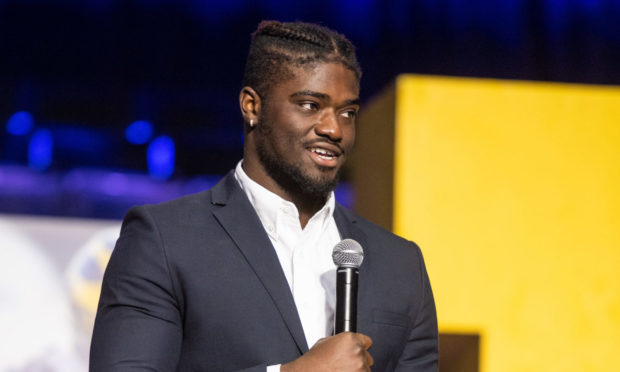 Many Scottish sport stars are champing at the bit to get back to competing alongside their teammates.
None more so than top college football prospect David Ojabo, who is stuck on this side of the Atlantic due to the US international travel ban.
The 20-year-old been living out of his suitcase back home in Westhill, Aberdeenshire, waiting to get the green light to return to his team in Michigan.
While it means he's been able to spend more time with his family in Westhill, Aberdeenshire, it's been frustrating being unable to get back to what he considers his second family in the US.
"There's a lot going on, but I've just got to keep my head calm and hope for the best," he said.
"I thought when I came home it would be for about two or three weeks, but that turned into a month, two months… It's just been crazy. I'm taking it day by day until something happens.
"There's too much going on regarding safety, visas, this and that. I can't think too far ahead, just control what I can. What's me complaining going to do?"
Born in Nigeria, David moved to Aberdeenshire with his family when he was seven years old.
Proud of his Scottish upbringing, he moved to the US to a boarding school in New Jersey for a sports scholarship, mainly playing basketball and running track.
But his build and speed caught the eye of football coaches, and he now combines his business degree with a place on the University of Michigan's Wolverines team, one of the most prestigious in the country.
"The goal right now is just to be back with my brothers, my teammates and the coaches too," he said.
"In a day, I take maybe two or three classes and the rest of the day I'm with them. I spend more time with them than anybody else. They're my family, we go to war together. It really builds a bond.
"I just really miss working. I'm putting in work here, but nothing compares with grinding with your team-mates and competing.
"I love competition, seeing where you stand so you can better yourself. Working out alone, you only know what you can do. When you see someone who's better, then you try to reach them. You have to push yourself."
A silver lining of being stuck back home, however, has been the time David has been able to spend with his family.
As soon as the pandemic hit, David made the decision to head home to be with his parents.
And the extended stay meant that in May, he could finally celebrate his birthday with them.
"It was my first birthday home in four years," he said. "It was great spending my 20th at home, it's a big age and it's crazy I haven't got to spend my own birthday with my family in so long. I'm glad I've finally got to.
"Being home has been a blessing and a curse. You've got to find the good in it and run with it.
"I got to spend time with all my boys too, these are the people that knew me way before this even started happening. It's so peaceful and humbling to come home, it's where the heart is."
David is 20 today🥂. God bless you Son @DavidOjabo pic.twitter.com/W4GPyiR88m

— NG Ojabo (@Ngoreta2) May 17, 2020
It hasn't been a holiday for David, though, as he's been keeping up with training despite being thousands of miles away from his coaches.
He starts his day with an early morning workout, then has time to spend with family and friends or playing video games and watching TV.
Then, at 8pm – 3pm Michigan time – he links in to the session Stateside.
He said: "It's not been too hard; everybody can make something happen if they want to. I've got a back garden I can run in and I have weights to lift.
"It's all just a question of will, and how much you want it. Instead of coaches shouting, you have to motivate yourself.
"I want it bad, so working out and keeping up isn't a question for me, but I've got to acknowledge the fact that doing it at home isn't quite the same as working out of a world-class facility like Michigan."
The Wolverines are due to start preseason workouts on July 24, but it looks increasingly unlikely that David will make it back in time.
Every option has been explored by the university in consultation with embassies and travel agencies, with a trip via a fortnight's quarantine in Australia the only potential way back.
This coming season, David is targeting a chance to make his full debut for the team in front of thousands of fans in the university town of Ann Arbor, around 40 miles from Detroit.
Pre-pandemic, crowds of over 110,000 packed into the Michigan Stadium for every home game.
Nicknamed The Big House, it's the world's second largest stadium, and David says there's no feeling that compares to hearing it roar in support of the team.
For someone as new to the game as him, the regard in which people across the pond hold college football took him by surprise.
"When you think of universities in Scotland, nobody's going crazy for a University of Aberdeen team," he laughed.
"People over there really live, breathe and die Michigan or other schools. It's crazy.
"They really go over and beyond, that just shows how much they care about the programme and how much it means to them."
🇳🇬-🏴󠁧󠁢󠁳󠁣󠁴󠁿-🇺🇸

Welcome to Michigan, David Ojabo! @DavidOjabo

NSD CENTRAL » https://t.co/LALmC1w3MA #GoBlue #NSD19 pic.twitter.com/SrES0KLAO9

— Michigan Football (@UMichFootball) December 19, 2018
David aims to make his dream of making it to the very top come true.
"Honestly, I just want to grow. My goal is every day, learn something new," he said.
"I work closely with my coaches. I'm two years deep into this sport, some people have been playing this their whole lives, so they know the intricacies of the game. I can't wait to really learn this game and start understanding it fully."
One day, he hopes to join a small number of Scots in the NFL, including Arbroath-born Graham Gano, a kicker with the Carolina Panthers, and Jamie Gillan of Inverness, the Cleveland Browns punter nicknamed the 'Scottish Hammer'.
"Small kid from a small town going to do big things, it's a common narrative," David said.
"I feel like this is where this is headed. There's no better feeling than representing your country, your family. I want to take it as high as I can go.
"It would be a dream come true to make Scotland and my family proud."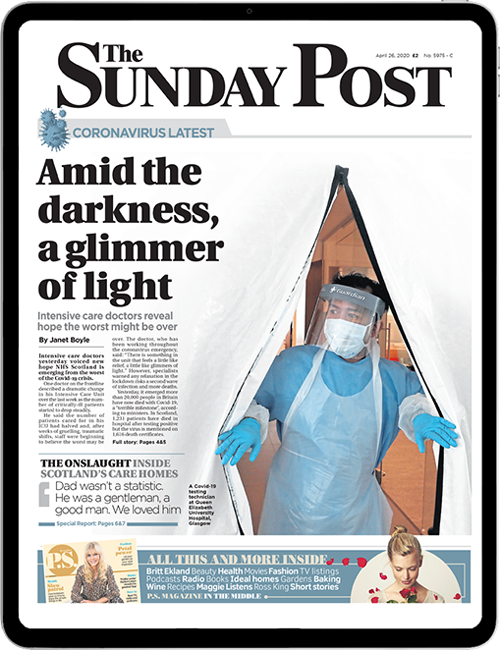 Enjoy the convenience of having The Sunday Post delivered as a digital ePaper straight to your smartphone, tablet or computer.
Subscribe for only £5.49 a month and enjoy all the benefits of the printed paper as a digital replica.
Subscribe