NEW Great British Bake Off judge Prue Leith has revealed her love of all things Scottish is at the heart of her life.
And central to it all is the late-life love Prue, 77, who replaces Mary Berry in the new-look GBBO which starts on Channel 4 this week, found with a Scot.
She met retired designer John Playfair, 70, at a dinner party six years ago and after he wooed her with home-cooked dinners, the pair tied the knot in a low-key civil ceremony here last year.
"John's from Edinburgh and it has a special place in my heart," Prue told The Sunday Post.
"I love the city. I got married to John in Lothian Chambers last October. It was just the two of us and two witnesses.
"We had tea in the New Club, which looks over St Andrews, and then we walked up Salisbury Crags to the mount at the top.
"I was in high heels as I had just got married, so I went up in high heels and came down barefoot! It was lovely."
The reviews are in: New Great British Bake Off hailed as success!
Prue has family and other connections with the capital, having been installed as Chancellor of Queen Margaret University last month.
"Of course I'm honoured," confides Prue as she settles down for a chat ahead of the much-anticipated launch of Bake Off's first series away from the BBC.
"I have always admired the place because it started as a cookery school.
"They have never forgotten about the practical skills of cooking. They have more female students than male, they do a lot of nursing degrees and health, lots of medical, and lots of hospitality. It's a nice connection.
"And all my grandparents came from Scotland, one set from Caithness and one from the Borders.
"I wear a kilt, a Leith tartan. There are two Leith tartans, the Port of Edinburgh Leith tartan and the Leith family, which I wear."
Ever since the BBC lost out on their top-rated show last autumn after the £75m move to commercial telly, the focus on Bake Off has been full on.
Mary Berry, Mel Giedroyc and Sue Perkins' decision to stay with the Beeb paved the way for Prue, Sandi Toksvig and Noel Fielding to join remaining judge Paul Hollywood in the new line-up.
But while the scrutiny – even the quirky trailer for this series was forensically analysed and criticised – has been intense, Prue is delighted to be on board.
The Great British Bake Off exit from BBC was 'difficult' but necessary to pay for other shows, says content director
So, no hesitation about signing up?
"Not a second. Who wouldn't jump at this job?
"We care about the show and the bakers and obviously we hope we haven't let the fans of the show down.
"I hope everyone will be pleasantly surprised when they realise it is still Bake Off."
Much has been made about the chemistry, or supposed lack of it, between the new presenting and judging quartet.
Prue, however, previously a favourite from the Great British Menu, is quick to shoot down such tales.
"Paul is a pleasure to work with, and Sandi and Noel just make me laugh.
"You know, it's just so different and it's so much more relaxed than anything I have ever done.
"You are there for two whole days but turning up in the tent and eating cake can't be considered hard.
"There is no script to learn, I say what I feel about the bakes.
"I don't say it's like a holiday, but you are completely protected from anything outside. You are in this little bubble.
"You don't have enough time to get into a conversation outside of it. I might write a bit more of my novel on my laptop when there is a break, but there aren't many.
"It's an absolutely pleasure of a job. You just go with the flow.
"Paul and I pretty much agree on the judging of the bakers, and we come to the same decisions.
"There might be occasional shades of difference but we tend to rank every baker in the same order."
The previous series have shot some of the bakers to national fame. Several, such as Perthshire girl Flora Shedden and last year's champ Candice Brown, have landed lucrative publishing deals.
And 2015 winner Nadiya Hussain has become one of the BBC's most popular presenters, including on their new rival show The Big Family Cooking Showdown.
Prue says she has a newfound admiration for the bakers after an up-close look at them over the past few months.
"I often feel the anxiety of the bakers. When you know they have messed up and they know they have messed up, then you feel for them.
"But they behave so well. They don't use excuses, they know it is a fair show. You do get attached to the bakers and it's emotional when they leave.
"They all have a goal to get to week three or week five and they are normally right. They do go when they have predicted.
The trailer for the new-look Great British Bake Off is here!
"I've learned a lot about baking from Paul and the bakers."
While Noel was quoted – or, he insists, misquoted – about not sampling the fare, that's far from the case with Prue.
"I made one of Paul's technical bakes which is quite fattening but worth the calories.
"I ate it in the tent first, we then ate all the bakers' bakes, and then I went home to bake it, so that was a lot of cake!"
Even with her hugely impressive culinary pedigree, including running a Michelin-starred restaurant and founding the famous Leith's School of Food and Wine, she insists it has been a learning experience.
That's partly because cooking wasn't something she didn't do from childhood.
"My mother wasn't a great cook," she confesses.
"I grew up in South Africa and if you were lucky enough to have people to run your house in those days, you didn't cook.
"So we had a wonderful cook called Charlie, and I could have learned from him, but you just didn't do that in those days.
"I went to Paris to the Sorbonne to study French, and I fell in love with food there.
"I grew up in a family where it was vulgar to talk about food or religion, or sex, politics – I don't know what we did talk about!"
And whether tarts are overcooked, pastries are underdone, breads aren't proved enough or any number of bakes turn out to have soggy bottoms, viewers can be sure Prue will know just what that's like.
"The very first time I made a cake was at school," she adds.
"It was a Christmas cake and, come Christmas Day, my father tried to cut into it but because I hadn't put any glycerine in the icing it was rock-solid.
"As my father hit the cake, the knife, which was a family heirloom, actually split in two!"
The Great British Bake Off, Channel 4, Tuesday, 8pm.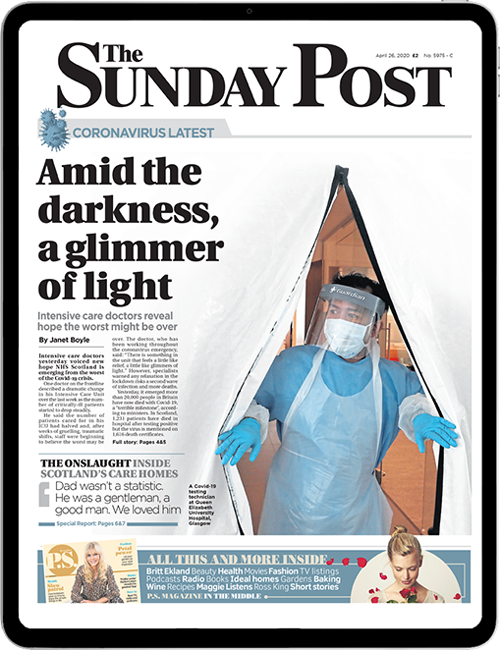 Enjoy the convenience of having The Sunday Post delivered as a digital ePaper straight to your smartphone, tablet or computer.
Subscribe for only £5.49 a month and enjoy all the benefits of the printed paper as a digital replica.
Subscribe