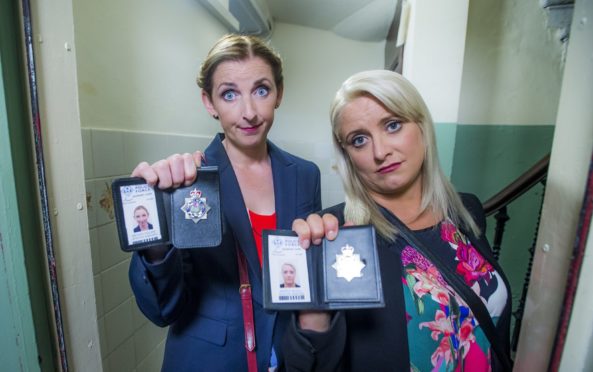 One is an acclaimed ­ small-screen police show featuring fearless female detectives taking down the bad guys wherever they find them. The other is Line Of Duty.
Now Louise McCarthy, one half of Scot Squad's Cagney & Lacey with Julie Wilson Nimmo, says the pair have done their research and are ready for a transfer to AC-12, the ratings-busting anti-corruption unit.
Not only has the acclaimed BBC Scotland comedy, back tonight for a Euro 2020 special, more laughs and less acronyms than Line Of Duty, starring Martin Compston and Kelly Macdonald, but the Scot Squad crimebusters have done their research.
"Julie's got a close pal who's a detective for Police Scotland and she gives us pointers so we're not going too far wrong," said. "I've also got a pal who works with the police in Paisley and she let me come in and I got to meet the commanding officer and they were just amazing. They seem to love Scot Squad and Scotland Unsolved.
"Even though it's comedy they're still real characters so you still need to do your research and get a bit of background on real police procedures. You need to know the lingo because you don't want caught out…next stop is Line Of Duty.
"Actually I'd love that. Let's get Louise McCarthy in AC-12. Can you give Martin Compston a phone to see if he can sort that out?"
While waiting for her big move, McCarthy had a more nervous run-in with Scotland's force. Luckily the traffic officer who pulled her over recently saw the funny side of her work on the hit BBC Scotland sitcom. He was such a fan of the 36-year-old that he let her off with a stern warning.
"I was a bit worried when I got pulled over, I thought, 'Here we go, hopefully he doesn't watch much telly'. I wasn't breaking the sound barrier or anything but must have been borderline," she revealed. "Anyway, he recognised me and just laughed and said, 'On you go hen' with a wee wink. That was brilliant!"
McCarthy credits Wilson Nimmo, with whom she also stars in spin-off Scotland Unsolved, for giving their on-screen officers an air of authenticity.
Tonight's one-off episode focuses on how the force led by the nation's favourite uniformed blowhard Chief Commissioner Cameron Miekelson, played by Jack Docherty, is grappling with the Scotland national team's success at the football tournament.
Hard-working McCarthy, originally from Maryhill in Glasgow, is also starring in new comedy sketch show Stevens & McCarthy. In it she teams up with Gayle Telfer Stevens, her partner from stage-show hit comedy musical group The Dolls.
The sketch show follows in the footsteps of female comedy duos such as French and Saunders but McCarthy says they've been compared to a more iconic Scottish pair. "We didn't set out to emulate anyone in particular," she explained. "In fact I think Michelle McManus described us as a female Francie & Josie on acid. We just love working together and hopefully people enjoy it."
Scepticism over being a woman in comedy isn't something McCarthy has faced from Scottish audiences. Any doubt, she says, is purely egalitarian. "We did bowling clubs and working clubs and that's a different community from stand-up clubs," she added. "The people we came across were a very mixed crowd – it tended to be couples. They really loved nostalgia. We had a great response.
"Maybe people look at us think it's two women…so does that mean it's female comedy? But funny is funny. It doesn't matter if you're a girl or a boy. You either laugh or you don't.
"They don't care if you're male or female or young or old. We walked into a gig in Motherwell and an old guy walked up to us and said, 'So, are you funny?' That's the bar. You've got to prove yourself."
McCarthy believes Scotland's history of comedians like Dorothy Paul, Elaine C Smith and Karen Dunbar shows gender isn't as much the challenge as making people laugh.
"Dorothy and Elaine and Karen proved it was about that. One of the stand-outs on Chewing The Fat was a female comedian. Funny doesn't choose a sex," she said.
"For me being funny was learned being on stage. Gregor Fisher once asked me what I did at the weekend and I said I was gigging with my pal. He said that's where you learn your trade. He was right, you learn how to work an audience. You knew if it was going well but you also knew if it was going rubbish and you had to save it. Without that experience I don't think you would learn the craft."
Scot Squad Euros Special, BBC Scotland, tonight, 10pm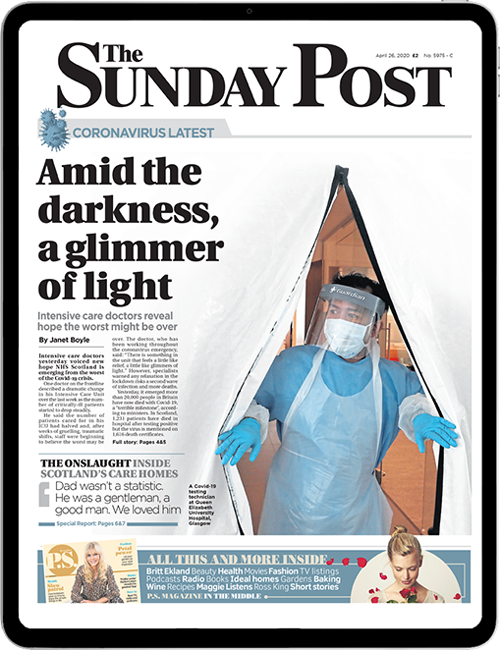 Enjoy the convenience of having The Sunday Post delivered as a digital ePaper straight to your smartphone, tablet or computer.
Subscribe for only £5.49 a month and enjoy all the benefits of the printed paper as a digital replica.
Subscribe