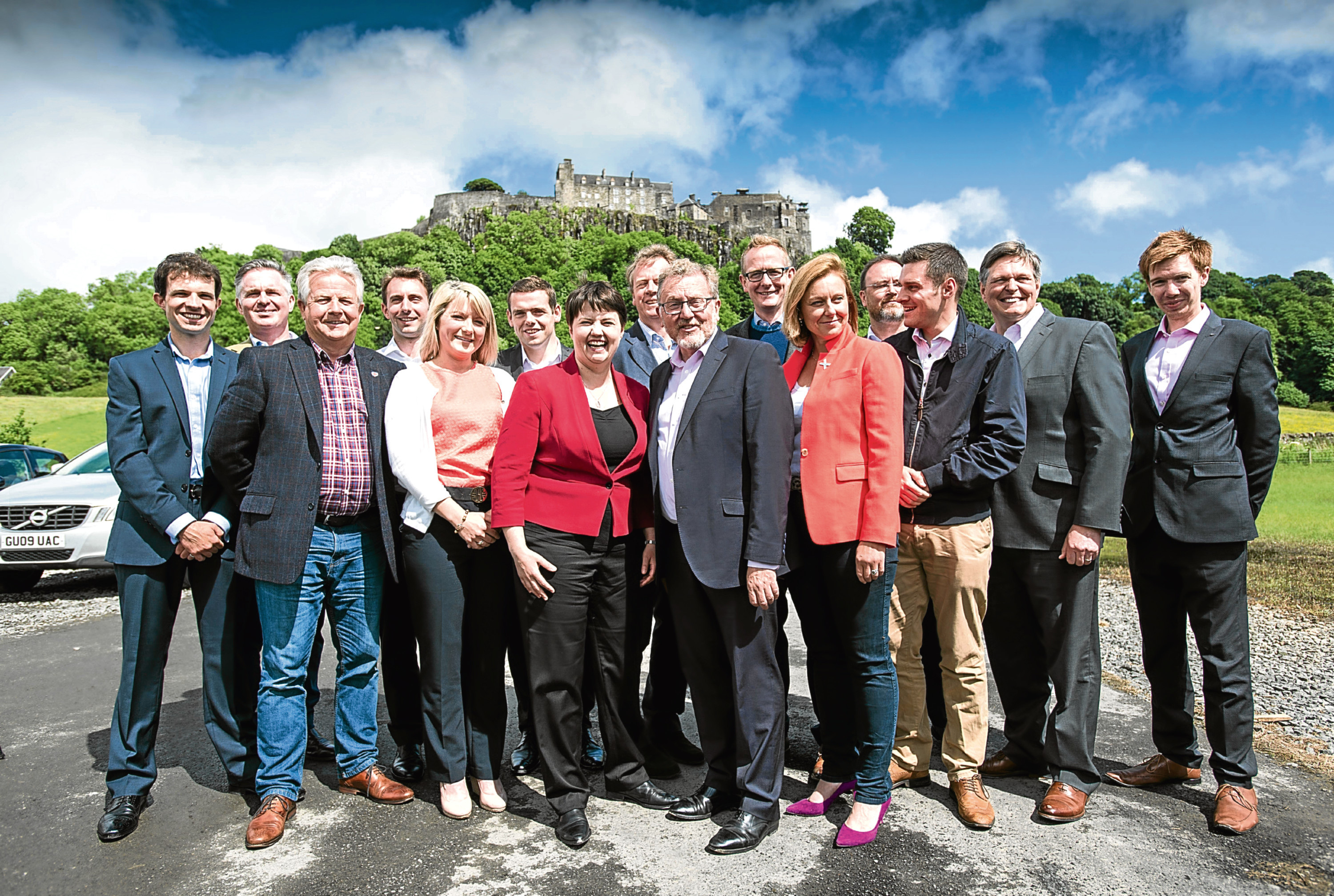 RUTH Davidson's flock of Scottish Tory MPs could vote as a separate block once they take their seats in Westminster, it was revealed last night.
A senior Tory source confirmed the new 13-strong army of MPs could defy Theresa May, as questions swirl about the Prime Minister's shaky authority in the wake of a disastrous election for the party south of the Border.
Scottish Tory leader Miss Davidson yesterday refused to say her new tartan troops would always back the PM, adding they will "vote entirely as they think they should".
It comes as Miss Davidson cements her status as a force in UK politics, turning a slew of SNP seats blue, while Mrs May's candidates flopped in England and Wales.
It has also raised hope amongst Remainers that the PM's planned hard Brexit will fail.
Celebrating her wins in Stirling yesterday, Miss Davidson pledged her MPs would "deliver not divide", as she called for an "open Brexit" that saw the Tories reach out to other parties.
She said: "I am delighted that we are going to be able to send 13 Scottish Conservative MPs to Westminster.
"They come from a host of different backgrounds and will bring real experience, enthusiasm and a passion for their local communities to the job.
"This team will aim to stand up for Scotland's interests – and to show that those interests are best served by being part of the UK.
"We will aim to deliver, not divide – and to show how the Union can work for all of us."
Asked in what circumstances Scottish Conservative MPs would rebel in the House of Commons, she added: "I don't have a scenario, but I know this group of 13 pretty well and I know that they will vote entirely as they think they should."
She added: "I think what is really clear is that the Conservative party, having failed to win a majority, now needs to work with others.
"And that means we can look again at what it is we hope to achieve as we leave the European Union – and I want to be involved in those discussions."
Amid calls for the PM to resign, the Scottish Tory leader insisted "there is no vacancy" as ministers travelled to Stormont to open talks with the DUP.
Miss Davidson had spoken out after Mrs May outlined a plan to seek a deal with the socially hardline party, which has 10 seats in the Commons, to prop up the new minority administration.
Northern Ireland is the only part of the British Isles where same-sex marriage remains outlawed.
The DUP has repeatedly used a controversial Stormont voting mechanism – the petition of concern – to prevent the legalisation of same-sex marriage, despite a majority of MLAs supporting the move at the last vote.
The party has often found itself embroiled in controversy over its stance on gay rights issues.
Miss Davidson, who is gay and engaged to partner Jen Wilson, said: "I have sought assurances from the PM, and was given them, that there would be no rollback of LGBT rights in the UK.
"We are, after all, the party of LGBT rights, introducing gay marriage in the UK.
"We will also attempt to use our influence with the DUP to extend LGBT rights in Northern Ireland."
Scotland Office minister Lord Dunlop yesterday announced he was stepping down from his role.
Lord Dunlop said: "It has been an honour and a privilege for me to serve in the UK Government, first as an advisor on devolution in Downing Street and, for the past two years, as a minister in the Scotland Office.
"I'd always planned to pursue other interests, so the election was a natural point to step down.
"I'm very proud of the things we've achieved in Government for Scotland in recent years.
"After securing a clear and decisive result in the 2014 referendum, we delivered in full the extensive new powers for Holyrood that we promised.
"I am pleased, too, that I have been able to play a part in supporting the Scottish economy and enhancing Scotland's wonderful cultural life.
"UK City Deals, with which I've been closely involved, will boost all our great cities, and the whole country will benefit from the backing we've given to Glasgow School of Art, the Burrell Collection and the new V&A Dundee.
"I thank the Prime Minister for the opportunity to serve and wish her and her new Government well. I always want to put on record my thanks to David Mundell and all my former colleagues at the Scotland Office."
David Mundell is expected to stay as Scottish Secretary, so this will pave the way one of the 12 new MPs to take the job.
Former chief whip for the Tories in Holyrood John Lamont is expected to get the job.
Meanwhile, Theresa May's two closest aides – joint chiefs of staff Nick Timothy and Fiona Hill – quit in the wake of the election result, as the Prime Minister sought to shore up her position in Number 10 by sending her Chief Whip to lead talks with the DUP.
The Prime Minister has made clear she wants support from her "friends and allies" in Northern Ireland's DUP to secure her minority administration ahead of the Queen's Speech on June 19, and has sent Gavin Williamson to Belfast to lead the talks.
The role of Mr Timothy and Ms Hill had been severely criticised by disgruntled Tories in the wake of the election.
Mrs May's former communications chief Katie Perrior, who left Downing Street when the election was called, hit out at their "rude, abusive, childish behaviour".
She said: "Mrs May condoned their behaviour and turned a blind eye, or just didn't understand how destructive they both were."
In a resignation statement on the Conservatives' website, Mr Timothy acknowledged one of his regrets was the way Mrs May's social care policy, dubbed the "dementia tax", had been handled.
The Prime Minister was forced to perform an unprecedented U-turn within days of the publication of the Tory manifesto by announcing there would be a cap on social care costs, something that was absent in the original document.
Mr Timothy said: "I take responsibility for my part in this election campaign, which was the oversight of our policy programme.
"In particular, I regret the decision not to include in the manifesto a ceiling as well as a floor in our proposal to help meet the increasing cost of social care.
"But I would like to make clear that the bizarre media reports about my own role in the policy's inclusion are wrong: it had been the subject of many months of work within Whitehall, and it was not my personal pet project."
But he also set out his concerns about the way the campaign was managed. It said the campaign failed to get "Theresa's positive plan for the future across" or "notice the surge in Labour support".
On the same website Ms Hill said: "I have no doubt at all that Theresa May will continue to serve and work hard as Prime Minister and do it brilliantly."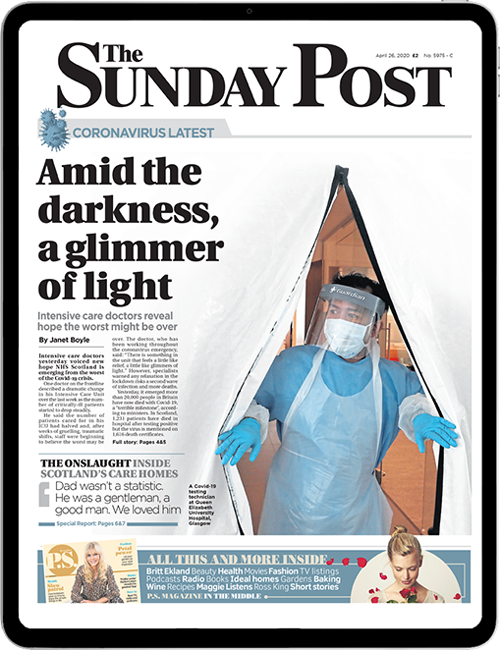 Enjoy the convenience of having The Sunday Post delivered as a digital ePaper straight to your smartphone, tablet or computer.
Subscribe for only £5.49 a month and enjoy all the benefits of the printed paper as a digital replica.
Subscribe