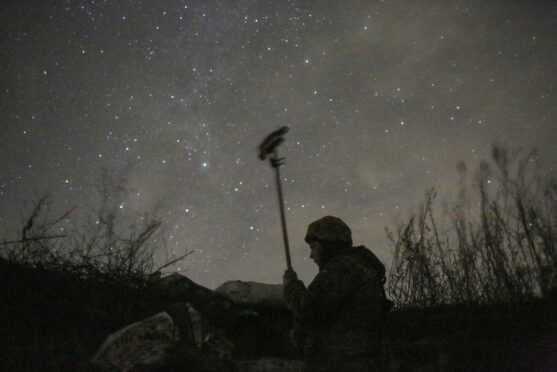 It is the simmering feud threatening to boil over and provoke an international crisis in a world already riven by the pandemic.
Tensions between Russia and neighbouring Ukraine have steadily climbed through 2021 and Russian troops have been massing near the border, threatening a full-scale invasion in the face of repeated warnings from Western leaders.
The mobilisation has brought condemnation from the UK and US and implicit warnings of reprisals if the border is breached. However, Russia has hit back with President Vladimir Putin and Chinese President Xi Jinping holding a video call to discuss their concerns over tensions in the region and what they view as an aggressive ratcheting by the West.
On Monday, Prime Minister Boris Johnson told Putin of his deep concern over Russian forces on Ukraine's border. He warned of the need for de-escalation and said there would be major consequences for any destabilising action by Russia.
Experts say the situation is the latest unfolding of a complex relationship between the two countries, adding the key to resolving the conflict will be finding an answer to the question of whether Ukraine will become the newest member of Nato.
Formed in 1949 by 12 original member states, including the UK and US, membership has expanded to 30 countries, including three former Soviet states. Nato's website states the organisation is open to "any other European state in a position to further the principles of this Treaty and to contribute to the security of the North Atlantic area" but this aim could spell open conflict with Russia which sees such expansion as a potential threat.
Peter Jackson, professor of global security at Glasgow University, and the first director of the Scottish Council On Global Affairs, said: "To understand the situation, we can go as far back as the 17th Century, when the Ukraine became closely tied to the regime in Russia for its security. Ever since, it has had a complicated relationship with Russia.
"Ukraine has been a focus for competing forces which have sought to control it. It's an area important for its strategic location, not least as it produces a lot of grain foodstuffs.
"When Ukraine became independent after the collapse of the Soviet Union, there was a strategy to maintain a close relationship with Russia, which sees foreign control and military support in Ukraine as a direct threat. This makes Russia paranoid and we have a classic Catch-22 situation, where one side takes measures for their security, which are then perceived by the other side as a threat, which then prompts them to take further action.
"As a sovereign nation, Ukraine has the right to take whatever measures it deems necessary to secure itself. At the same time, by moving closer to Nato, this allows a historically hostile alliance to establish itself on Russia's frontier. It's inevitable this will be seen as a threat. If we think of a Chinese or Russian-inspired coalition negotiating closer links with, for example, Canada or Mexico, then the US would probably perceive this as a threat.
"The problem with Russia establishing troops along the border is that Ukraine may be tempted to turn to Nato for support, and so the matter escalates.
"What might have a decisive effect would be if Ukraine was to publicly announce it has no intention of joining Nato.
"This may have been Putin's endgame all along and I believe he does not truly wish to invade Ukraine, which would be a nightmare for him. War would also create another wave of refugees, which is the last thing Europe needs.
"The important thing is to keep talking and not allow matters to resort to the position where one side or another feels it needs to resort to violence to save face."
Professor Mervyn Bain, head of the School of Social Sciences at Aberdeen University, said: "Putin blames the West for the situation in Ukraine, highlighted in a 2015 interview he gave to an Egyptian newspaper, in which he said: 'I would like to remind Egyptian readers that the Ukrainian crisis was not caused by the Russian Federation. It has emerged in response to the attempts of the US and its western allies, who considered themselves 'winners' of the Cold War, to impose their will everywhere'.
"This month has seen Russia's second military build-up of the year, including reports of Buk-M1 missiles in the area. Many believe the moves are to apply pressure to the West in order to try to secure guarantees Ukraine will not be allowed to join Nato.
"The build-up may also be to provoke continuation of a low-intensity war in the Donbas region of eastern Ukraine, and provide support for Donetsk People's Republic and Lukansk People's Republic. This gives Moscow virtual right of veto over Ukrainian membership to Nato."
A recent survey by a Russian thinktank showed Putin's popularity in Russia at 53%, the lowest since 2012.
Bain said: "Attention-grabbing foreign policy has been seen before to garner support for Putin's government. In addition, there is a perception of Biden as weak and a desire to demonstrate to the West that Russia is still a global player.
"I believe an actual invasion of Ukraine is unlikely. However, tension is increasing. The war in Donbas is likely to continue and tension with the West is likely to increase still further."
Dr Matteo Fumagalli, senior lecturer in international relations at St Andrews University, said: "Among the bones of contention between Russia and the West is a differing reading of the post-Cold War regional order in Europe and Eurasia. Russia maintains it received assurances in the 1990s that Nato troops would not be positioned next to its borders. In other words, there would be no Nato membership for former Soviet states. With the three Baltic states, Estonia, Latvia and Lithuania, admitted in 2004 Russia saw that assurance gone.
"Seen from Russia's point of view, what the West is doing could be compared to Moscow placing its troops on the Canadian or Mexican border after assuring it would not.
"The Ukrainian army is probably in a better shape than in 2014 when the country lost Crimea, so it could inflict some losses on Russia, should war break out. However, it would lose ultimately.
"I believe an invasion is unlikely as it would be costly economically and in terms of the number of troops required. I believe the massing of troops near the border is part of a strategy by Putin to obtain concessions from the US.
"Yet Russia, like China, is increasingly persuaded of the West's weakness. There is a belief that the US has no stomach for a reaction and that Russia could get away with it. Therefore, while an invasion is unlikely, it's not implausible that Russia may try and wrench some further portion of territory from Ukraine.
"Despite this, war between UK and Russia is unlikely. Nato cannot really intervene as Ukraine is not a member state. Financial sanctions would most likely follow, such as expulsion of Russia from the SWIFT international banking system.
"What would help decrease tension is a series of meetings where each side keeps the other in the loop about its grievances, of which there are many."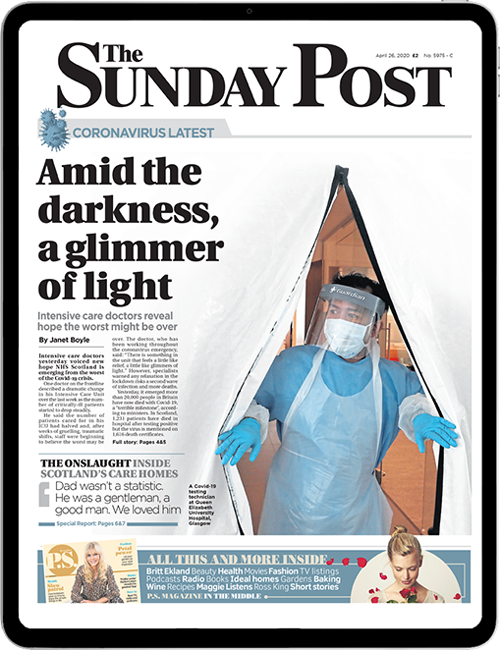 Enjoy the convenience of having The Sunday Post delivered as a digital ePaper straight to your smartphone, tablet or computer.
Subscribe for only £5.49 a month and enjoy all the benefits of the printed paper as a digital replica.
Subscribe